Yesterday was my birthday. I turned 23. . . again. . . or some configuration of those numbers. It was a beautiful day filled with greetings, kind words, and expressions of appreciation. I felt so loved by family and friends and especially my fellow blogger friends at Two Pretzels, Trophy Life, and Written Permission. Thank you ladies for your kind words. I appreciate the love and support I have been shown and especially the encouragement as I muddle my way through this blogging thing.
As I was feeling over-whelmed with appreciation for the many words of love, I found myself wishing that it didn't take birthdays to bring forth such sentiments. I know that I am guilty of this. Waiting for this special day or that one to really let others know that I appreciate them. I really want to work at changing this. I want to work at letting others know in the present moment how thankful I am to have them in my life. . .
But I digress. . .
When I got home last night Mr. Charlie excitedly let me know that he had presents for me. He has been telling me for a week that he was going to give me presents on my birthday. Want to see what I got?
A firetruck, a 4-Wheeler, a tool belt and a baseball!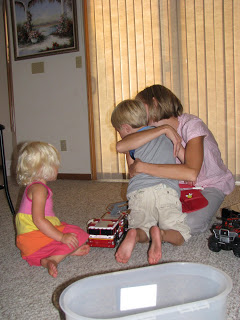 Oh, and a tiny fake chameleon from Chanelle!
Does it get any better than this?