I wasn't going to blog tonight. I really wasn't. All day I have been fighting hard to keep my eyes open and vowing that my head will hit the pillow as soon as final kisses were placed on the foreheads of my little ones. Here I am, though, sitting at the computer and justifying it to the voice in my head. . . Just a short one and then I'm going to bed.
Seriously, this blogging thing. . . it's a compulsion.
We had a busy weekend filled with going, running, and doing from beginning to end. I'm exhausted. And yet my compulsion to document is outweighing my hunger for sleep.
Why am I so tired? So nice of you to ask.
Last night was a late night or an early morning. After letting the kids sleep for a few hours, we woke them up and carried their heavy, dead-weight and p.j.'d bodies to the car.
Our destination? The airport.
Three weeks ago my in-laws got on a plane and traveled to the far away land of Mongolia. They were missed terribly, especially by my two little ones. Two days a week Charlie and Chanelle spend their days with my in-laws while I go to work. We were counting the days until their return.
Last night. . . my father-in-law returned home and the kids were excited. It didn't matter that it was way too late to have kids up and in the airport. . . greeting him was a must. We had talked about it for days and the kids were pumped about getting up in the middle of the night to greet their Gramps.
Once we settled them in the car they fell fast asleep and we were on our way.
One might think that most responsible people would check flight status or at least the ETA of the incoming plane. We did neither. Half way into our trip to the airport we got a call from my FIL. . . uhhhh, where are you?

Oops. . . we were late.
So as to not disappoint the kids we made sure that Gramps would not be waiting outside when got there. Twenty minutes later we pulled up to baggage claim and shook two tired kids from sleep. The stares we got when we walked into the airport were quite comical.
I suspect silent thoughts of our parental irresponsibility were floating around many heads. However, we also got our fair amount of "awwww's" as we walked back and forth searching for Gramps.
Where is he?
I hope he's not lost.
Are we at the right spot?
The kids, in their groggy state, were anxious that our greeting go as planned. I could almost see their little hearts pounding with excitement and anticipation. After pacing the corridor a few times, they finally had their moment.
While Charlie dove forward for the first hug, Chanelle stood stoic making sure that her "We Missed You Gramp's" sign was fully appreciated.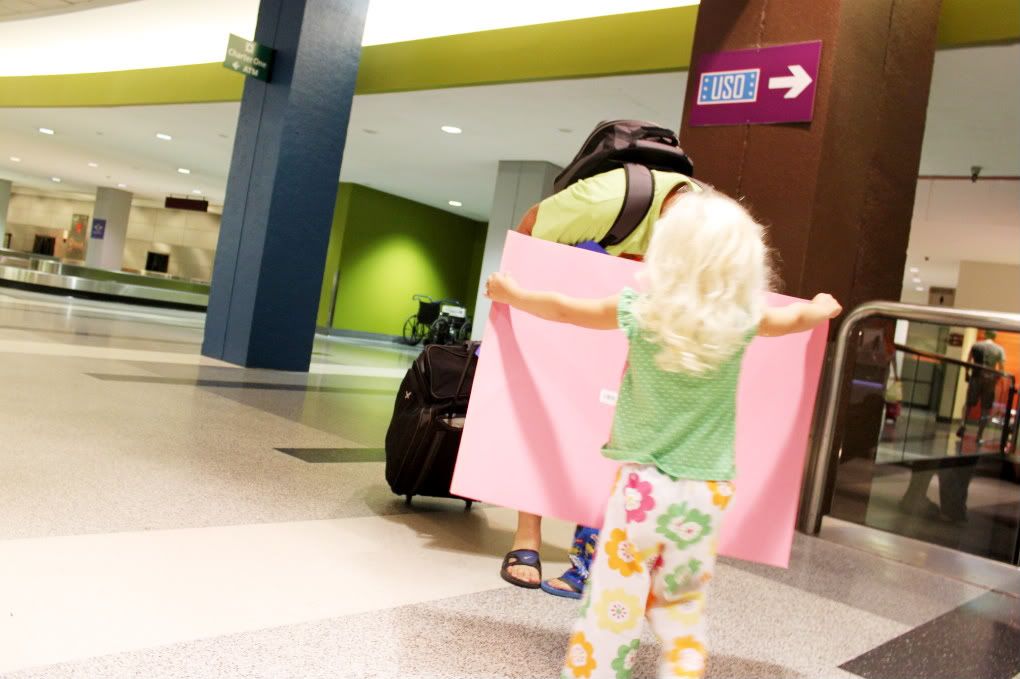 It only took a moment, though, and she dove hard and fast allowing his big Grandpa arms to envelope her. . .

I tend to build moments up in my mind. I make plans and then I make signs and then I envision how great and awesome and fulfilling a moment will be. To do this can sometimes set me up for disappointment. However, this time. . . there was no disappointment. The smiles on Charlie and Chanelle's faces are worth more than any amount of money.

Not to mention the tears in my father-in-laws eyes. . .

And sometimes I get so caught up in the excitement of the moment that my photos come out really crappy. What can I say? It happens. . .
These are the moments that I love to capture and carry with me. The snippets of time that I draw on when I count my blessings. The embedded memories that keep the line in my tank pointed toward "full" more often than not. The moments may not be "big" but, oh, they are all ours. . .

And these moments. . . they make us happy.
And that, my friends, is why I am tired.
There. Compulsion fulfilled.