Just over one year ago, I spent a weekend with my Dad. A weekend with just the two of us. It was processing the thoughts from that weekend that finally gave me the courage to start this blog. It took three "test" posts before I felt ready to write about what I really wanted to write about. . . Fathers and Daughters.
I just re-read that post and everything that I said then stands today. My Dad and I are a year down the road of forming this different kind of relationship in the absence of my Mom. A year of figuring it out and discovering what our new normal is. I continue to be extremely thankful for the gift I have in a very present Dad.
Once again, thanks to my husband who took a day off work, I was given the gift of a full day and night away to spend some very special one-on-one time with my Dad.
When I arrived at the marina where my Dad spends his weekends it was 95 degrees and sunny. It didn't take long, though, before the big cotton ball clouds and vibrant yellow sun changed drastically and the scene became dark and dramatic and displayed a show that would stop anyone in their tracks.
The stifling heat was exchanged for a sweet breeze and pitter patter of raindrops that made for a cozy afternoon that would have been difficult to beat.
There we sat, just the two of us, and watched one storm blow through after another, until the sun pushed its way through the gray to perform a beautiful finale. As quickly as it had gone in the afternoon, the huge orange fire ball returned to saluted us before easing her way closer and closer toward the horizon, bidding us a good night.
I didn't take many pictures this weekend. Really, all you would have seen is a father and a daughter sitting on a boat together. One moment they were laughing hysterically, another they were talking seriously, another they sat in comfortable silence, while another they were teasing each other relentlessly. Before I knew it day had turned to way too late for this pregnant lady and I retired to bed. As I laid down to sleep I was overcome with thankfulness for these precious moments that I will surly treasure forever. When we woke up the next morning, my Dad and I laced up our shoes for a morning run against the backdrop of flashes of lightening and rumblings of thunder.
To many such a scene likely sounds boring, but to this girl it was a recipe for perfection.
You see, this father and daughter thing. . . I think it's really important. In fact, I know it's important. Countless books have been written about the topic. Books that will "teach" fathers how to be good Dad's to their daughters. Instructions about what to and not to do. Essays about how a daughters relationship with her father will impact her self-esteem, her sexual abstinence, her self respect, and her future relationships. If I were a Dad. . . I would be terrified.
I don't know this for sure, but I would bet about a million dollars that my Dad never read one book about how to be a good Dad. Somehow, he just knew what to do. And what he did was show up.
Maybe I'm over-simplifying it, but I really think that's what it is all about. Showing up. Being present and available in all the serious, silly, and awkward moments that little (and big girls) have. I think that is the greatest gift a father can give a daughter. The gift of simply being there.
I know there are not many men who read this blog, but if I had one thing to say to the Dad's of the world it would be this. . .show up. . . always.
I am so thankful for a Dad who has been there continuously for all of my 32 years. Oh, how I wish that were true for all of us. . . Sadly, I know that it is not. Someday, though, I am certain that my little girl will be saying much the same things that I'm saying tonight because she, too, has been given a precious gift. . .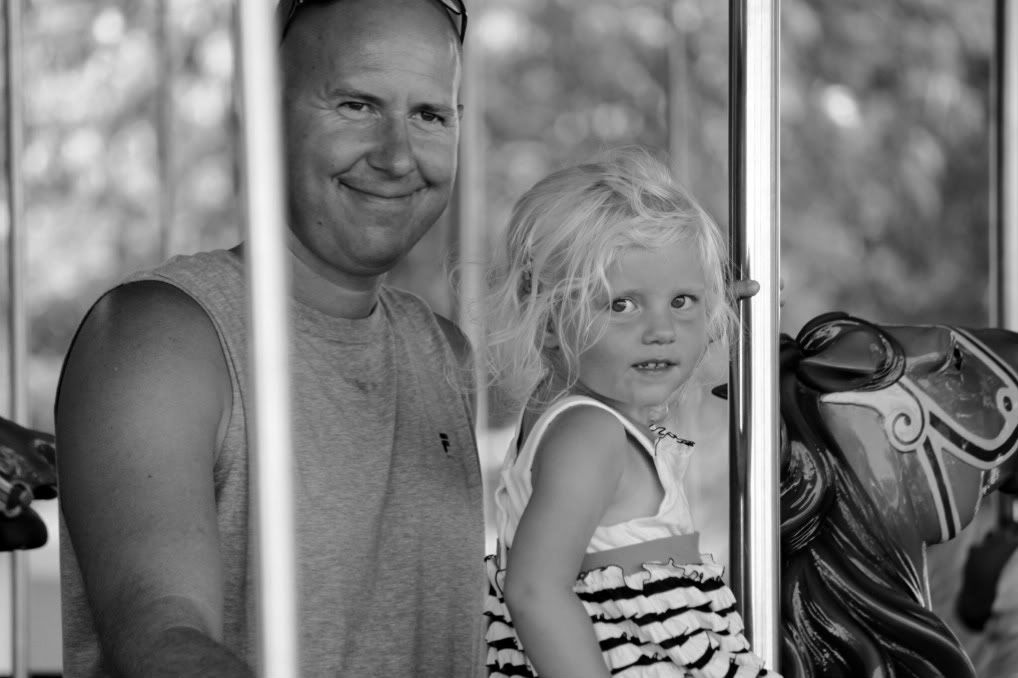 . . . a really great Dad.
Yep, again, my heart is full of thankfulness.