I'm pretty sure this baby is going to be a Rock Star. The next Jon Bon Jovi or Stevie Nicks. You think I'm joking, but I'm not. We watched our little Rockers first video on a wide screen t.v. just yesterday.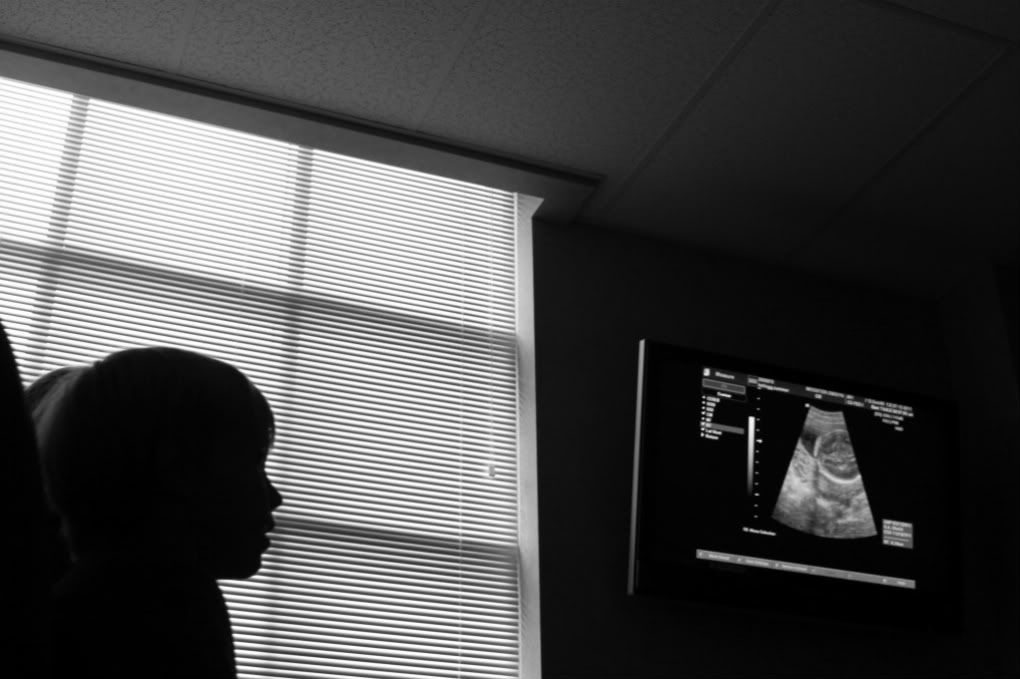 This little boy or girl shook, wiggled, and bounced the entire time we got our little peek. Interestingly, it also seemed to be singing into a pretend mic. One might think that the third time of having "warm goo" and a wand placed on my belly might be slightly anti-climacatic. However, it was anything but. As I sat there staring at the screen, I was mesmerized. Getting my first glimpse of two little arms, two little legs, and all the squiggly parts in between was thrilling–to say the least.
(Okay, not ALL the little parts. . . we're saving one little part for the sweet one's birthday).
Glancing from the wall mounted t.v. that held the images of our newest little one, to my left to see the excited faces of the two who have already taken the journey made this experience even more special.
Charlie was more quiet and transfixed on the screen while Chanelle was, well, Chanelle. Throughout the 12 minute ultrasound, my little girl provided the most thorough commentary.
Staring at the screen, "I think it's a dinosaur. I'm pretty sure it's a T-Rex."
Staring at my belly, "Mommy! Your belly is getting huger!"
When we witnessed the yawn of this 20 week old baby, "Can we put a blanket in there?"

Oh, my little girl. . . she keeps it interesting.
What was amazing is that we could look at this picture on the screen and see that this baby clearly has the same nose as both Charlie and Chanelle.
It might be difficult to see in this picture, but the resemblance is totally there. Trust me.
This baby doesn't just resemble the kids. Apparently, this little Rock Star gets his/her moves from me.

Thank you Chad for capturing our rockin' moves. . .
It was a good day. The fears that were expressed by my boy the prior evening seemed to evaporate and we celebrated together as we got the news that our little one looks "perfect."


When Chanelle was born, Charlie was just under 2 years old. This time, having kids that are a bit older is proving to be both more exciting and challenging at the same time. Not just the lack of naps for kids and mommies, but the inquiries that come up from time to time.
"Mommy, how did the baby get in there?"
"Mommy, how is the baby going to get out?"
Oh my.
For the record, I am completely okay with being honest with kids about the reality of life. However, I also want to be careful to do so in an age appropriate manner. To be honest, I think I used the tactic of distraction to get around the first question. And the second question? Interestingly, a friend and I were just talking about this particular question days before Chanelle posed it to me. I stole my friends answer. . .Mommy and Daddy are going to go to the hospital and the doctor is going to help get the baby out.

Luckily, they were quite satisfied with this answer.
These are the things you don't think about when you are looking at an ultrasound picture or dreaming of the precious moments you will share with your child or dinosaur, whatever the case may be. The what's, when's, and how you will respond to the "big" questions. . . there is just no way you can prepare for them. They come when you least expect it.
I've learned that a well developed ability to think on your feet is one of the best parenting tools you can have. I've also learned that if you lack that. . . a friend who has said ability and readily shares information with you is just as good.