I love to cook and I love to bake. In a perfect world I would be getting paid to do it. I love to bake for others and see the smiles on their faces as they enjoy something I've made. It's fun for me. . . therapy in a way.
Cooking is not my problem.
Cookbooks, cooking magazines, cooking blogs, cooking websites are my problem.
I need help.
A quick perusal of my home will quickly illustrate this addiction. Want to see?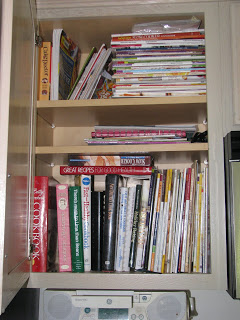 The cupboard is overflowing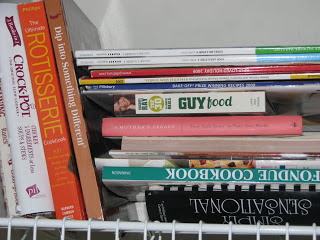 A shelf in the laundry room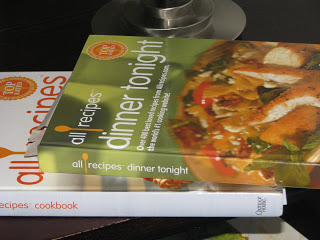 On the countertop

On the kitchen table

On the breakfast bar.

On my dresser in the bedroom.
On the floor beside my bed.
Several years ago I gave trash bags of these little treasures away. It was freeing. Cleansing. Liberating. Unfortunately, I have accumulated too many. . . . .again. C. is very patient with my addiction. Every now and again he will suggest that I downsize the over-flowing cupboard, but otherwise he keeps his mouth shut. He is a very patient man. I love to look through these magazines and cookbooks to find things to create. The problem? Once I am ready to make this recipe or that one I can never remember what book it was in.
I don't know what my problem is. Maybe I have some sort of an emotional attachment to these books. . . I don't know. Outside of this I am not really a pack rat. My house is pretty free of clutter, emails do not stay in my inbox long, and I cannot stand to have excess junk on our DVR. (We won't talk about my parents attic, though). I need to do something about this. I need help. I need a new system. I need suggestions. Anyone? This is my cry for help. . .