For 37 years, I have sat at the dinner table on Thanksgiving and passed around turkey, dressing, mashed potatoes, cranberry sauce, rolls, and peas, for color.  It's our tradition.
On Christmas, those same dishes are passed around the table.  For 37 years.  Turkey, dressing, potatoes, cranberries, bread and peas (for color) are passed from hand to hand for one and only reason–it's tradition.
Every year on our birthday, my Mom strung a multitude of colorful balloons together and hung them around the fireplace.  Sandwiched between the balloons was an equally colorful sign declaring, HAPPY BIRTHDAY! to whomever the special person of the day.  It was nothing fancy, really, but it was tradition.
On Wednesday evenings, our family could be found sitting around a table at a restaurant where our waiters or waitresses knew we would sit and talk for at least 45 minutes before ordering our food. This is how we caught up, touched base, reconnected in the midst of busy lives filled with work and sports.  Our drink orders were put before us before we even placed them, because the servers knew our family.  They knew our tradition.
Every year as the skies darkened early and the temperatures began to fall twinkling lights of red, green and gold appeared everywhere.  Christmas cheer went up with the lights and our family piled into the car and traveled slowly from neighborhood to neighborhood to ooohh and aaaahh at the sparkling lights that were placed on porches and in windows.  It was just a little thing that we did each year, but, it was tradition.
I could go on and on and on. Tiny little things that our family did.  Small gestures in the big picture of life.  But still, those memories, those traditions, are embedded in my mind.  In a way, traditions are like road maps, pointing us where we are, where we've been, and where we are going.  There is something so comforting about traditions.  Such small things, but those slow drives and Wednesday night dinners, they defined us.  They were the building blocks of who we were and who we were becoming. Those traditions made us stronger, made me stronger.  Those traditions were a foundation, grounding me throughout life, reminding who I am.
Now that I have my own family, I think about those traditions with so much appreciation.  Those daily, weekly, yearly things that I depended on–I want those things for our family, too.  I want our kids to carry the things we do today into their lives with them years from now.  I want those markers for them, those dependable, comforting things that make us, "us".
What I've come to understand is that traditions aren't necessarily planned, but they become.  Over time, we find we are doing a certain thing again and again and voila! it's a tradition.  We didn't go looking for it, but somehow, it found us.  One such a tradition for us, is the week we spend at my Dad's every summer.  We didn't go looking for it, we didn't plan to spend a week year after year after year, but somehow, it's become a tradition that has become my favorite week of the year.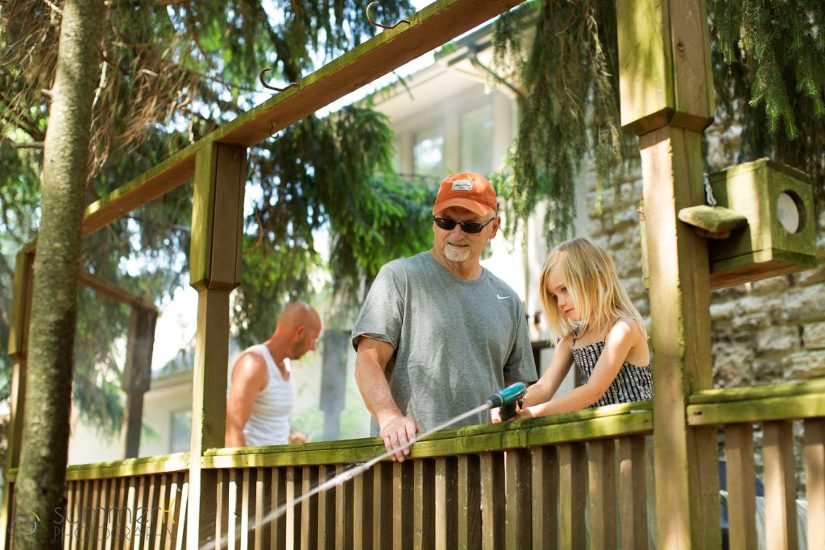 I'd like to say that we fill the week to the brim with a lot of exciting things, but really, we just hang out, relax, and enjoy being together.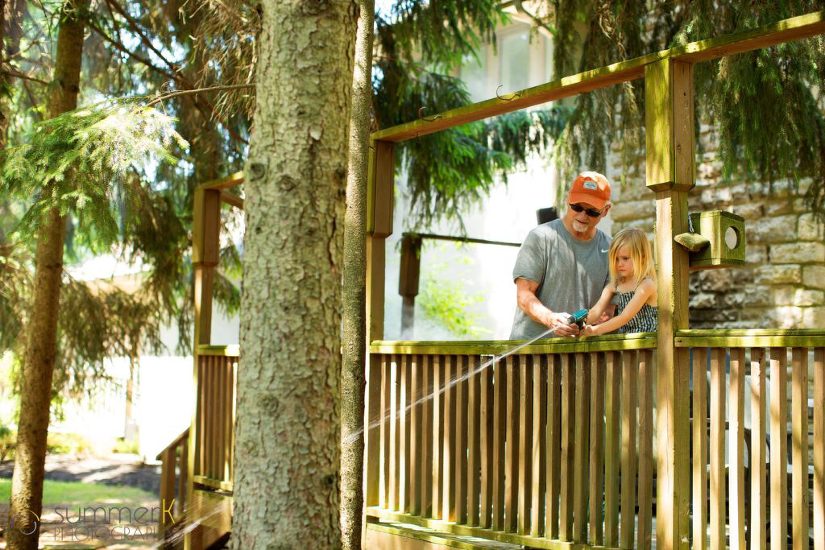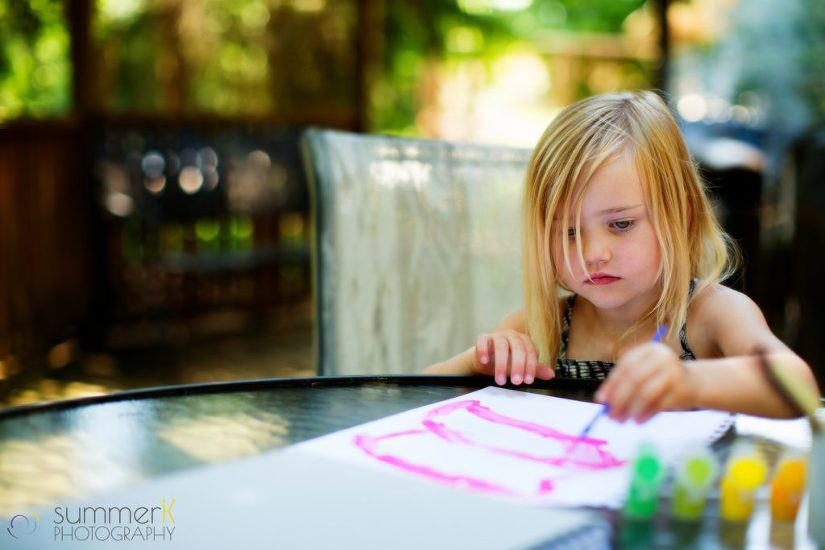 We spend days on a tiny little beach and it's all very simple.  But somehow, simple is just perfect.







We are thrilled when cousins get to join us.







And Chad and I sit on the sidelines covered in towels when the temperature was only 60 degrees and our crazy little ones braved the water. . .



. . . for about 5 minutes.
And our beloved tradition within a tradition. . . sunrise on the beach. . .





I'm pretty sure this is Taza's favorite part.





I love standing back and watching this scene.  Who will brave the water?  Who will opt out?  Who will see the suns first peeks over the horizon? When will they forget about how cold they are and see the beauty before them?  Sunrise on the beach is a tradition that I will carry with me forever.  However, I suspect they show up for this stop. . .



Either way, we are drawn back year after year.
The days are easy.  We relax, we talk, we leave the stresses of daily life at home and enjoy a tiny oasis in the middle of Ohio.





Chad cooks amazing meals (because he moonlights as a chef when he's not landscaping or photographing) and we enjoy the fruits of his labor.







And that's all it is.  Simple. Not flashy at all. Us. Together.










Making memories.  Forming traditions.



Seeing the spectacular in the mundane.


Simple, indeed.
Happy Friday!