Waking up on Christmas and spending a slow morning oohing and aahing at gifts being opened one by one. Hanging balloons, baking cakes, and inviting family and friends to celebrate each and every passing year. Thanksgiving day spent taking turns basting a big bird and breathing in the growing aroma of a dinner with all the fixin's. A week of digging feet into the sand, bronzing pale skin, and watching little ones playing tag with the incoming tide. . .
Traditions. . . I love them.
I grew up in a family that had many traditions. When I look back at my childhood, I see those traditions as little pieces of thread that joined together to make our family strong. The traditions provided a foundation, a feeling of security, and a sense of belonging. Now that I have my own family I find myself wanting to create the same things for our kids. Of course when you get married there is a give and take as you bring in some of your own traditions, receive new ones, and create some of your own. Our Valentine's Day is the first tradition Chad and I claim as our own.
Chad and I have never been big on Valentine's Day. I still remember our very first Valentine's Day together. . . that was the year we exchanged ecards. Hopeless romantics, we are. Then we had kids and Valentine's Day became fun. A celebration of the love we have for our two little blondies and a celebration of the joy we experience being a family.
This year, as you know, Valentine's Day fell on Monday. Since I work late on Monday's we adjusted our plans and celebrated on Sunday. Preparations for our special Valentine's Day dinner begin early in the day. . .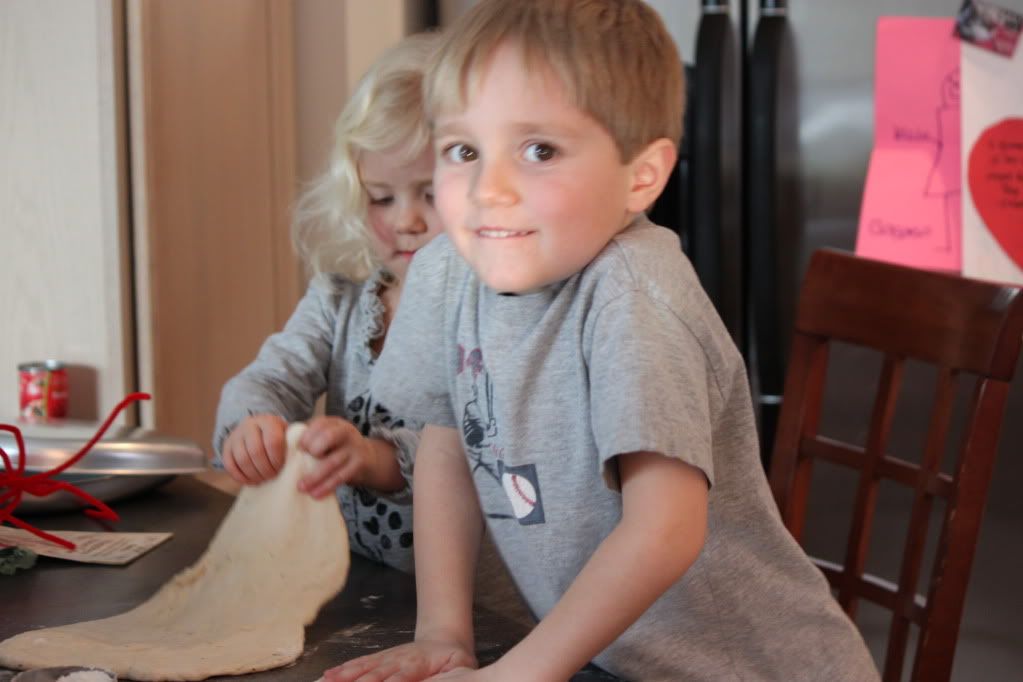 If you want to entertain kids for hours. . . let them roll out, pat, and stretch pizza dough. It puts play-doh to shame. Our Valentine's dinner consists of pizza. Homemade heart shaped pizza. In previous years, I have spent far too long frustratingly lovingly shaping a big heart out of the dough. This year I'm sending a big shout out to my MIL for passing along some fabulous heart-shaped pans. . .

Homemade sauce. . . is there any other kind?
They each take a pizza and load on their toppings. One pizza for the kids and one for Daddy, who would join us later in the evening. The pattern of dressing the pizza went something like. . . one for the pizza, one for me. . .


Don't worry, it's turkey peperoni

Thou shall not forget fun dessert
It probably seems silly to make such a big deal of a simple pizza dinner. It's about so much more than the pizza, though. So much more than the Hallmark holiday. It's about making memories, creating stories, and enjoying the simple things that become so special as we look back on them years later. I think the Heaven's knew this was our special night and put on a beautiful show for us. . .

I sat with my beautiful children with lights dimmed and heart-shaped pizza baked and took it all in. I watched their eyes light up as they climbed into their chairs and listened to their exclamations that reaffirmed that it's all worth it. We sat together, the three of us, and laughed, ate, and told stories just like we do every night. . . but this time it was by candlelight.



Does it get any better than this? Well, maybe. . .


. . . . finally Daddy arrived home. . . with gifts.
Such a simple thing. A small dinner by candlelight. And when all was said and done and the kids were tucked into bed with their new animals, I walked out to the kitchen and surveyed the disaster we created.

As I plucked away at the mess, dish by dish, I had a momentary thought. . . was it worth it? But as quickly as it appeared. . . the thought was gone. Was it worth it? Of course it was. . . we are making memories. . . this is our tradition.
"Family traditions counter alienation and confusion. They help us define who we are; they provide something steady, reliable and safe in a confusing world."
Susan Lieberman