Monday afternoon Chad and his Dad loaded Charlie and Chanelle into the car and headed to one of the most exciting events of the year. . . The Cleveland Auto Show. (Your heart rate just increased, didn't it?) Unfortunately (she writes sarcastically), since Meadow is a bit young to go, I had to skip the event and stay home and care for her.
Don't you feel sorry for me?
Truthfully, you could hand me a cute little box with a pretty little bow containing a 5 karat diamond ring, and my excitement would pale in comparison to having one on one time with any one of our three kids. The snippets of time when it is just my eyes meeting their eyes, undistracted, are among my most treasured gifts.
I've come to understand that with each child and at each age, their needs are different. Charlie, for example, prefers to go and do. Soccer games, hide and seek, and building things are his usual requests. He wants to be active and on the move, flitting from this activity to that one. Chanelle, on the other hand, prefers to sit and play games. If I have alone time with her she will carry a stack of board games and card games into the living room and require that we sit until we complete them all.
Now Meadow, well, she's not yet verbal. So when Mommy gets time with Meadow. . . Mommy is in charge. So, after we issued good-bye hugs and farewells to the car-show-going-crew, I grabbed the reigns and this is what I did. . .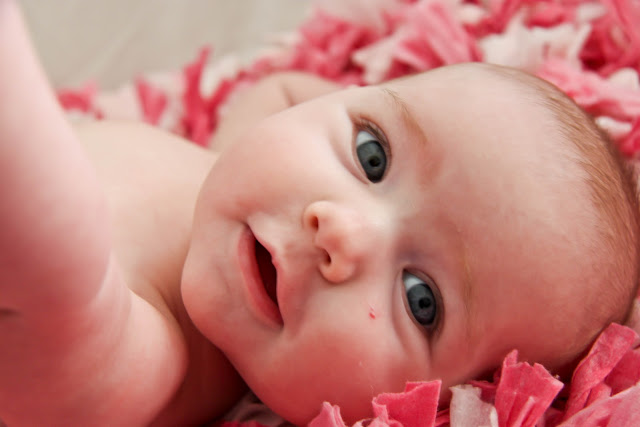 I delighted in my baby girl. Oh my. . . I delighted in her.
I took in her smile and the cute way she rocked back and forth on her back, not quite able to flip herself over yet.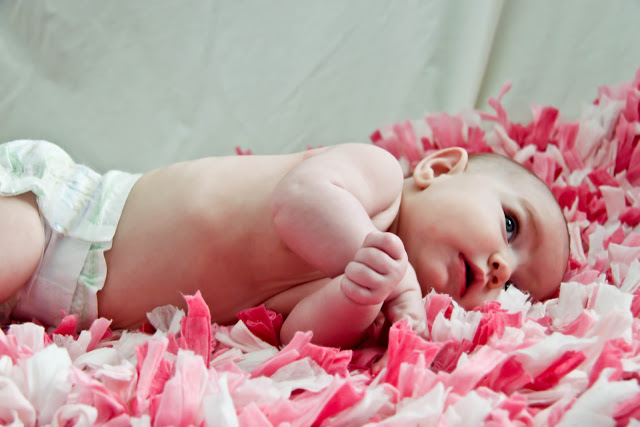 I delighted in the way she stretched her arms out as wide as she could, as if she were just waking from the dreams of the deepest sleep.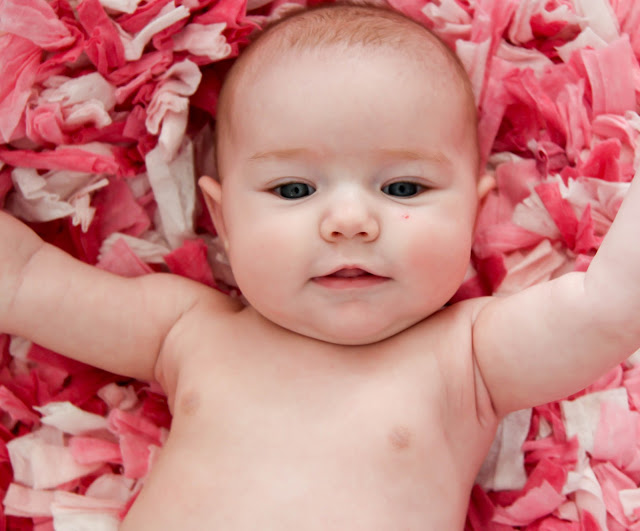 I held her close to me and I fed her. I was mesmerized by the way her deep blue eyes pierced my own as she gulped in nourishment. I smiled as I watched the way she wriggled all about when it was time to change her diaper. And then I did what girls do. . .

I dolled her up. At 33 years old I still delight in the simple act of dressing up my (live) baby doll.

We had hours together, just her and I, and the only thing on my agenda was to enjoy her. As I sat and watched her from afar I took every piece of her in. I listened to the way she gurgled in an attempt to communicate with me. It wasn't a frustrated communication, but a seeming awareness of the fact that I was there simply to delight in her.

She let me watch her as she flailed about attacking her own hand as a puppy would attack a steak bone.


And she even tolerated my attempts to capture those baby blues in all their cuteness.


I can't describe how much I wish I could schedule this kind of time with each of my kids every day. Moments when the quiet passes between us in an expression of love that needs no words. As the sun settled below the horizon that evening I held my growing baby close to me, placed my hand on the back of her head, and breathed in her fresh baby scent. After some time passed, I broke the silence with a whispered thank you for this most precious gift that has rocked our world with more love than we knew we could handle. . . And in that moment. . . little else really mattered.

No, Meadow and I didn't go to the auto show. . . but we had an afternoon I won't soon forget.
***********
Oh, and one more thing. February is over and guess what?

I'm still at it. Five months down in my 365-project. . . just 7 to go.
************************************
Have a fabulous weekend!!