It's funny the things you take for granted. You know the saying, "just like riding a bike." Without thought, one might think that the phrase infers that it's easy to ride a bike. And really, how much do we think about riding a bike? We don't. Once we learn, we never forget, right? It's something we know without any thought.
I don't remember much about learning to ride a bike. I'm not sure how old I was, but I do remember the house we lived in at the time. I don't remember how long it took me to learn, but I remember vividly the pink hue of the bike and the fancy white banana seat. I can't remember how many times I fell, but I do remember my Dad running beside me with his hand gripping the edge of said banana seat. I do know that eventually he let go and I learned how to ride the bike.
Letting go. . . the ongoing theme of parenthood.
We've been working with Charlie and his bike. I was perfectly content with him on his big wheel. . .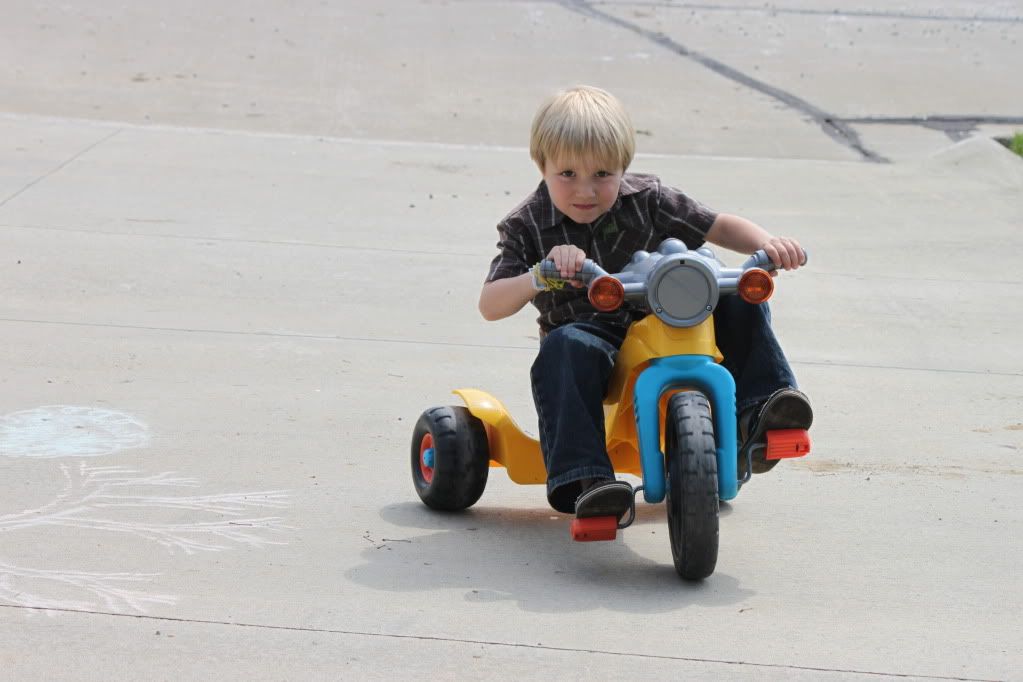 I was even quite content with his training wheels. He was stable, smiling, and everyone was safe and happy.
A day came, though, when we thought it was time for the training wheels to come off. It has been quite awhile since I learned how to ride a bike, so my thinking was how hard can it be?
At first Charlie was enthusiastic and ready to go. Once we started, though, it was a little tough. Balance was a foreign topic and paying attention to what was in front of him rather than the butterfly fluttering across his path was important. I quickly learned that my patience and understanding was slightly lacking nonexistent and Daddy was probably going to be the better teacher.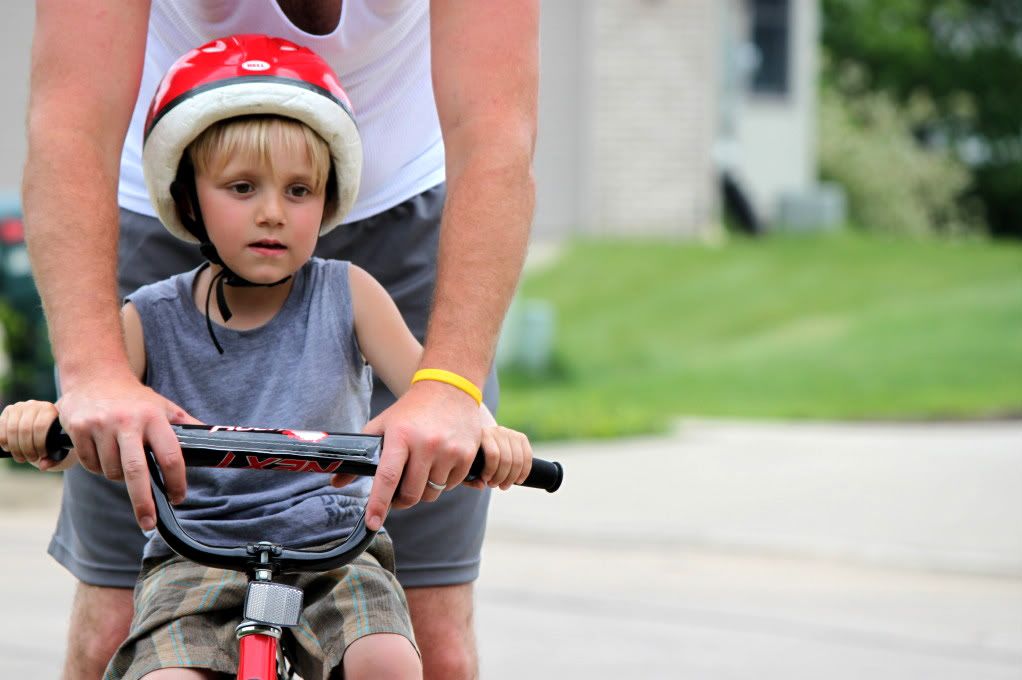 To be honest. . . Charlie's enthusiasm quickly waned as he realized how difficult it is to balance, steer, and remain upright. There were many falls and he asked several times if we would put his training wheels back on. So, we did what any good parents would do. . . we bribed him.
(Okay, so I'm not big on bribing kids, but in all honesty. . . it worked like a charm. I can admit it, I am not a perfect parent.)
Charlie has been asking for a razor scooter and we knew we would get him one, but were unsure when. Why not now? We bought the scooter, put it in the garage, and told him he could have it when he learned how to ride his bike.
Ta-da!

This is the moment when he realized he was doing it all by himself.
Once he got started he did fine. The biggest challenge was starting on his own. After a little practice, though, he got it.


The process was not without it's trails, but he was a champ. We celebrated him with lots of high fives, shouts of praise and a stolen hug here and there.


. . . and of course his much desired scooter.

Maybe bribery isn't the greatest parenting technique, but I'm feeling okay with it this time. Call it incentive or reward if you will. I call it successful. Now he's riding free around the neighorhood going faster than I'd like and spreading his wings wider than ever before. . .

Can we say parenting illustration? Sloan Wilson thought so. . .

The hardest part of raising a child is teaching them to ride bicycles. A shaky child on a bicycle for the
first time needs both support and freedom. The realization that this is what the child will always need can hit hard.
Oh my, these are true words. I see it in every transitions we make. From from the first breath to crawling to walking to running to bike riding and beyond, I'm sure. Just as they need support and freedom, I celebrate and grieve at the same time. It is beautiful and terrible all at the same time. And I think that is what parenthood is and I'm becoming more comfortable with that. I may choke back tears all the way through, but the joy that comes with seeing them do something on their own is unmatched.
In fact, I love the process so much, we got Chanelle started. . .



. . . and I'm going to enjoy every second of it.