"I miss you guys."
"I know, I miss you all, too."
"You better not be starting a new trend with this."
"Don't worry, that's not the plan."
This was part of a conversation my sister and I had on Thanksgiving day. I was at home and she was at my Dad's house two hours away. For the first time in my 33 years I was away from my family on Thanksgiving. We made the decision to stay home this year rather than travel with a baby just 1 week old. Last year Thanksgiving was all about rallying through another "first" and this year was a first of another kind. Our first Thanksgiving with just us. . . just the five of us.
I love Thanksgiving. In fact, it is probably my favorite holiday. I enjoy that there is no pressure to find the "perfect" gift, or the commercialization of a time that should never, ever be commercialized. I enjoy the slowness of the day. I love just being together. I relish in the time that is simply about being thankful.
My heart is so very thankful.
I was prepared to feel a small ache in my heart at not being home for Thanksgiving this year. I'd be lying if I said I didn't. For the most part, though, I only felt gratitude for this precious little family that surrounded me. We decided ahead of time to keep the day low key. We made no big plans except that we would be together.
I'm not sure there is anything better than lingering a little too long in p.j.'s and bedhead in the morning. I think if I could have it my way we would do this every single morning. We sat together on the living room floor and learned that it takes our entire family nearly 30 minutes to fit together a 63-piece puzzle.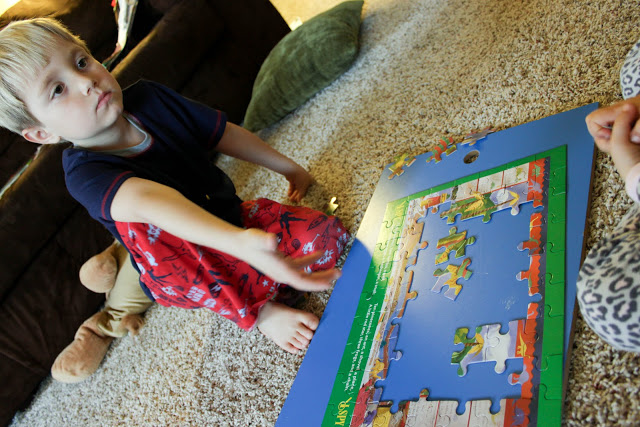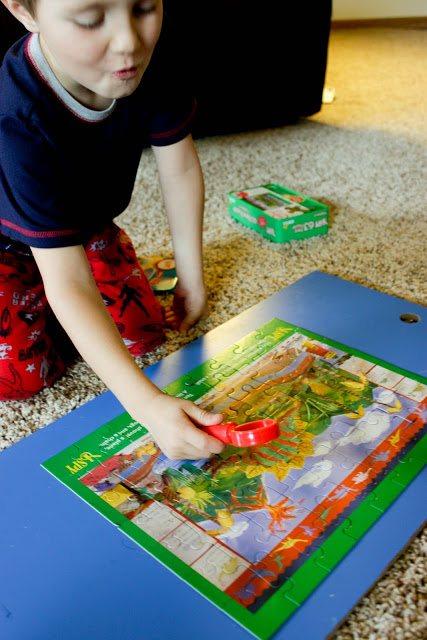 We watched the clock in anticipation of the event of the morning. . . The Macy's Parade. I will admit it. I talked up the parade. I am a girl who LOVES traditions and I want to create memories for my kids. So much of my own childhood was built around traditions that we incorporated every year. I long for my kids to value traditions and to look back fondly at memories that we created around certain times and events of the year. Even if they are as simple as watching the parade. What joy I had watching my girl shimmy her hips with the dancers on the screen.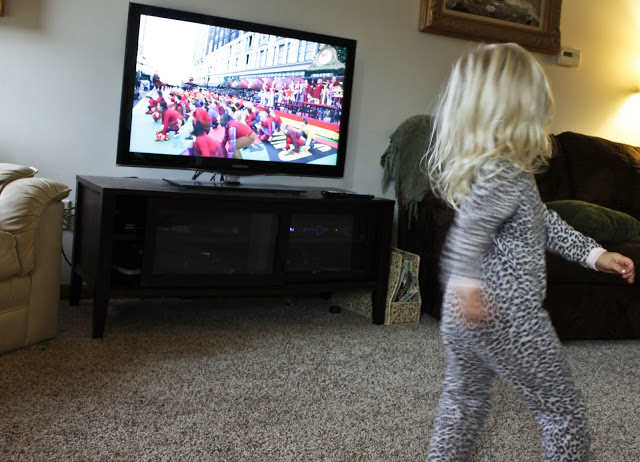 This Thanksgiving each of us felt the shift in our family with the addition of Meadow. Oh, I was so nervous about how Charlie and Chanelle would receive this little gift and I have quickly learned that they have plenty of room in their hearts to love another.



It's beyond anything that I can really understand but they have embraced their new little sister without question or concern. I'll tell you one thing, Meadow is a lucky girl to have these two. Our lazy afternoon included taking Meadow on her first outing. . . a walk on an uncommonly warm November day.

She was thrilled to get out, can't you tell?

Oh, and Dad? He's handling this father of three thing quite well. This having two daughters thing fits him well. . . .

I promise, Meadow could breathe.
In the afternoon I talked to my Dad. . .
Does the house smell like turkey?
It sure does, he told me.
Can you send me some stuffing?
The Thanksgiving meal has always been a big tradition at our house. My Mom's turkey and dressing is the best. While I wasn't up for going all out this year, I did my best to create a meal that was memorable.

Truth is, Chad and the kids would have been perfectly happy with a bowl of cereal for dinner. I just can't do that, though. As a wife and a Mom I want to create a special atmosphere for special occasions. Even if they don't see it now I hope that someday they will understand the love with which I do these things. I think they enjoyed it. . .

Maybe it wasn't a large turkey, but Cornish Hen's were special, too.
And as we sat around the table that evening and joined hands in a prayer of Thanks each of us uttered the same words. . . thank you for our family and thank you for bringing Meadow to us. . .

Thanksgiving did look different this year. Now that I'm on the other side of it, I see that different isn't always bad. I have so much to be thankful for and this year we created memories that were all our own. They were new, special, and beautiful in their own unique way. And as the days and years continue to move forward the same theme continues to arise. . . no matter how bitter-sweet a situation is–what I chose to focus on makes all the difference.
Truly, Thanksgiving is more than a Day but at it's best, it is a lifestyle.
If "thank you" is the only prayer you say, that will be enough.
-Meister Eckhart