We've called you "Baby K", "The Baby", "Baby". Sometimes, we've even called you "Crazy" because that's how your movements are almost all day long. . . crazy. We've waited, anticipated, talked about, guessed, dreamed, hoped, and longed for your arrival.
Finally, it's almost here.
It was back in July, I believe, when we got our first glimpse of you.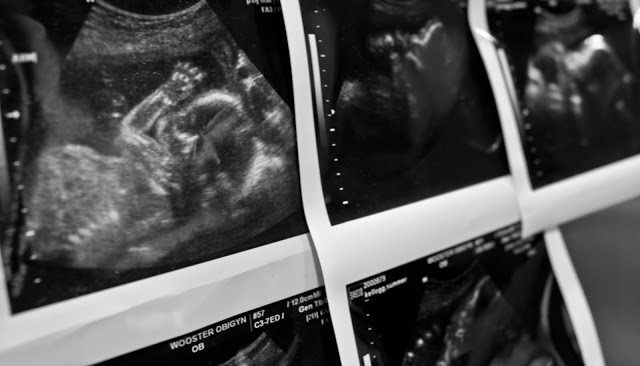 We were so excited to see you move around and flail your arms as you rested comfortably in my womb. You were so very tiny back then. The weeks and months since that time have given you time to grow bigger and stronger. I have felt your strength grow in your movements and we've even seen it in on the "big screen" a few other times.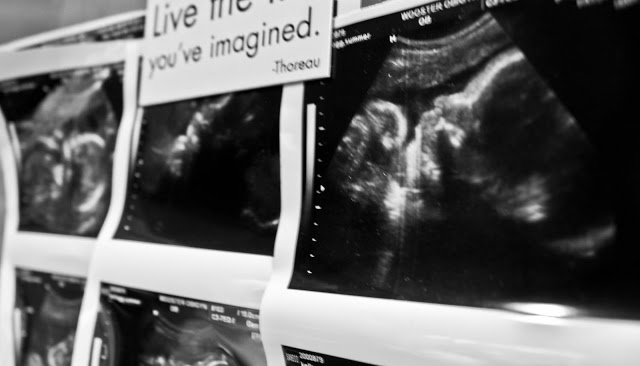 Look how much you've grown! You look like a real baby now! They tell us you have fuzzy hair but we can't help but be suspicious of this claim. Both your brother and your sister were born completely bald.
We are so excited to meet you. We purchased your first pack of diapers, your crib is all ready for you, and our arms are preparing to hold your tiny frame. The anticipation is almost more than we can bear. We know, though, that you will be arriving in a matter of days. We have been assured. . . you will be here THIS WEEK!
Yes, in just a matter of days I will gaze into your eyes and feel the warmth of your breath against my neck. The questions that we have been tossing around for months will be answered. Boy or girl? Hair or no hair? Will your name be M________ or B________? Will we remember how to change diapers and swaddle you in a blanket? What will it be like when Charlie and Chanelle first lay eyes on you?
Speaking of Charlie and Chanelle. . .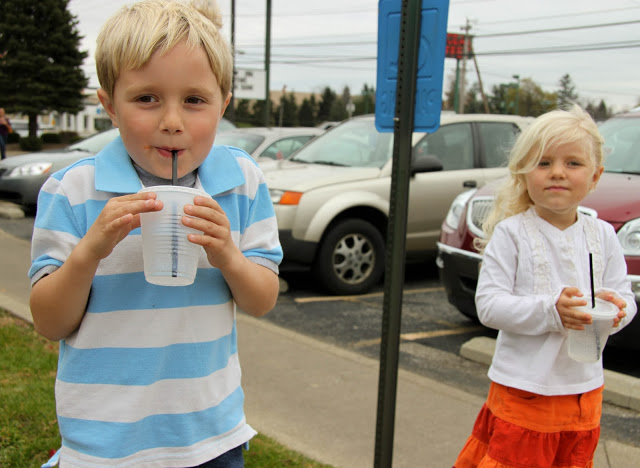 They, too, are so excited to meet you. Ever since we learned you would be arriving this week they let us know each morning/afternoon/evening how many days until Baby (that's you) will join us. For months we have prayed for your safe arrival and finally we are within days (or hours) of meeting you. Someday, when you are bigger and if you ever read this, I want you to know how much your big brother and sister loved you. . . even before you were born.
When you join us Charlie will be 6 years old and Chanelle 4. They talk about you all the time. Lately, though, they have admitted to being scared. Change can be hard. The unknown is often scary.

Charlie told us that he is scared about holding you. He's never held a baby so small. He has also told us that he can't wait to snuggle with you and to see you laugh for the first time. He thinks that will be pretty cool. He is adamant, though, that you mustn't pull his hair.

Chanelle recently set aside a few stuffed animals for you. Animals that she thinks you will like. She also offered you her prized blanket–the blanket that was her constant compainion for 4 whole years. Her fear has remained the same for months. . .she fears you will poop on her. We've tried to explain to her that you won't be pooping on her, but I think she just needs to see it to believe it won't happen.
Oh, and your Daddy. . .

You will be pleased to know that you hit the jackpot with him. Yes, you have a really, really good Dad. Even now, before we have welcomed you into our home your Dad likes to play with you. He likes to place his hand on my belly and chase you all around. He feels a limb here or a baby bottom there and he just laughs at the reality of you. Oh, my wee one, I can't wait to see you in his arms. I suspect you will be quite content there.
Today was my final day of work before your arrival. As I closed my day in the quietness of my office, your "crazy" movements were at an all time high. I placed my hand on what I think was your foot and a closed my eyes and smiled. I imagined what it will be like when I see you for the first time. How I will feel the first time I hear your sweet cries. For 39 weeks you have been as close to me as my heartbeat and in just a few days I will share you with the world. Like I said, there are so many questions that your dad, your brother, your sister and I can't wait to learn the answers to. There is one thing, however, that we know for sure. . .
We already love you.