The countdown is on. It's really almost here. This marks the final few days before Christmas. The days when traditions are ramped up to full throttle and we continue to write on to the pages of "Memories" that our kids will take with them throughout their lifetime. I am already seeing visions of a Mommy Chanelle and a Daddy Charlie reminiscing with their own children about the traditions they had "when we were growing up." Maybe their kids will groan when they tell and retell stories of baking, visiting Santa, counting down with the advent calendar, singing Christmas carols, and celebrating Jesus' birthday year after year after year. However, if my grandchildren are anything like my children, they will absolutely delight in everything marked tradition.
Oh, I am loving these days.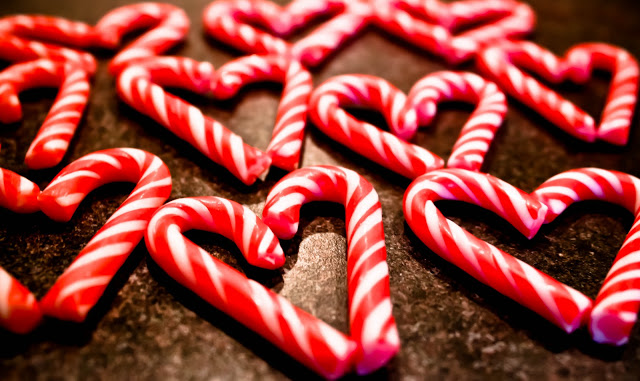 Can you tell?
Loving. these. days.
This year marks the first year that Charlie and Chanelle seem to remember the things we did last year and anticipate them as if it's just "what we do." And it is. It's just what we do.
Christmas music blares from speakers in every room of the house. Our Pandora account(s) are on the verge of being maxed out as we dance, bake, sing, decorate, and exist with the sounds of the season. When the music isn't playing, Chanelle makes sure that we hear the sound of her singing voice filling the silence. I don't know about you, but there is something about Christmas music that makes me want to strap on an apron and bake. Thankfully, I have two kids that love to join me in the kitchen.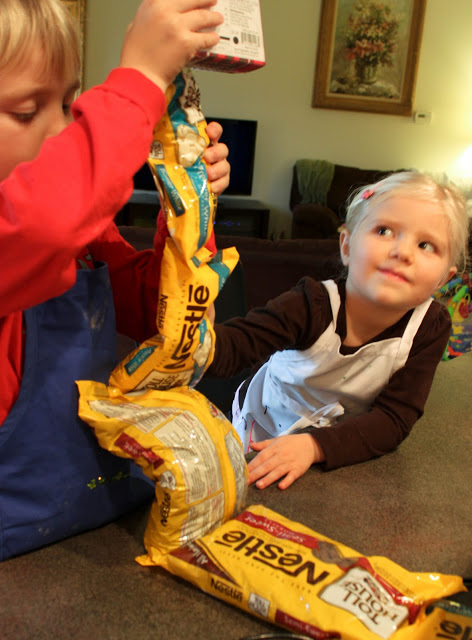 After they very carefully made their Nestle's tower, they assisted me in making sweet treats all afternoon long.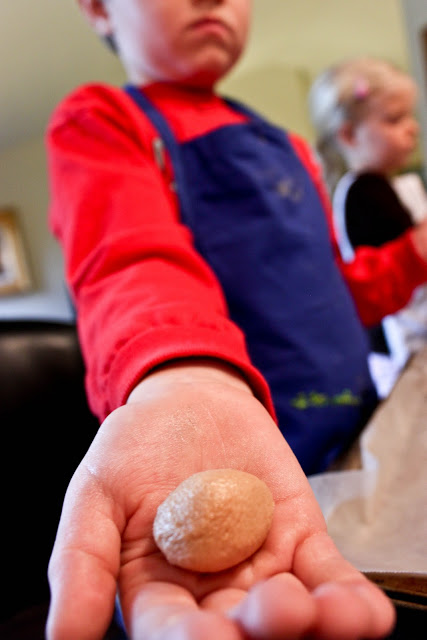 Charlie and Chanelle tend to work really well together and I was pleasantly surprised to find that Little Sister was content enough to watch from the sidelines.

The fruits of their labor were, well, anything but fruits. . .

Oh, but chocolate covered fruits would be good, no?
It's cold outside and we find that baking is one way that we can fill the days when we are trapped inside for far too long.
Speaking of cold. . . it's truly cold. Don't believe me?

Yes, that is snow. Still suspicious? Check this out. . .
Our first "real" snow! Oh, it seems that Mother Nature smiled on us this weekend. We had been planning all week that we would make our visit to Santa. That is The Mr. Santa Claus who just happens to live about 1.5 miles from our house. I know, we are lucky, aren't we?
Oh, the kids were so excited to go to his house. They talked and talk all evening about what they were going to say to him. As we drove to his house they talked about what they wanted to say to him and oh my goodness we're almost there! I could almost hear their excited hearts thumping in their chests. We pulled up to his house and it was like entering a magical land.
Colorful lights fill every corner of his property, and characters ranging from Goofy to Santa's elves can be seen everywhere you look. All around children are milling and squeals of delight echo from every direction.