One year ago. . .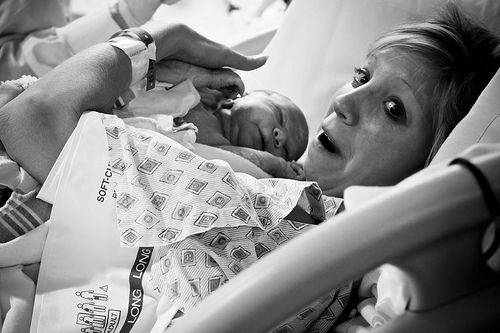 A tiny little girl was placed on my chest for the very first time. In that one second my heart expanded and made a place where our sweet baby fit perfectly.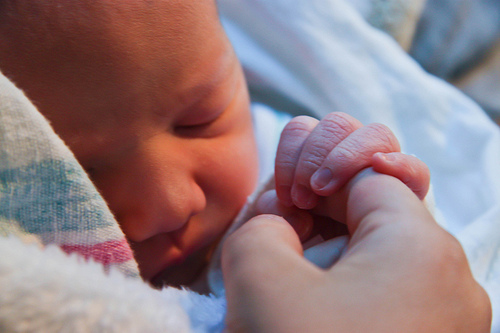 I remember sitting in the hospital room the night she was
born. All of our visitors had departed and the room was lit by one tiny light in the corner and the glow of Sports Center on the T.V. I sat next to Chad and for hours all I could do was stare. And cry. I was amazed by the gift that rested in the bend of my arm and captivated by the miracle of it all.
I remember everything about that day. I remember the way that I was so overwhelmed by love that it nearly took my breath away. I remember the softness of her skin against my skin and the way the delicate dark hairs on her head tickled my cheek. I remember her sweet smell and the rise and fall of her chest. I remember the soft baby whimper that disappeared all too quickly. And more than anything, I remember the way her eyes pierced mine. As if she already knew. . . you're my Mama.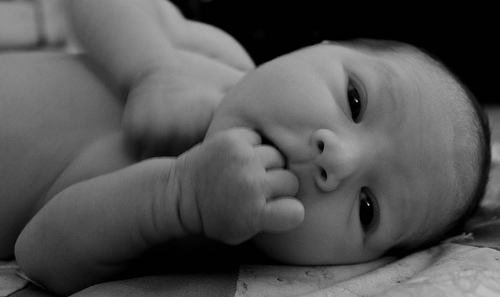 It seems impossible that that day was a year ago. But it was. . .

Today, my baby girl is one and a year later I am still overwhelmed with love for this tiny baby who rocked our world and completed our family.
Sweet Meadow, today I write to you.

At just a year old I understand that you will not remember these days. The memories we have made during the last year are memories that will be stored in my mind, but most likely buried in deep unreachable places in yours. But I want you to remember, Meadow. I want you to know. I want you to understand that during your first year of life we absolutely delighted in you.

Even as I write this, I hear your brother and your sister in the living room cheering and clapping and exclaiming, Go Meadow! Yay! I suspect you just took another couple of steps. I want you to know, Meadow, that this is how we spent your first year of life. We celebrated you.

Even after a year, Charlie and Chanelle still a race to your room to greet you when you wake up. When they come home from school the first thing we hear is, Where's Meadow? Your big brother? He gives you the most sweet, gentle hugs you could ever imagine. And Chanelle? Well, she makes sure all your needs are met. We call her your second Mommy.

Meadow, I think about you coming to this space when you are 13 or 18 or 25. . .and there are a few things I want you to know.

I want you to know about yesterday morning. I want you to know that the house was silent except for the fan in your bedroom. It was in your room that you and I sat on the rocking chair as I stroked your hair and you snuggled into my chest. We sat there, and as tears dripped from my eyes I told you how much I love you. I told you how special you are. I told you how thankful I am that God gave us you.

And I want you to know about this evening. I want you to know how I was in the bedroom folding laundry and I heard your Daddy giving you a bath. I want you to know how I heard him talking to you and playing with you and I want you to know about the immense
joy
I heard in your Daddy's voice. As I listened to the two of you I thought to myself,
I'm so glad that he is her Daddy.

I want you to know about nighttime. I want you to know that each evening we hold you close and carry you to your crib as you give in to sleep. I want you to know the sweetness of those moments as prayers of thanks and a prayers of protection are whispered in the dark. I want you to know Meadow that from day one. . . our love for you knew no bounds.

And Meadow? I want you to know that seeing a full year go by is bitter sweet for your Mama. You are my last baby and, in a way, I am grieving all that we leave behind in the first year. But even more than that I want you to know how excited I am to get to know you more and more. Just in the last couple of months we have so enjoyed seeing your personality begin to emerge.