It's been almost five months. Just typing the words produces tears. It seems like an eternity ago and yesterday all at once. I remember everything from that day. I remember that I didn't feel right all day. . . that something seemed off. I remember that I had just gotten home from work. I remember that I was chopping celery for dinner the next day. I remember that Chad and the kids had just gone into the garage to do something. I remember that I was wearing gray pants and a pink shirt. I remember it was around 7 o'clock. I remember that I had a cancellation at work and got home an hour earlier than expected. I remember the phone call.
I relive the phone call more than I care to admit. The words from my Dad replay in my head like a CD set on repeat. . . "Mom, passed away tonight."
I remember phone calls being made. I remember my in-laws arriving in minutes. I remember the arrival of a dear friend. I remember texts and emails that poured in within minutes. I remember tears and hugs from little tiny arms. I remember Charlie handing me my Bible and gently saying, "here Mommy, this will help you feel better." I remember driving to my hometown the next morning and being with my family. All of them gathered together, aunts and uncles, surrounding my Dad. . . surrounding all of us. I remember tears. Lots and lots of tears. But there was laughter, too. Laughter is as healing as tears. We are a family who laughs.
I remember a week spent in a fog. Making funeral arrangements, greeting family and friends, and being overwhelmed by the outpouring of love, support, and help from so many. Flowers. Food. Notes. Phone calls. Emails. Help with the details. Friends and family putting their lives on hold to just be with us. Tears. Laughter. Remembering. Trying to wrap our minds around it.
This is the last picture of have of the two of us. Me and my Mom. It was taken just last summer. She liked this picture. So do I. I wish I had a million more. Maybe that is why I feel compelled to take pictures of everything. I don't want to forget anything.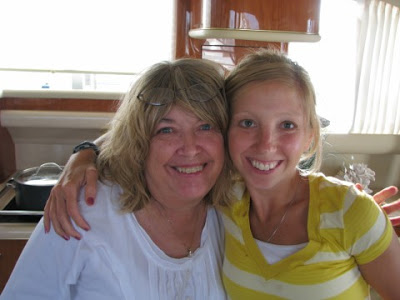 So, here I am almost five months later and walking through the mucky and muddy waters of grief. Learning to live without her and trying to understand what that means. She was too young and so was I. At what age do you stop needing your Mom? I know it's not 32. There are so many days when I expect a call. Even now. . . five months later. . . I forget that it's real. She's really gone. It's final. I miss the almost daily for-no-reason phone calls, the funny cards in the mail, and the listen-to-you-no-matter-how-silly-what-your-saying-is ear. I miss the unmatched comfort that the I've-known-you-since-the-second-you-were-born relationship holds. I miss it all and sometimes I cry. I've learned to be very okay with that. So has my wonderful family.
The loss of my Mom was a shock and the hows and whys are for another day. Right now, I'm working through the loss. Learning to be a mom without my Mom. Learning to be in this world without her. My Dad told me that we move forward one day at a time and before we know it we'll look back and be surprised at how far we've come. I'm comforted by that. No pressure. One day at a time.
This is part of my story. Part of my story that has left me forever changed. A part of my story that has left me asking questions about the kind of person I want to be. About the kind of person I will be for my kids. My husband. My friends. About what is really important in life. About what I believe and why. About how I want to live this life.
Loss. It's something each of us have to deal with in its many forms. I believe, though, that healing comes in its very unique, individual, and beautiful way. My story is not any others persons story. I do believe, though, that all of our stories somehow connect together to create something wonderful. Now I spend more time looking for that wonderful. And I see it. I see it everywhere. That doesn't mean I don't hurt. Oh, how I hurt some days. How I miss her and long for her to see the wonderful with me. But I'm going to be okay. I know that now. Without a doubt, I will be okay. And so I embrace this story, my story, with all it's highs and lows and I choose to live it. Because the choice is mine.