There is something about coming to this blog each evening that brings me such joy. It's kind of like opening a new journal with a fresh pen and endless thoughts to record. Some might question why I feel its necessary to write such things publicly. Why not just get a journal, write it down, and keep your life to yourself? I can't say that I know for sure why I have found this forum so appealing. I know that writing in this way has challenged me to go beyond where I have ever gone before. It's given me an avenue to be me, use my voice, but also feel safe while doing it. I have been so encouraged by those of you who read, comment, and encourage me to keep at it. If I said it a million times it wouldn't be enough. . . thank you for accepting my Running Chatter into this community.
I love coming to this blog each evening and reflecting on the day, the week, or this life and finding things for which I am thankful. It is like tying a beautiful ribbon on the wrapped present I worked hard to pick out. It has given me an opportunity to look, really look, at the blessings all around me. Even when days are challenging, this blog has drawn me in to look deeper at the simple things. . . the things for which I am so thankful.
This is the place I often come to write these words. . .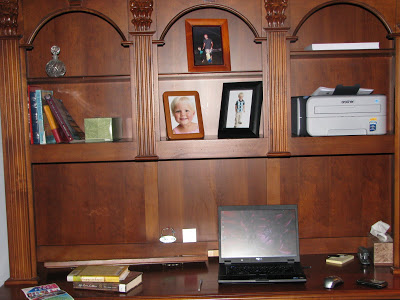 It's a quiet little space in the corner of our basement and I love it. I look out the window to our backyard where flowers are blooming and trees are blowing in the wind. On my desk sits this. . .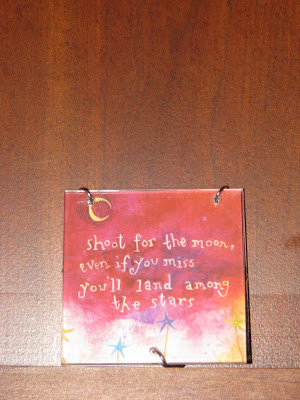 A friend of mine gave this to me because she knows I am a dreamer and she has always encouraged that in me. Through the years my dreams have changed as my priorities have shifted. I think that's the natural thing that happens when you have kids. My dreams are not so much focused on my dreams, but theirs. . .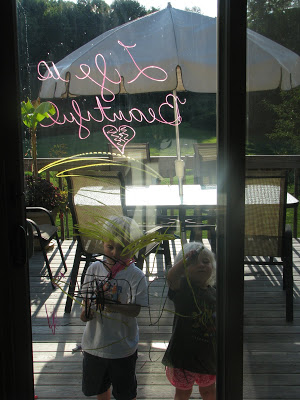 I dream that they, too, might dream. That they have the courage to be different. That they find their passions and follow them. They they are brave enough to risk failure. I dream that their hearts stay tender and they continue to love without reservation. That they define success not by their status or bank account, but by how fully they love. I dream that they walk through this life with their eyes wide open and that they see how amazing it really is. I dream that they will always delight at the simple things. . . a plant, a toad, the raindrops that fall into their wide open mouths as they dance in the rain.
I can tell them these things. I can encourage them with my words. . . or I can make my life an example. Oh, that I might teach them by my example. What an opportunity I have. . . what a responsibility. . . what a gift. If I'm being honest, I am as much scared as I am excited. I think that it is okay. Fear does not have to debilitate me and I am going to take the opportunity to see it, this life, all of it. . . and live it. Because I would much rather live it scared than not live it at all.
Dreams are renewable. No matter what our age or condition, there are still untapped possibilities within us and new beauty waiting to be born.
Dr. Dale E. Turner