Chanelle and I have returned from sunny Florida and there are many thoughts/pictures to come. I couldn't let this day pass, however, without wishing a very special person a very Happy Birthday. . . blog style.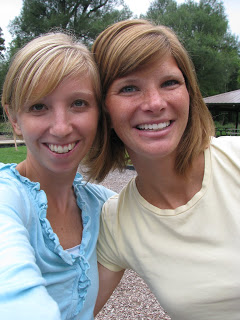 This is my Friend, Lisa.
We have known each other for just about 7 years.
I could talk forever about what this woman means to me. There comes a point, however, when words just do not do justice to the reality of the feelings. Sometimes, I think, words might even cheapen what is really there. With that being said, I want to say to you, Lisa, thank you for being you. Thank you for coming into my life and teaching me, by your unconditional acceptance, that it is okay to be me. Thank you for sitting with me week after week for all of these years and laughing with me, crying with me, listening to me, challenging me, believing in me, and truly seeing me. Thank you for walking beside me and letting me walk beside you so that when times get tough. . . we can hold each other up.
You are the perfect example of quiet strength and enduring courage.
I am so incredibly blessed to call you my Friend and so thankful that we get to do this life-mom-faith journey together.
Everyone should be so lucky to have a Lisa in their life. .
Happy Birthday my Beautiful Friend!