There are two days in every week when I head in one direction and the rest of my family heads in another. Chad rises in the early morning hours, what others would consider the middle of the night, and carries the kids with their blankets and clothes for the day and places them in the car. They embark on the 25 minute drive to my in-laws home where they will finish their night of sleep and Chad will begin his work day. I am so blessed to have in-laws to care for my kids while I go to work on those days. They give our kids activities, experiences, and conversations that, I have no doubt, will be forever etched on their hearts.
I have a job that I love. A job where I get to be with people, learn about people, and my favorite part. . . encourage people. Like that favorite pair of jeans that you can't get rid of even though they are torn and tattered, the job just fits me. Despite how much I enjoy my work, when the end of the day comes, I don't linger. I cannot get home fast enough to be with my little ones and their Daddy. Today all the lights between work and home were green. . .BONUS! (It's the little things that excite me.)
I completely agree with Dorthy's sentiments, "There is no place like home."
I love when we are all back together and we get to hear about each others days. I enjoy listening to the kids chatter as they share their experiences at Gran and Gramps house. They talk about the games they played, the food they ate, and on days like today–the snake they found. I drink it all in and taste the sweet flavor of their unbridled enthusiasm. And as the kids scurry off to make piles of what seems like hundreds of stuffed animal on the couch, Chad and I get to catch up and enjoy a quiet moment of sharing about our own days. He listens to my chatter after his long hard day of work and I am acutely aware at how much this man gives to me and to all of us by giving us his presence. I. am. so. thankful.
Our stolen moment does not last long as the kids return looking for a snack, milk, or just to be sure our eyes are watching. And we are watching. . . watching them and each other knowing that this is special. This togetherness. These moments. This simple little life that is unremarkable to the world but so remarkable to us.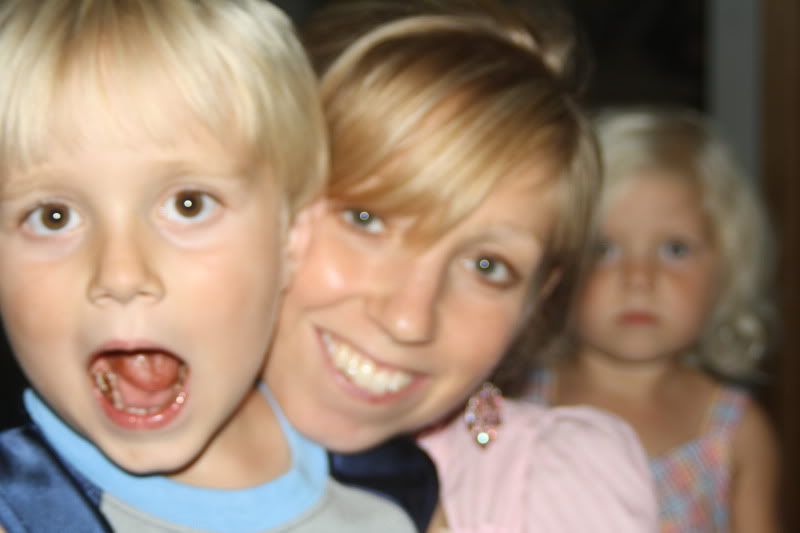 Yes, that's chocolate in Charlie's teeth. . . this was after his snack.
And we keep moving forward knowing that it is simply our togetherness that is so very special. And we hope that they get it. . . that the most special moments are those when we choose to see the beauty that lies right in front of us. . . wherever we are.
Our life is frittered away by detail… Simplify, simplify
-Henry Thoreau.