Today I heard words that no runner ever wants to hear.
"It looks like a stress fracture."
Ugh.
I feel frustrated and disappointed, not to mention the excruciating pain in my foot. For so many months I have been running, training, preparing for a race that may never come. I look at the hours spent, the hundreds of miles run, and aches and pains fought through and find myself here. . . just short of the finish line.
Arg.
Check out my new kicks. . . or kick, I suppose. . .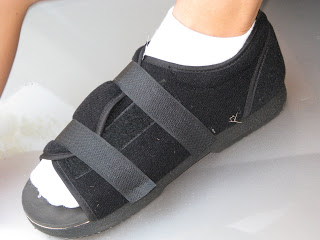 . . . pretty fancy, eh?
Seriously, though, this is not my first injury. It kind of comes with the territory. I've had more stress fractures than I care to admit. What is truly frustrating is that I find myself dealing with the same insecurities that have accompanied almost every injury before this one.
Oh, it is subtle. So very subtle. It creeps into my subconscious like a snake slithers through a tall grassy meadow. It sneaks into my insides and begins to eat away at the very soul of who I am. It taunts me and teases me without my awareness. I am its prey and it attacks with the vengeance of a Momma Bear protecting her cubs. What is "it", you ask? Just a few simple words. . .
If you're not a runner, then who are you?
Yep. Another confession. It seems crazy to even write it out. The reality that if I am not running I am somehow "less than" I'm supposed to be. . . less than I could be or simply "less than". That somehow, if I am sidelined I have lost my sense of self. How did my identity get so wrapped up in one thing that I do rather than culmination of the many parts of me?
I have spent this day battling these thoughts, processing these ideas and fighting through tears of frustration. I want to do it different this time. I want to fight "it". And so on this day, not knowing if I'll be running next week or next month, I'm choosing to be thankful that I am a woman. And it was the following words by Maya Angelou that pummeled me like ice cold water being poured over my head:
It's in the reach of my arms
The span of my hips,
The stride of my step,
The curl of my lips.
I'm a woman
Phenomenally.
Phenomenal woman,
That's me.
How beautifully simple.
It's the fire in my eyes,
And the flash of my teeth,
The swing in my waist,
And the joy in my feet.
I'm a woman
Phenomenally.
Phenomenal woman,
That's me.
Maya Angelou's words grab me at my core. She has learned something that I have yet to learn. . . that to be me, to be a woman, is enough. It is, simply stated, phenomenal. And today I am more aware of the necessity of learning this lesson than ever before. Because now I have a little woman following behind me and watching the way I live my life. She is seeing, even when I think she's not, how I chose to embrace myself and my identity. It is my job to help her understand, by the way I live my life, that she need not be anything than who she is to be okay. Because really, being who she is simply beautiful.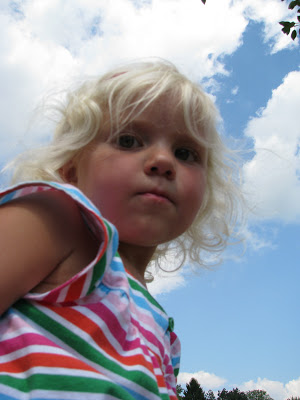 Check out the full poem, Phenomenal Woman
here
.