He turned 5. My beautiful boy turned 5.
To him a birthday marks a day of excitement and celebration. A day when the house is decorated, family gathers, presents are received, and candles are blown out.
All of that is true.
But for me it marks the day when my life was forever changed. . . because the moment Charlie was born, the mother in me was also born. This different part of me that prior to October 28th at 11:44 p.m., I never knew. The part that was no longer the protected, but the protector. The part that truly felt the pain of another. Not just the empathy kind of feel but the "I-see-that-you-are-hurting-and-it-makes-me-hurt-so-much-I-think-my-heart-might-seriously-stop beating" kind of feel. This part that not only felt the pain of another, but the joy, fear, excitement, hope, and every other emotion of this little person.
And this motherhood thing? It is good.
But as a mom to a little guy I must admit that I am wading through this cloudy, muddy water that I really don't understand. I try to look down the road to get a view of what lies ahead, but I don't have a clue. Mostly because, well, I've never been a guy. And to be honest, it scares me a little.
When I look down the road and anticipate the many life experiences, changes, and trials he will face, I am acutely aware that I will not relate to many of them. That as the pages on the calender are flipped and birthdays pass one by one there will be a transition in our relationship that will be a part of the natural cycle of life. The little guy who has this specific smile that literally makes my stomach do cartwheels will one day become a man and there are some things that I just won't get.
It is when I think about these things that I am so thankful for this. . .
This father-son relationship that they continue to cultivate every single day. Oh, the way Charlie looks at his dad, talks about his dad, mimics his dad and just wants to do all things that dad does is something I find entirely awesome. I am thankful that Chad is the one from whom Charlie will learn what it means to be a man, a gentleman, and a husband.
I don't think that lets me off the hook, though. My role in Charlie's life is not necessarily less important. . . it's just different. I'm okay with that. I will learn as I go. . . just as he will and as all the mothers of sons before me have.
So, as my little guy turns five I want him to know just how deeply he is loved. How we have delighted in watching his personality shine. How in his short five years he has taught me what it means to slow down and be awed by all that is life. And I want him to know that that he is absolutely cherished for who he is.
And because he is a boy of few words I will end mine by saying just one more time. . .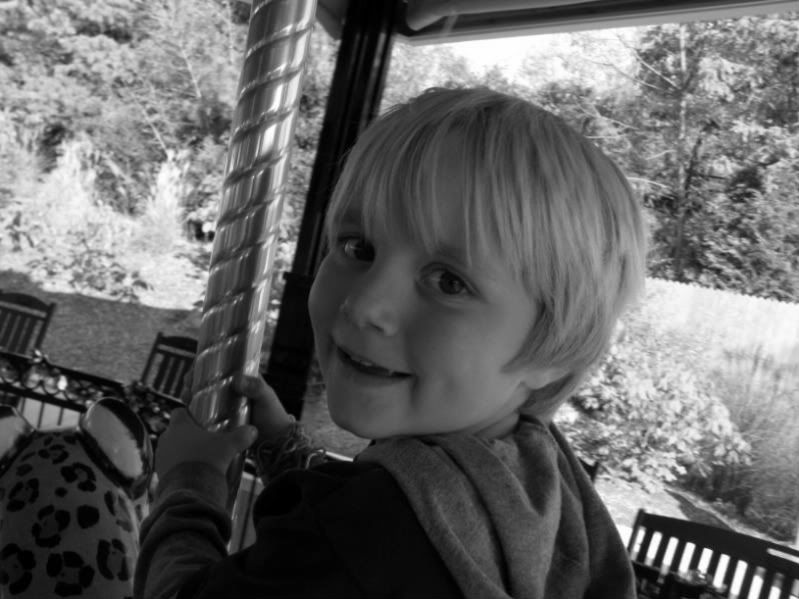 Happy Birthday, Charlie. I love you.