My husband informed me tonight that my blog posts are too serious. . . too deep. He suggested I be more funny. . . less serious. This was after I made him read a hilarious post by a friend over at Written Permission.
(So I sit, feeling the pressure.)
Be funny. . .
(Time passes. I wait.)
Come on, Summer. . . you can think of something.
(Waiting some more.)

Make someone laugh.
(and wait a little more.)
I've got nothing.
I think I'll stick to being me. . . I can't write without inspiration and tonight I'm inspired by. . .
LOVE
Dude, these are some of my most beloved times with you. Afternoons when Chanelle takes a nap and you assure me that you don't need to nap because you slept really good last night. I love to sit outside with you and dig in the sand, and then throw a baseball, and then push you on the swing and then kick a soccer ball. Sometimes we don't talk at all and other times you surprise me with your sensitive soul. . ."How's your foot feeling, Mommy?" Your words are so few and yet your observations so keen. I absolutely cherish you.
LAUGHTER

My Little One, how I love the way you dance. How my heart swells as I watch you balance on your toes and spread your arms wide and twirl around the living room as you sing along with the Backyardigans each evening. I admire your laid back personality and the ease with which you make others laugh. I smile every time you tell Charlie "don't smile" when he gets in a mood. I love the way a caterpillar can captivate you as much as the finale of a fireworks show. You never cease to amaze me.
JOY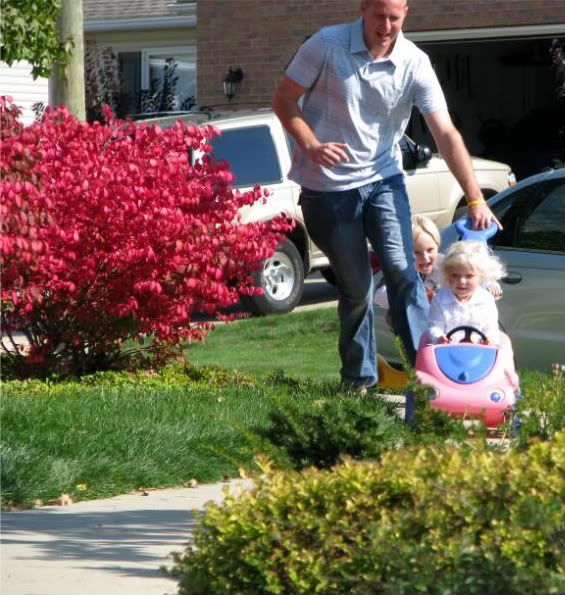 I take huge gulps of these moments when the smiles on your faces match the brightness of the sun. When you laugh and exclaim "On your marks, get set, GO!" and scream down the sidewalk until a winner is declared. I watch you, all three of you, and wonder why I have been so blessed to call you my own. I watch your trips up and down the sidewalk–all 32 of them–and close my eyes and breathe deep, willing myself to remember this moment. Full of joy I whisper a prayer of thanks, hoping you know I don't take these moments for granted. Chad, you are a treasure and I can't imagine a more wonderful life.
Maybe I'll try harder to be funny next time. . .