My first post of the new year.
The anticipation of Christmas is gone and the door is opened to routine, once again. Waving good-bye to extra time spent with family, Christmas music and decorations as well as the extra time off work is bitter-sweet. While I am a creature of routine and tend to do best when all is scheduled and ordered, I'll admit. . . my fingers have to be pried off the season. I find myself wishing for just one. . . more. . . day.
At the same time I find myself anticipating a new year with excitement and wondering what this year will hold. And like many others it was important to ring in the New Year just right. . .
Until this year, our kids had never seen the ball drop in Times Square. (Go ahead and call Children Services. . . we like sleep). This year, however, we felt it was important for them to see it. We wanted to give them an experience, make a memory, and we wanted to do New Year's Eve right. . .
It was a seriously beautiful day for our little section of the country. The usual frigid temps, snow-covered grounds and cloudy skies were exchanged with blue skies and warmth that drew us outdoors after we got the appropriate New Year's attire.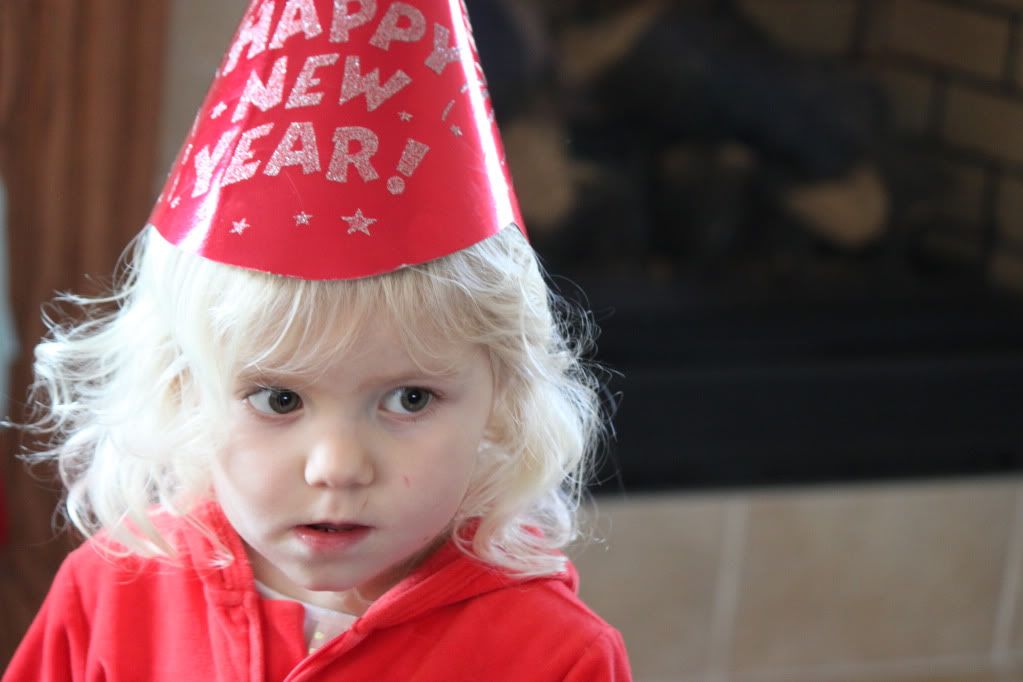 Charlie climbing a tree
We do not need much to entertain ourselves, really. Big party? Nah, not really our style. Lot's of people. Nope, we are perfectly content to nestle ourselves in our little space and just enjoy each other. So, when darkness began to fall we did just that. . . just the four of us. We watched the clock tick by minute by minute. . .

I know, you can feel the excitement, can't you?
The kids were ready to see that much talked about ball drop. Tick-tock-tick-tock. . . I think it was about 7:30, when I observed this scene. . .

. . . I guess that tree climbing wore him out. The kids insisted that they were fine and really wanted to see that ball drop, but the incessant whining, bickering, and droopy eyes told us differently. And being the wise parents we are. . . we had a plan.

HAPPY NEW YEAR!!!

Oh yes we did. They got to see last years ball dropping courtesy of YouTube at 8:00 p.m. Who cares if it was from 2010. . .it's all the same, right? Oh yes, we know how to bring in the New Year.
The kids were tucked into their beds and fast asleep long before the midnight. . .
. . . and I will plead the fifth on whether or not I saw the real Ball drop.
In all reality, I'm pumped for this year. I am anticipating experiences like never before. I know more change is coming. This past year has, in a way, given me new wings and I wonder where our family might fly. I'm not talking great adventures, I'm just talking about living life intentionally. Living it fully. In essence, showing up and raising our hands and shouting out a big ole' "Here!" to whatever life brings. So, maybe we they didn't see the ball drop, but if we're really going to live this out. . .
. . . a good night of sleep is of utmost importance.