It didn't snow today. It was mostly ice. Lots and lots of ice. Even now I hear the slightest tink, tink, tink, of tiny little ice pellets crashing against my window. It's a comforting little melody, really. Comforting, that is, until the weight of the ice sends tree limbs crashing down and power lines unable to produce in the way I want them to. I suspect my time to write this post might be limited, so a quick list. . .
1. Last week I told Chad that I wanted to buy flowers. Not for any reason, really, just because the gray of the season is really starting to get to me. I needed something bright, happy, and colorful. He didn't seem to get my need, but he didn't discourage me either. When it came down to it, though, I just couldn't bring myself to do it. Spend money on something that I just wanted. . . for no real reason. It seemed irresponsible. I had an internal pity party.
Two days later, guess what arrived. . .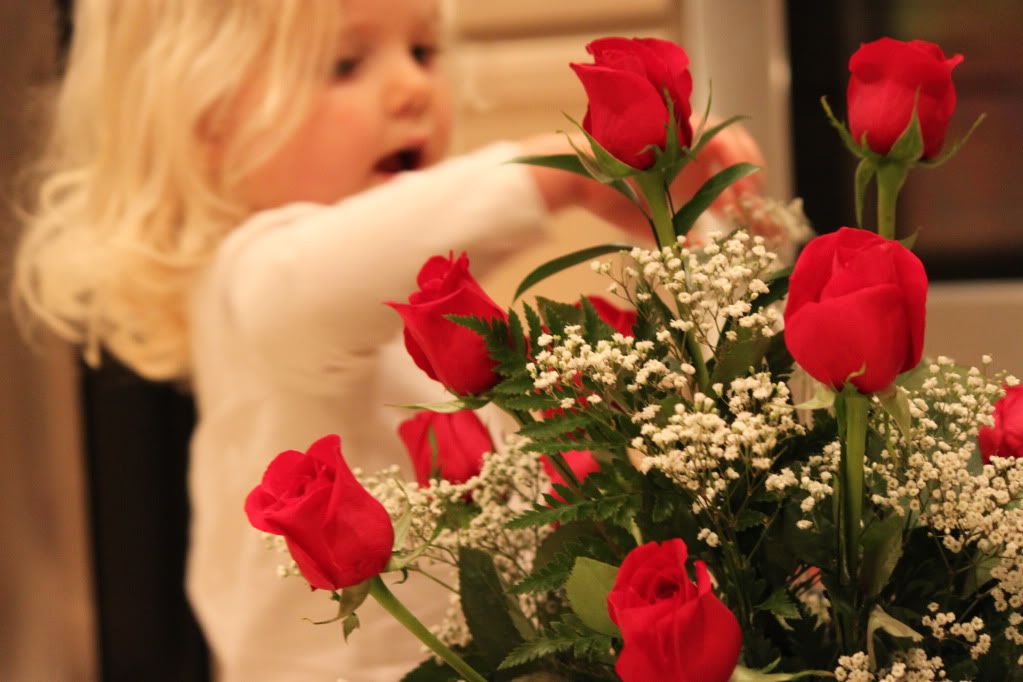 Yep, a beautiful bouquet of roses. . . from my Dad. (I told you he's a good dad.) I never expressed my desire for flowers to him. Maybe it's one of those deep father-daughter connections. Or maybe my Dad is just that cool. Either way. . . we are loving the flowers. Chanelle asks every day if she can hold them, smell them, water them, put them in her hair. I don't think I was the only one that needed some color.
2. Speaking of color. . . my desperate search for brightness had me pouring through our totes in the basement to find something, anything, that might brighten up our day. Oh my. . . I'm glad I did. I found this little gem. . .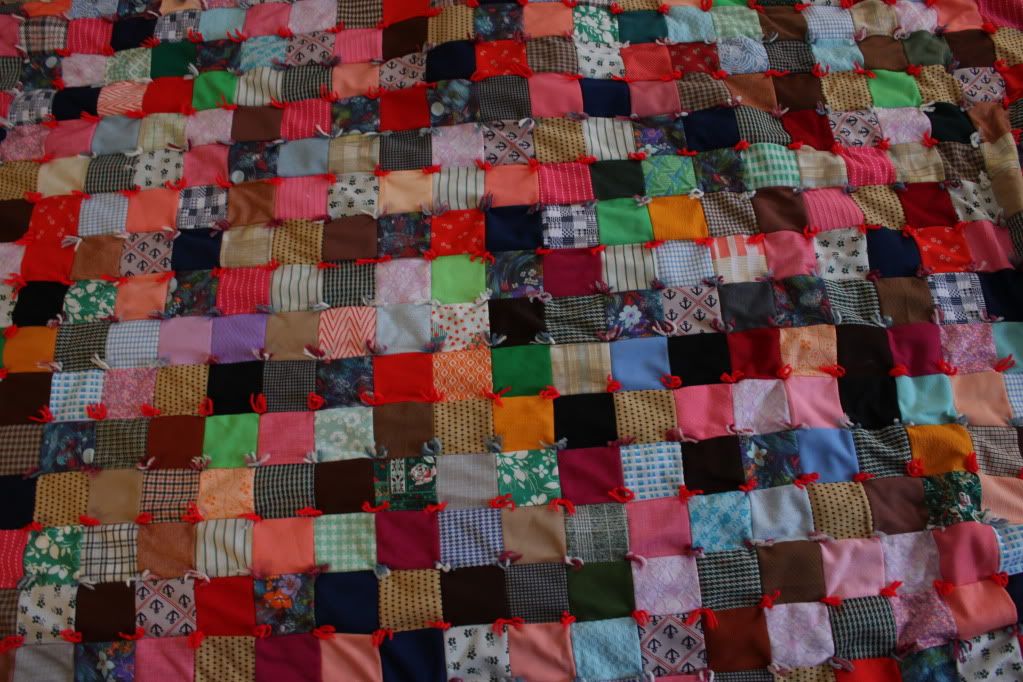 How great is this quilt and why in the heck was it buried in a tote instead of a part of our daily lives? I can't answer that question, but I can say that it has quickly become my one of my favorite things. It's not often far from us. . .



It seems funny that a blanket can have this much of an impact on my life. . . but I absolutely love it. I totally get Linus and his little blue blanket. Wrapping its soft texture around me and resting in its warmth fills me with a comfort that is both starling and odd. I can't really explain it, but I know that Linus gets it.
(The lights are flickering. . . my time is running out. . . )
3. A few mornings ago, this is how Chanelle emerged from her bedroom. . .

Why she has only one arm in a sleve. . . I don't know. She's too young to be sneaking out and going to clubs, right?. . . because that was kind of my first thought. Oh boy. . . with this one, my hands will be full.
4. We went bowling with friends over the weekend. Watching 8 kids bowl is an epic event. . .



Chanelle cheering on her guy . . .
Chanelle's ball takes about a minute to make it to the pins. Each time we say a silent prayer. . .
please let the ball get there so we don't have to get the big scary bowling alley guy to walk down and push it to the end.
She did great this time. . . we only had to get the big scary man once. That's a record for us. One good thing about the time lapse between the balls departure and arrival are moments like these. . .

Father and daughter. . . sitting and waiting and cheering that ball forward. . .
Priceless.
5. I'm beginning to get excited about running again. I saw my doc today. The foot isn't ready yet and so I'm waiting. Spring is coming soon, though, and my shoes are calling out my name. I can't wait. . . but I will. It's going to be like starting over again. I'm both nervous and excited. I'm vowing to be smart as I ease back into it. Some lessons are learned the hard way. . .
The lights are flickering more violently now. I just got a text that schools are closed tomorrow. Our city schools never close. . . that's when we know it's bad. Charlie was excited when I put him to bed. I explained that if we lose power the three of us will camp out around the fire. He's hoping we lose power. I feel differently.
We shall see. . .