I declared a truce with winter.
It happened on Friday morning, during what I'm pretty sure was our 73rd snow storm of the season. We sat down, Old Man Winter and I, and we had a chat. And since I understand the art of negotiation, I took great care to talk in such a way to avoid making the gentleman defensive. I made sure to use "I statements" as I explained that while I totally get that winter has an important place in our most beautiful seasonal transitions, I felt that he had come at us with more force than was necessary. I pointed out that just this week he had brought us two significant storms that had shut down businesses, delayed plans, and kept my husband away and awake for far too many hours. I made sure to to acknowledge, however, the quiet comfort that a blanket of snow brings on a dark starry night and I was sure to express my gratitude. . .
Mr. Winter listened attentively and waited patiently before making his rebuttal. After acknowledging my points he directed my attention to the reprieve he brings us from the mowing, cleaning, and constant up-keep of the outside. He also pointed out that if not for him, we would never stand by the radio with our fingers crossed willing school to be canceled, so we might enjoy of few extra hours of memory making. And of course he had to throw in the enthusiasm that little ones have as they dance and play in his big, white flakes.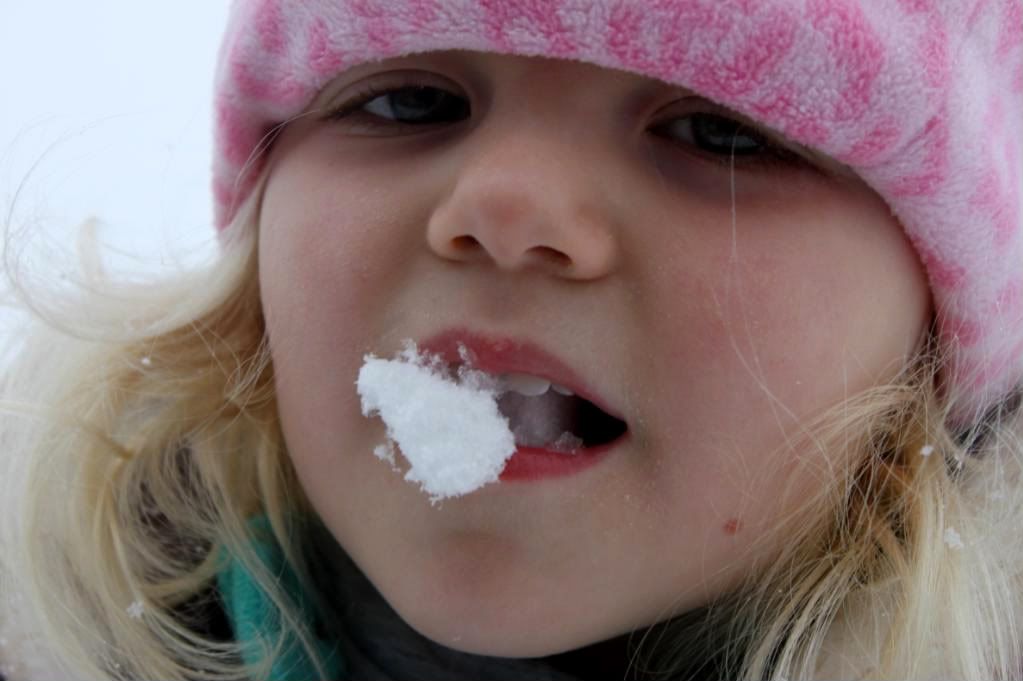 Ouch. . . he had me there. . .
So, like any good negotiation we talked and we brainstormed before drawing up an acceptable contract. Mr. Winter agreed that he would lighten up on us, as long as I would agree to stop complaining and embrace the gift he has to bring. He agreed that his days will be numbered, so long as I stop holding him at arms length and cursing him under my breath. After some thought and a lengthy consultation with my lawyer. . . we both signed the agreement and left the table in peace.
Winter, we shall embrace you for as long as you make your presence known. . .

Our first snow fort


And if snow on the outside is good. . . snow on the inside must be even better. . .

Charlie thought it would be exciting to see what happened when we combined snow with hot water, cold water, soap, dishes. . .

Okay, maybe this little meeting with Old Man Winter didn't happen. Maybe this was all a figment of my imagination. Or, perhaps I'm just feeling silly tonight. I am feeling a bit silly. Our household likes silly. . .
Chanelle is especially silly. If she gets any of us to laugh she will repeat again and again just to see us laugh. I love that about her. Like the other night when she saw me laugh at this little scene. . . she continued to dance around and around just to get a reaction. . .

Charlie tends to be more serious. But when he does something silly and we laugh he gets this shy smile that is always accompanied by his tongue hanging out of his mouth. In his head he must be thinking, I just did something funny, but I'm not sure exactly what it was.


Chad likes to be silly, too. Kind of in the way that Chanelle likes to be funny. . . he'll push it as much as he can. Interestingly, though, Chad's silly typically involves a Mt. Dew bottle. . .

Of each of these individual expressions of silly, none compete with a moment like this one. . .

A moment that involves all three of them. Glimpses in time when there is only this second right here and right now. A fleeting moment when we are laughing at everything and nothing at the same time. A moment that, for me, can be defined as pure joy.
So I close out another weekend and prepare for a new week with the expectation that there will be plenty more silly, joyful, and happy moments to match the frustrating, mundane, and over-whelming moments that make up this little life. I am excited, though, as I look forward to the truce that has been called with the Old Man. Who knows what this week will bring. . . but the thunder and lightening that we are experiencing at this very moment indicate that he's holding up his end of the bargain.
I will do the same.
**************************
And as promised. . . the recipes. . .
ULTIMATE CHOCOLATE CHIP COOKIES ( original recipe By Crisco)
(My changes in ( ) )
3/4 cup (3/4 stick) Butter Flavor Crisco Shortening
1 1/4 cups firmly packed light brown sugar
2 Tablespoon milk
1 Tablespoon vanilla
1 egg
1 3.4 cups Pillsbury All-Purpose Flour
1 teaspoon salk
3/4 teaspoon baking soda
1 cup semi-sweet chocolate chips (I use 2 cups)
1 cup coarsely chopped pecans (I leave out)
1. Heat oven to 375 degree F. Place sheets of foil on counter top for cooling cookies.
2. Combine Butter Flavor Crisco, brown sugar, milk, and vanilla in large bowl. Beat at medium speed of electric mixer until well blended. Beat egg into creamed mixture.
3. Combine Pillsbury all-purpose Flour, salt and baking soda. Mix into creamed mixture just until blended. Stir in chocolate chips and pecan pieces.
4. Drop rounded tablespoonfuls of dough 3 inches apart onto ungreased baking sheet. (I make mine much bigger than 1 T.) Bake one baking sheet at a time at 375 for 8-1- minutes for chewy cookies, or 11 to 13 minutes for crisp cookies. DO NOT OVERBAKE.
Cool 2 minutes on baking sheet. Remove cookies to foil to cool completely.
MAKES ABOUT 3 DOZEN.
*********************************************
The Gluten Free bread recipe was found by my MIL, on the Gluten Free Bay website.
The recipe is as follows or can be found, here:
GLUTEN-FREE MULTIGRAIN MIRACLE BREAD
1/2 cup brown rice flour
1/2 cup sorghum flour
1/4 cup amaranth flour
1/4 cup tapioca starch
1/4 cup cornstarch or arrowroot starch
1/4 cup flax seed meal (ground flax seeds)
3 teaspoons xanthan gum
2 teaspoons active dry yeast
1 teaspoon salt
2 eggs
2 additional egg whites
1 cup water, room temperature
2 tablespoons vegetable oil
2 tablespoons honey
2 teaspoons apple cider vinegar
Preheat the oven to 200F.
Sift the flours, yeast and all other dry ingredients together into a medium bowl. Stir in flax meal and combine.
Combine the wet ingredients in a separate large bowl using a hand-mixer on low or medium speed. When fully combined, slowly add dry ingredient mixture and mix until fully blended, with no lumps. Scrape the sides regularly.
Grease a 9×5″ bread pan, and pour the dough into the pan. Turn off the oven and immediately place the pan in it. Do not open the door again, if possible. Allow the dough to rise for 90 minutes. It should rise to the very top of the pan.
Increase heat to 350F and bake for approximately 40 minutes. The crust should be golden-brown. Allow to cool slightly before removing it from the pan to finish cooling. Do not slice until the bread is no longer hot.
This loaf does not need to be frozen, but if there are leftovers after a few days, place slices in airtight bags and freeze.