1. Throwback Music

I'm talking about MMM Bop, the song that is currently playing. Do you remember it? I heard the song today and was completely transported back to the summer of 1997. My sister and I were driving in my little white Ford Probe on a beautiful sunny Saturday morning. We were driving to a road race I was going to run and the three Hanson brothers were serenading us with their most popular song over and over again. I recall windows rolled down, blaring cassette tape (oh yes, I said cassette tape), and plenty of gushing over the littlest Hanson brother. Oh yes, we were THAT cool. When I heard the song today, I totally rocked it out. . . better than I did back then.
2. A princess who really isn't a princess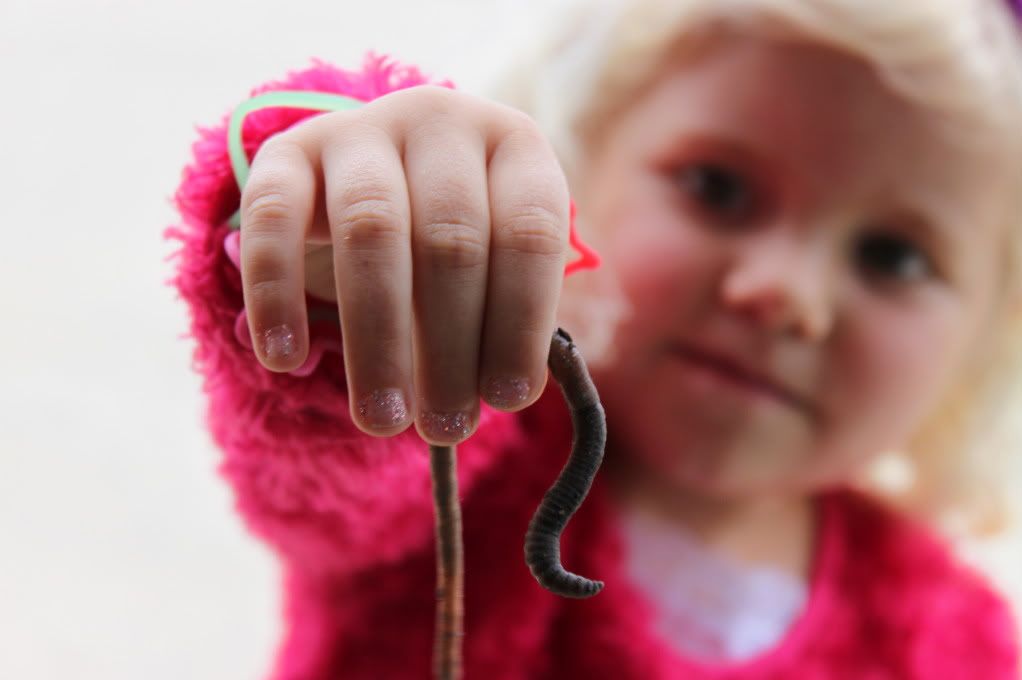 I completely dig that my little girl loves to wear dresses, paint her nails with glittery nail polish, and adorn her head with crowns. But just as much, I appreciate that she can get dirty with the best of them. She can wrestle with her brother, jump in the mud, and play with insects and animals of all different kinds. Yes, she's a princess, but one that I believe, is perfectly balanced.
3. Third Flavors
There is this little ice cream place in our community that has a different "third flavor" each week. There are so many different kinds, but only one that completely makes my mouth water. . . Butterscotch. Last week was butterscotch and we forgot to go and get some. I. was. bummed. On Sunday were were driving by the little shop and I was telling Chad how I think they should extend butterscotch for one more day since the flavor was cheated out of a day due to Easter. As the shop came into view, Chad cut me off and informed me "it's open!"
I got my butterscotch. I love this stuff so much, I extend my eating it out for a long time. A couple bites each evening makes the treat last much longer.
4. A Real Spring Day
If the place you live is anything like the place we live, you've seen more clouds than sun and felt more rain than heat.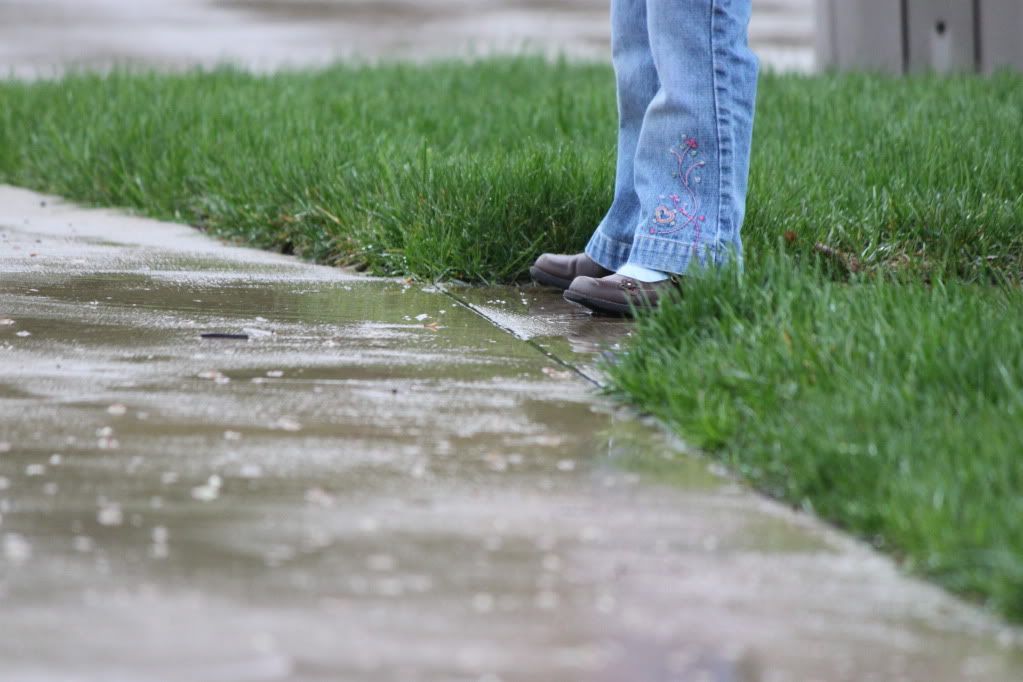 But today, oh today. . . we got a reprieve. We got ourselves dressed and ready early this morning and stayed outside all day.




Baseball, big wheels, bikes, Frisbee, sidewalk chalk, bubbles, and exploring in the fresh air. . . what a glorious days it was. I don't know if it was the weather, the fresh air, or a combination of everything, but I felt like someone gave me a shot of energy today. I'm beginning to believe that Spring might actually be here.
These are the days we've been waiting for.
5. Blooms
We have a tree in our backyard that blooms every spring with the most beautiful white flowers. Not only are the flowers beautiful, but they give out the most wonderful aroma, as well. I look forward to the trees blooms with anticipation that matches Christmas morning. While we were outside today, I checked out the tree.

I do believe it's going to happen soon and I'm so excited. When we walked to the front of the house, I was so happy to see the our trees in front are already displaying their beautiful white flowers. More evidence. . . spring is really here.


6. A Walk
The day was so beautiful and we were enjoying ourselves so much, that I wanted to keep up the happiness factor and treat the kids to a lunch at Dairy Queen. The DQ is about a half mile from our hose and so we trekked our way out of the neighborhood toward our destination. Our walk was one of those moments I wanted to freeze in time as both kids, unprompted, grabbed my hand as we walked up the street. We talked about the wind, the coming rain, and how far they were going to walk. There was such joy on their faces and in my heart.
The wind was fierce today and they stepped up to the challenge of not letting their hotdogs blow away. It was. . . the perfect outing.


Because of the wind, I wouldn't let them get their usual favorite (Dilly Bar) and my kids experienced their very first Sundae. Yes, the first.

Chanelle thought the Sundae was just "okay", but Charlie. . . he was quite fond of it. He made sure that there was not a drop left.


And then we walked home. It was during the schlepping ourselves back down the road that I was overwhelmed with happiness as I watched my two little ones walking together. Watching them talk, laugh, and enjoy each other company. Watching Charlie bend down to help Chanelle with her sandal, watching Chanelle tell Charlie "you're a good boy" and believing that the bond that they have now. . . can really last forever.

7. Asparagus

What else can I say? I love this stuff. I would eat it every night if I could. In fact, I might possibly have eaten this entire bunch of asparagus for dinner tonight. I'm pregnant, okay. Seriously, very little prep, so incredibly good.
8. Bare feet


My kids don't really know what it means to wear shoes in the warm weather. No matter how hard I try, I can't get them to keep their shoes, flip flops, sandals on. It used to bother me. I used to worry about the carpet, their feet, blah, blah, blah. Now. . . I let them be kids. It makes them happy. . . we'll replace the carpet someday.
9. A Great Dessert
I love baking and serving great desserts. I love seeing a smile on satisfied faces as they bite into something I have labored over. One of my favorite things to make are these. . .

They are fabulous and I promise if you make them, you will hear over and over how wonderful they are. I'd like to share the recipe.
Creme De Menthe Squares
1 1/4 c. butter or margarine
1/2 c. unsweetened cocoa powder
3 1/2 c. sifteed powdered sugar
1 beaten egg
1 t. vanilla
2 c. graham cracker crumbs
1/3 green creme de menthe
1 1/2 c. semisweet chocolate chips (I use 3 cups)
For bottom layer: In saucepan combine 1/2 cup of the margarine and the cocoa powder. Heat and stir until well blended. Removed from heat and 1.2 c. of the powdered sugar, egg, and vanilla. Stir in graham cracker crumbs. Mix well and press into the bottom of an ungreased 13x9x2 in baking pan.
For Middle layer: Melt 1/2 cup of the butter. In small mixer bowl combine melted butter and creme de menth. At low speed of mixer beat in remaining 3 c. powdered sugar until smooth. Spread over chocolate later. Chill 1 hour.
For top layer: In small saucepan combine remaining 1/4 c butter (use 1/2 if you use 3 cups ch. chips) and chocolate chips. Cook and stir over low heat until melted. Spread over mint layer. Chill one to two hours and cut into small squares. Store in refrigerator.
10. Good words

"We tend to forget that happiness doesn't come as a result of getting something we don't have, but rather of recognizing and appreciating what we do have." –Frederik Keonig
I'm feeling happy today and I hope you, too, can recognize all that is around you that screams happiness.