"Whatever is dreamed on this night, will come to pass."
William Shakespeare – Acknowledging the Magic of This Time
A Mid-Summernight's Dream
Yesterday we ushered in Summer. The "official" beginning of the season that seems to come and go in the blink of an eye. The time of year when picnics are common, produce stands pop up on every corner, and the mixed aromas of grilled food, sunscreen, and bug spray are as inviting as they are intoxicating.
When I told Charlie that today it was the first day of summer he responded with a loud, "Woo Hoo! Summer's here. . . that means it's going to be warm!! Woo Hoo!!!"" Apparently, he doesn't believe the previous month of 80 and 90 degree temperatures is really "summer-like".
Either way, we decided to celebrate the incoming season with a picnic lunch.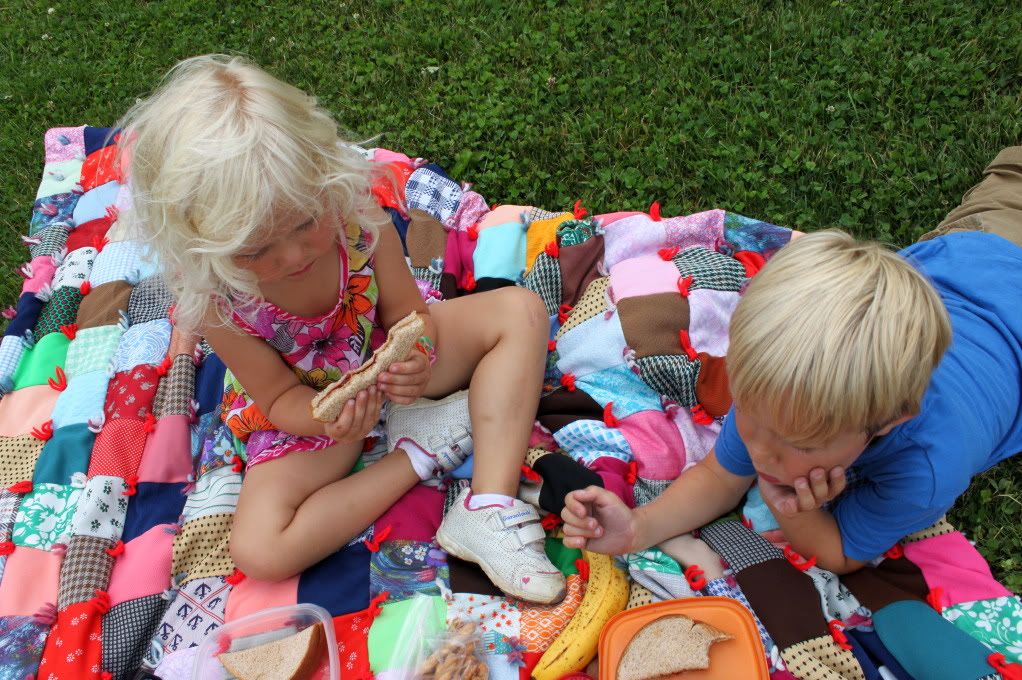 Who doesn't enjoy this time of year? I love how time seems to slow down and speed up all at the same time. Empty boxes on the calender are quickly filled with activities, outings, and gatherings of all different kinds. We are filled with anticipation of all that this different kind of season brings. As we enjoyed a quiet little picnic in a park that was all our own the kids and I talked about their morning at art camp as well as the plans that are being made for the upcoming week.
My goal for today was to take things slow and focus on enjoying our time. . . not the ever expanding to-do list. It didn't take long for them to escape our blanket. . .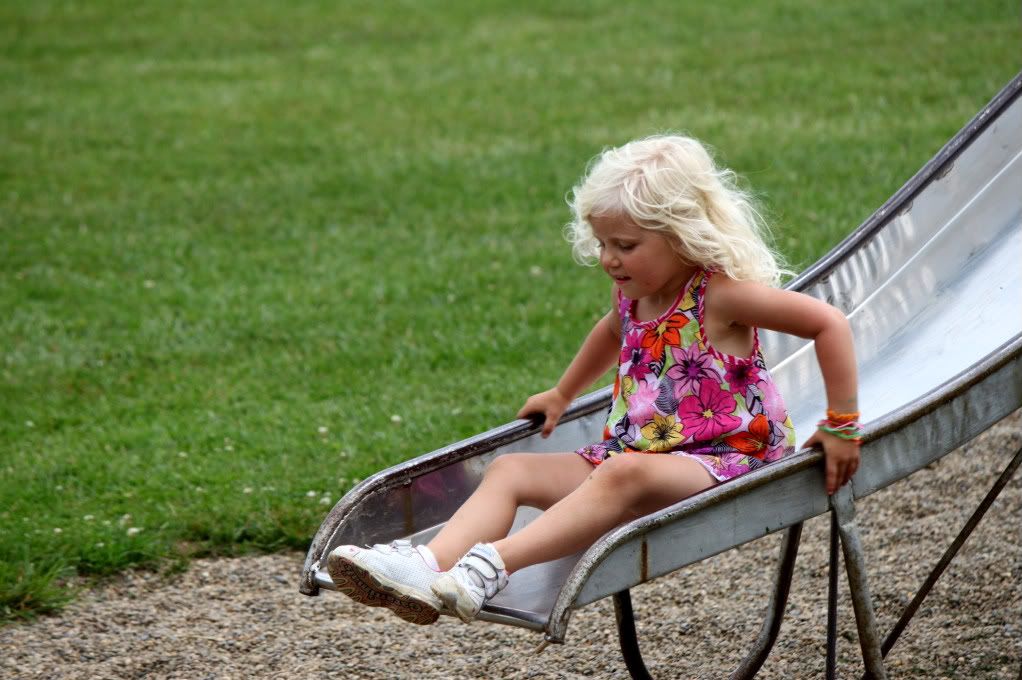 Charlie even beckoned me to join the fun. Who am I do deny?

Perhaps such behavior is unbecoming of a 32 year old mother of three. If so, oh well. Down the slides we went. . . together.
When the sky began to turn dark and tiny sprinkles met our skin, we decided to pack up our stuff and make the 30 minute trip home. This is a drive we have taken a countless number of times through the curves and hills of country roads. As we came to the one stop light town that we usually miss if we blink, there was this uncanny force that was drawing my car to a crawl. It was as if a magnetic pull was wooing us to stop. I had no choice.

Maybe it wasn't a magnetic force as much as it was this sign for ice cream. Whatever it was. . . we had to stop.



There we sat, just the three of us, enjoying a the kind of afternoon that only summer brings. We sat in the middle of this tiny little village and suddenly I opened my eyes to the uniqueness that surrounded me. In that moment, I really saw this little town rather than blinked by it.

It really doesn't get better than this. . . wash your car, your buggy and your laundry all in the same place. I wonder about the horse?


We took our time and walked the streets together. When I say streets, I really mean street. There is really only one. I felt like a tourist, and in all reality I was. I saw this simple little community for the beautiful place that it was. Horses strode by us as we easily walked the four corners of this town.
This is the slowing down that I love about summer days.




It was a different kind of afternoon that brought out the adventurous spirit in my little ones. Not a complaint about the walking or the exploring. They join in as much as I did. . . until exhaustion hit.

Our little adventure made me want to rush home to my own town and take in the things that I have missed because I so often rush though my days from one task to the next.
Explore the nooks and crannies of my own community was added to my to do list. There was no time today, though. We made our way home, but not before stopping at a produce stand so we could start the season in the only way fitting. . .


Oh yes, it's official. Summer is here.
I am pleased.