Six years ago Chad and I excitedly moved into our very first home. We spent months picking out carpets, colors, cabinets, and every detail and watched with anticipation while the house was built from basement up. When we moved in we were certain that we would be in our house forever. It was the perfect size for us. Four weeks after we moved in Charlie joined our family and took one of our three bedrooms. Just about two years later, Chanelle joined us and our office became her bedroom. It was okay, though, the house still felt perfect for us. Until, that is, I read that small positive sign on the pregnancy test and I began to panic. . . we need another bedroom!
Seriously, I really panicked. I shed tears, I fretted, I feared, I tossed and turned in the middle of the night thinking that putting Charlie and Chanelle together in the same room was just short of child abuse. Okay, maybe I'm being mellow dramatic, but I didn't know how it would work. Don't they need their own space? Should a boy and a girl be together? Will they feel put out when the baby get's his/her own room?
Can we say hormonal? I remember writing about this on the blog and being encouraged that it will all work out fine. I also remember sharing a room with my brother for a short period of time after my sister joined our family. Seems that I turned out okay.
So, for the past several months Charlie and Chanelle have been roomies, while we transformed what used to be Charlie's room into Charlie and Chanelle's room. I will own my severe lack of decorative ability. . . I have none. We did our best, though, and I must say that I'm happy with the results.
Care for a tour? (Please excuse the less than ideal pictures taken in a rush.)
Charlie's room used to be painted Scarlett and Gray (Go Bucks!), but we decided to keep it neutral since these living arrangement are temporary.
We decided to give them both their own space, even if it's confined to one larger space. One side for Charlie and one for Chaenlle. Each of them have a loft with colors of their choice.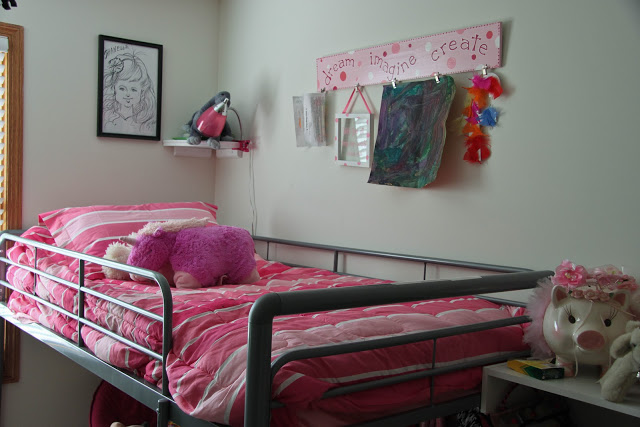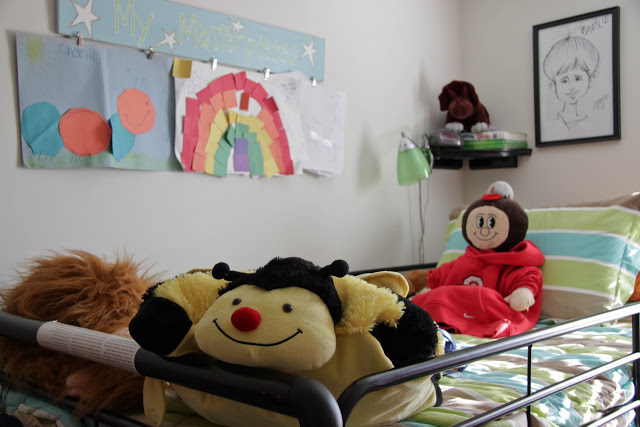 Under each loft they both have a chair and room to chill with their own stuff. In time we may or may not add some sort of curtain to give some privacy.


We love books so of course each child needs a bookshelf, right?


I really wanted something creative and unique for their walls. I was thrilled when I found beautiful artwork hangings on Etsy.


These were custom made for Charlie and Chanelle according to their bedding. I sent dreaminggiggles my vision and she made it happen. I don't know who she is, but I will say that I she has amazing customer service.
And just in case the kids forget which side of the room is theirs we were sure to add distinguishing identifiers above their beds.

How fun are those?
And my most favorite part of their room came in a last minute request from me to Chad. As you may have gathered I've come to love pictures and really wanted to be sure that Charlie and Chanelle have memories surrounding them. So this is what we did. . .


I love this idea, because I am really bad about opening up my frames and changing pictures. Now all I have to do is unclip a picture to put another one up. Maybe it's the lazy man's way. . . but I think it will work best for us.
Now that all is said and done, this arrangement is working out quite fine. I had to stretch myself to think outside of the box and was thankful for a husband who did the work per my instructions.


Once again. . . I worried for nothing. The kids love it and so do I.