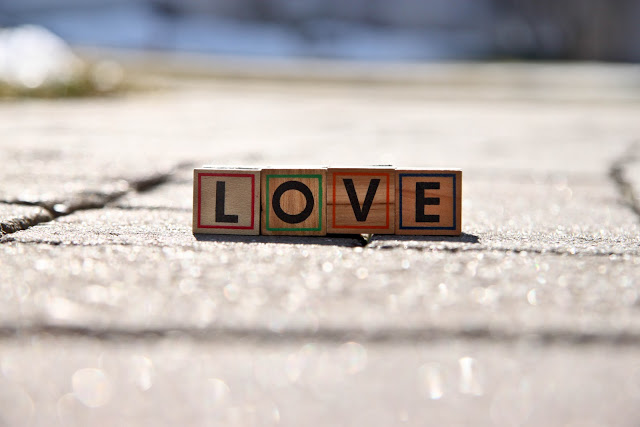 Chanelle and I did something that I typically avoid at all costs. . . we ventured into Walmart. . . after dark. Most of our Walmart trips happen first thing in the morning. The morning Greeter makes the experience a pleasant one. For example, just last week after issuing his cheerful Good Morning! Welcome to Walmart, he informed us that he is about to turn 80 years old! Not only that but he looked at Chanelle and told us that he has a great-granddaughter just about her (Chanelle's) age that makes my world go 'round.
I really like that man. . . Unfortunately, he wasn't standing at the door this evening.
Walmart after dark seems like a strange new world. Down one aisle there was a Mom literally screaming at her child that WE DID NOT COME HERE FOR CANDY WE CAME HERE FOR BREAKFAST FOOD!! Down another aisle there was a boy of about 10 wailing at the top of his lungs about something, while his caretaker moseyed her way down the row intently reading labels. She seemed completely unaware of her companions cry's wails blood-curdling screams. As I turned the corner toward the baking section, I encountered a group of teens who appeared to have a limited vocabulary, with every other word beginning with the letter "F". As I passed the group I looked from their circle toward Chanelle in my most passive aggressive communication of Are you kidding me?! Oh, and then there was the large, hairy man that forgot to button his shirt. . . but I'll spare you the details of that one.
The saving grace of our trip happened when we turned down the aisle that screamed out a different message. Red hearts, pink sprinkles, boxes of chocolates, and real and fake flowers. Conversation hearts, Chocolate roses, and adult sized stuffed teddy bears, and heart shaped balloons that declared I'm Forever Yours!
Ah yes! Valentine's Day. Who am I to bah-humbug Love? Even surrounded by a. . . uh. . . shall we say. . . interesting experience this evening, my heart couldn't help but fill with excitement at the celebration of one of my favorite things. . . LOVE.
So today. . . things that I'm loving. . .
1. Winter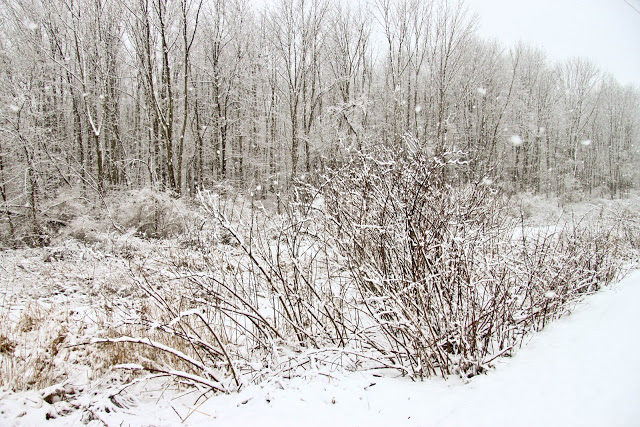 As much as I have a love affair with fall, and enjoy the new birth that comes with spring, and the unending beautiful days of summer. . . winter has something beautifully unique to offer. On Saturday morning I woke up and my breath was taken away by the spectacular scene outside. Huge, white flakes raced toward the ground and stuck stubbornly to the tree branches. It was a sight to behold.
2. Simple Moments
When I saw the snow on Saturday, I knew I needed to get closer to it. I knew I needed to capture it. What made the beauty of the snow even more incredible? My little sidekick. . .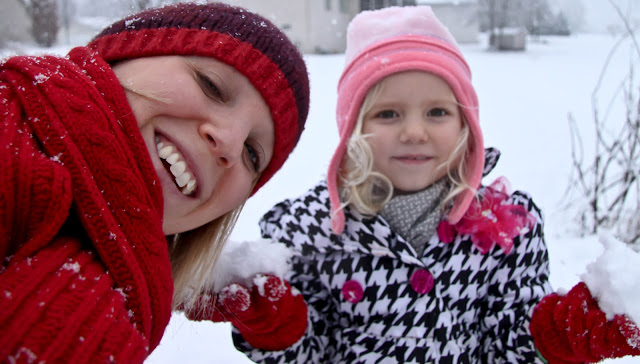 Together we walked, hand-in-hand, toward the woods in our backyard. We chatted, we laughed, we tried to catch snowflakes on our tongues. With the addition of Meadow, these moments are harder to come by. But as I stood outside in the rich white snow and watched my girl, I was reminded of how little it takes to really, really connect. It was a simple moment, yes. . .but it was all ours.

3. 365 Project

I'm still at it. Month 4 is complete and I'm loving the project. There is still so much to learn and I'm feeling my way through it and studying when I can. . . but I'm loving the process.
4. Sense of Humor/Peanut Butter Pie
We had dinner at my in-laws house last week. I made a pie. . .

Looks good, eh?
Yep, I dropped it on the floor. Seriously, these little mishaps have become almost a daily occurrence since Meadow was in the womb. The old me would have freaked out.
The new me? I served it anyway. What can I say. . . time is precious.
Really, though, I wanted to share the recipe. This pie gets rave reviews every time I make it and Chad asks for it all of the time. It's super easy and quick to make and I promise people will think you slaved forever.
Give it a try. . . I promise you won't regret it.
Peanut Butter Pie
2/3 C. powdered sugar
1/3 peanut butter (creamy or crunchy) (I use creamy)
Sm. pkg. instant vanilla pudding
1 1/2 c. milk
8 oz. Cool Whip
Baked Pie Crust
Chocolate Curls (optional)
Mix powdered sugar and peanut better until crumbly. Chill in refrigerator while making pudding. Beat pudding mix with milk. Fold in Cool Whip. Layer half of the crumbly mixture in a baked pie crust. Pour in pudding mixture. Add remaining crumbly mixture. Keep refrigerated until serving time. Chocolate curls may be added on top for a nice touch. (Chocolate pudding can be substituted to make a "Reese's Peanut Butter Pie"). Taken from Homeade with Love Cookbook, Carol Oxley.
5. Evening Routine


No explanation needed.
6. Mama


He still calls me Mama. I know it won't last forever, but man, while it does. . . I shall celebrate it.
7. YOU

There just are not adequate words to express my love for this space. . . this community. . .each of YOU. I want to say thank you for the responses to my last post. Thank you for encouraging, walking alongside, and reaching your virtual hands of support across the web and letting me be me. . .
Thank you for taking the time to comment, care, express love, and be a part of my story. . . a big part of my story.