You can't plan nights like tonight. You could try, but it just wouldn't have the same feel. I was just finishing the last of the dinner dishes and preparing to issue my nightly okay-kids-time-to-clean-up-living-room-get-p.j.'s-on-brush-teeth-and-go-to-bed instructions when I heard the ding, ding, ding of a text message. I looked down at my phone and saw a message from a friend. . . do u see the 2 rainbows?
I glanced out the back windows and saw nothing. Quickly, I dashed for the front door hoping I might catch a glimpse before it disappeared. Score! There it was arched perfectly in front of our house.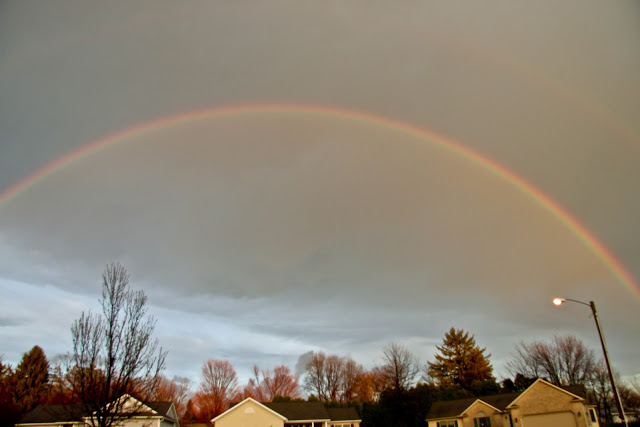 Why, Hello there, Mr. Rainbow. Welcome to the neighborhood.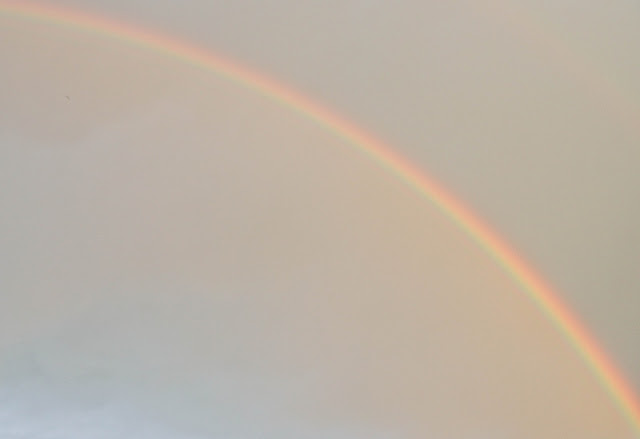 I called into the house for Charlie and Chanelle to come and check it out. We stood together on the front porch for several minutes just staring. Can you climb a rainbow? Can you put your hand through a rainbow? Mommy, can I go see if I can find the end of it?
That last one was Chanelle's plea. My first response was the responsible, no, it's late and it's raining and we need to get you ready for bed. It had been a long day. I was tired, they were tired, and quite honestly, I was ready for the silence of the house. It only took a moment, though, before I realized what we might be missing if I let this opportunity pass.
Okay, I told them, go for it. Oh my. . . They went for it.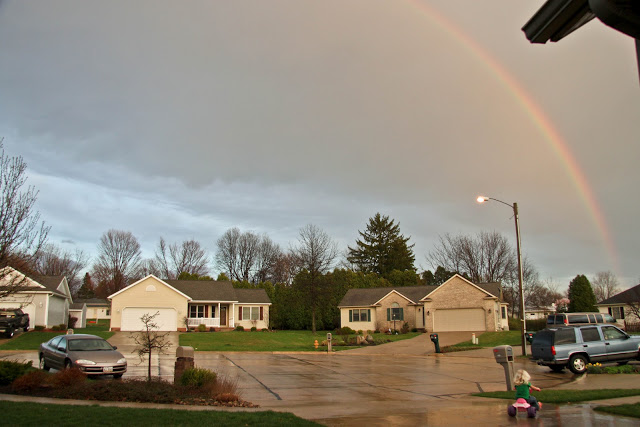 If you have yet to see your kids play under the glorious arch of a rainbow, may I suggest that you put it on your to-do list? Their smiles, their laughter, their excitement, their ability to be only in that moment. . .it was perfection.

If the level of excitement was at a perfect 10 upon running into the drops of rain, it jumped off the scale when they discovered the dip in our neighbors driveway that was filled with puddles of water for splashing.


I stood back and watched them banter back and forth. Chanelle stuck her thumbs to the side of her head taunting Charlie with her nah-nah-nah-nah-nah-nah and Charlie charged for her, making it clear who is boss.

I watched as Chanelle bent and scooped her hands through the water and walked carefully over to Charlie to show off her find.

I waited as she pranced toward me, in true show-and-tell fashion, so that I too, could see the treasure she held so delicately in her hands.

I stood back and watched in awe and wonder. Awed by how simple it really is. How simple it is to make a memory. And I wondered at the gift of these few moments before bedtime that injected enthusiasm into all of our weary souls.


I needed this tonight. This little reminder that it's okay if we are a little late to bed or a little dirtier than we'd like. It's okay to break the rules every now and then and enjoy a moment simply because the moment is there to enjoy. Oh, what a gift we had tonight. What a gift. I'm so thankful that these little people continue to teach me that this moment is all we have and by all means. . . we will enjoy it.
Tonight was completely spontaneous and, I think, that is what made it so special. All plans were put aside and we did what kids do. . . we enjoyed the moment.
The other day a man asked me what I thought was the best time of life. "Why," answered without a thought, "now". -David Grayson