. . . I think I would have to get someone to watch Meadow.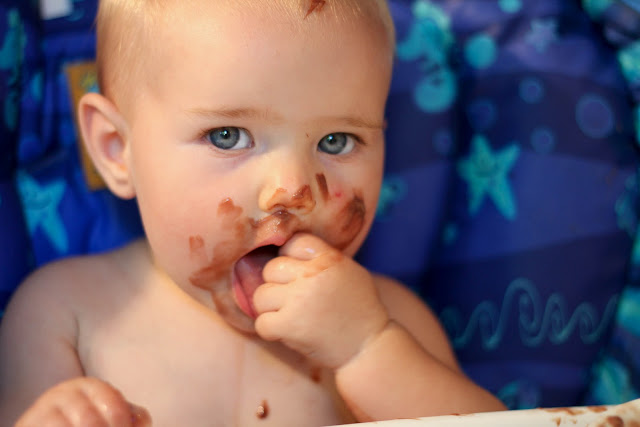 She really is as sweet as sweet can be. She has a smile that can melt your heart. She communicates in her own special way. Oh, and that sideways glance she throws your way when shes feeling shy. . . I'm pretty sure Ms. Oliver's heart would thump so loud she might fear for the health of her heart.
She's got that cute thing going for her. Her table manners, though? Now those leave something to be desired.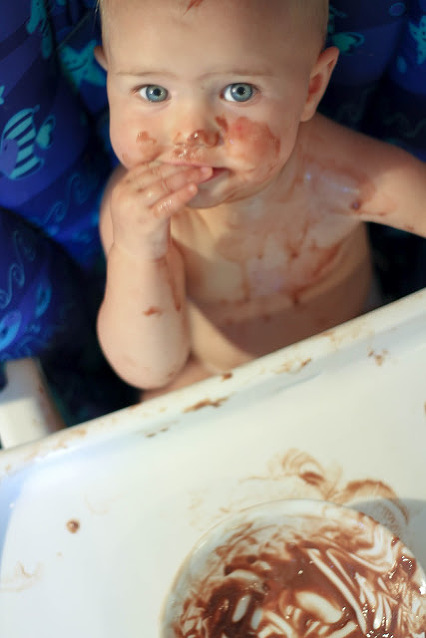 We are still visiting my Dad and, as you can see, Meadow is enjoying herself. After feeding her a few bites of this pudding I decided to let her go to town. To town she went. She was covered from head to toe with chocolate pudding and the squeals that escaped her mouth communicated the joy she was feeling.
Being the responsible daughter that I am I decided to give her a quick sink bath rather than carry her milk-chocolate-vanialla-swirl-pudding'd body through my Dads house.
(You can just call me Ms. Responisble)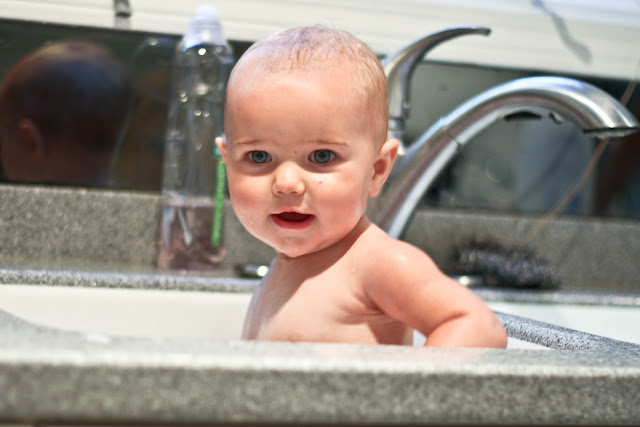 Meadow could not have been more excited. After a long day of traveling and activity that involved keeping up with her big bro and sis, Meadow was in her element in my Dad's large (white) sink.

My Dad stood back and watched my joyful daughter as she splashed, squealed, and flashed her biggest bright smile toward us. I watched from a few steps back, proud to show my Dad that my daughter really is quite content most of the time. We both commented to each other,
she's so happy
and
this is just what she needed.
My girl
loves
the water.

What a precious moment to share with my Dad. Him, me and my sweet, adorable little girl. In these moments she was just so content. . . .
. . . too content?
I commented to my Dad. . . maybe I should take her out, I wonder if. . . .
Shoot.
Too late. The damage was already done.
You can thank me later. . . there are no pictures.
Let's just say that the Clorox, wipes, toilet paper, and a few other cleaning materials were produced in a matter of seconds. The moment was gone as we tackled the clean-up of her deposits.
Oh, my dainty little girl. I suppose Meadow has a few things to learn before she meets a nice lady like Ms. Oliver.
Note to self: If Ms. Oliver comes to lunch. . . schedule childcare.
We truly are having a great time, but I just wanted to pop in a quick hello and share a story in hopes of making you smile.
Happy Wednesday, Friends!