I'm a bit moody today. It's true, ask Chad. (Never mind, don't. . . I'd prefer to save a little face.) I'll spare you the details and keep to the point. . . I'm moody. It's not just me, though. It seems that the majority of our household is moody. Chanelle seems to be her chipper self, but the rest of us. . well, we're kind of on edge. This afternoon Chanelle said, Maybe it's moody day. I'm not sure if it's simply the fact that it's Sunday and tomorrow we go back to the adjustment of school and crazy schedules. It could be all the things we want to get done but time slips away like sand falling through our fingertips leaving us with more undone than done and therefore, moody. Perhaps its the fact that I have once again stumbled upon poison ivy leaving much of my body covered in painful red spots and with a desire to claw my skin from my body. It could be that I have an appointment in the morning to get what Chad has so endearingly referred to as my tooth "augmentation", otherwise known as a tooth "implant". To say I am not fond of the dentist would be putting it mildly. Very mildly.
I realize that this sounds awfully negative. It's just that I can't be fake and tell you that I've spent this day with my glass half full. It would be more accurate to say that I haven't even been able to find my glass.
Sidenote: Chanelle just emerged from her bedroom (45 minutes after we put her to bed) and informed me that it's Sasha's (her stuffed dog) and Sheila's and her "fat" Ladybug's birthday tomorrow and 'could you please sing her Happy Birthday and make her something chocolate or ice cream or cookies for her birthday?
And suddenly, I remember to smile. It's funny how a four year old can do that to you. The mix of innocence and simplicity is often the perfect dose of perspective. Seems like an appropriate time for things that make me smile. . . Running Chatter style. . .
1. Miss Nancy
You remember Miss. Nancy, don't you? As if we needed any more evidence that we have the most wonderful neighbor that ever walked the planet. . .
The week before school began, Miss. Nancy took Charlie and Chanelle on a "date". She took them to play putt-putt and to play at a local arcade-type place. Sometimes I have to pinch myself and ask, is she for real?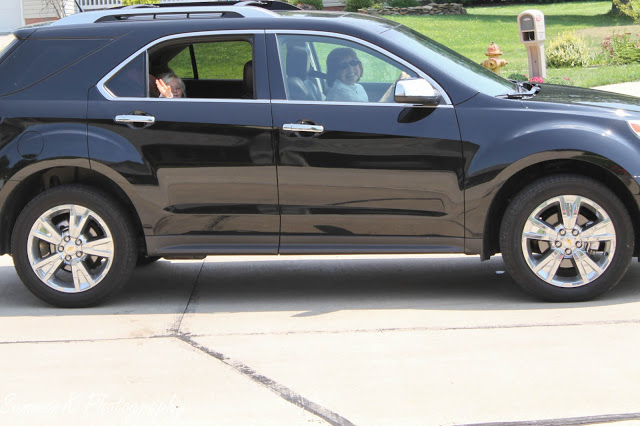 She is and she is fabulous. Charlie and Chanelle came home with huge smiles and excitement that entered the room before they did. We feel so blessed by her and she is as much a part of our family as our family is. What a gift.
*************************************************
2. Elmo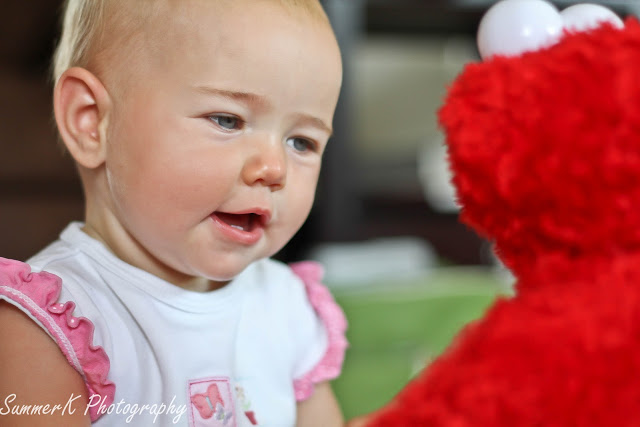 Meadow recently met Elmo. You know the one. . . the one that tells stories, communicates with you, and does numerous motions including sitting up and sitting down and waving the arms?
Well, Meadow isn't too fond of him. Actually, he downright scares her. He sometimes starts speaking without warning and Meadow jumps, cries, and gives Elmo her best evil eye. Needless to say, we've put talking Elmo away for awhile.
**************************************************
3. Soccer
Charlie began year two of soccer this weekend.

What a difference a year makes. Last year Charlie was very timid, stood back, was afraid to get too much into the mix. This year is very different. . .

This year we see a new confidence and willingness to engage. I thought to myself. . .
who is that kid?
And this is, in my opinion, one of the really exciting parts of parenting. . . watching them bloom right before your very eyes.
**********************************
4. Captions
It might be the influence of Instagram (to which I am addicted) or perhaps just my twisted sense of humor, but I tend to think in "captions". For example, when I upload and sort through my pictures each evening, it is not uncommon for me to attach a (pretend) caption to my photos.
For example, this one might be titled. . .

"Meadow practices for her senior portraits".
Or this one might be. . .

"I was a bad, bad girl."
I'm sick. I know.
*********************************************
5. Summertime
Despite the start of school and the slow transition into fall, our kids made sure we didn't kiss summer good-bye too soon.

You would be shocked by the entertainment value of a little red bowl and a hose.

Who needs a pool when you have a little red bowl? Not us.
****************************************
6. Color
We have vintage-like alphabet flash cards hanging in Meadow's room. The cards hang on a wire and are attached with close-pins. Simple idea, no? One day when Chanelle, Meadow and I were hanging out in Meadow's room Chanelle suggested we spruce our display up a bit. (She's a smart girl, I tell you.) I thought it was a great idea.
It's amazing what a little bit of paint can do. . .
One hour of work and our project was complete. Chanelle is always looking out for Meadow. . .