It's rainy today. Low hanging clouds have settled in and, if you listen really close, you can hear the light taptaptaptap of rain just outside the window. Charlie and Chanelle are settled in on the couch watching a movie and Meadow is squawking from her crib, desperately fighting her nap.
Just a bit ago Charlie walked into the living room with a blanket wrapped around him and a book in hand. He is determined to finish his current book in order to check the next book in the series out of the library this week. As soon as I saw him cozy in his blanket ready to engross himself in his book it reminded me of days from long ago. The days when a rainy day meant I could lose myself in a book and be transported into a world that was not my own. Days when hours and hours would pass by and I would fade in and out of a story between cat naps. The days when meals were forgotten as I lost an entire day while engrossed in the story told by this fabulous author or that one.
I remember those days. . . those days before kids.
It has been years since I've lost myself in a book for pleasure. Years. I trust those days will come again–probably before I'm really ready. In the meantime, these days there is never a dull moment.
For example. . .
If we didn't have kids I'm certain that Chad would not bring home little creatures he finds while he's working.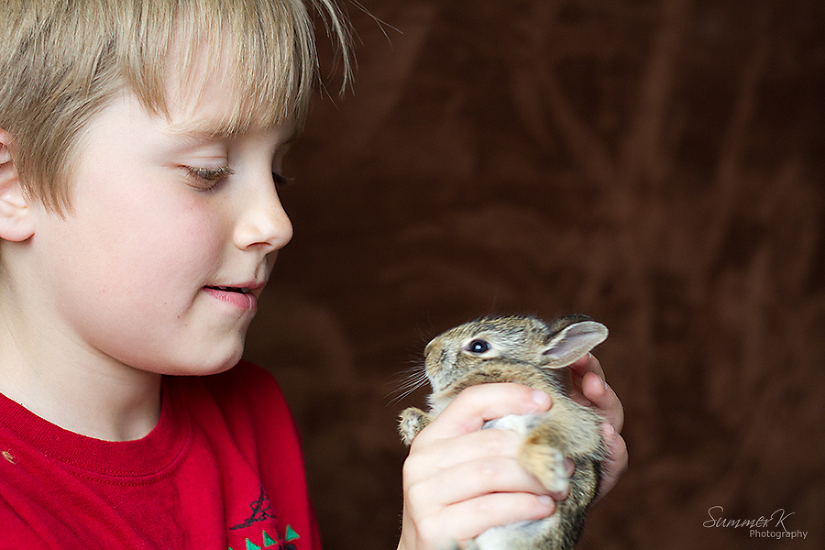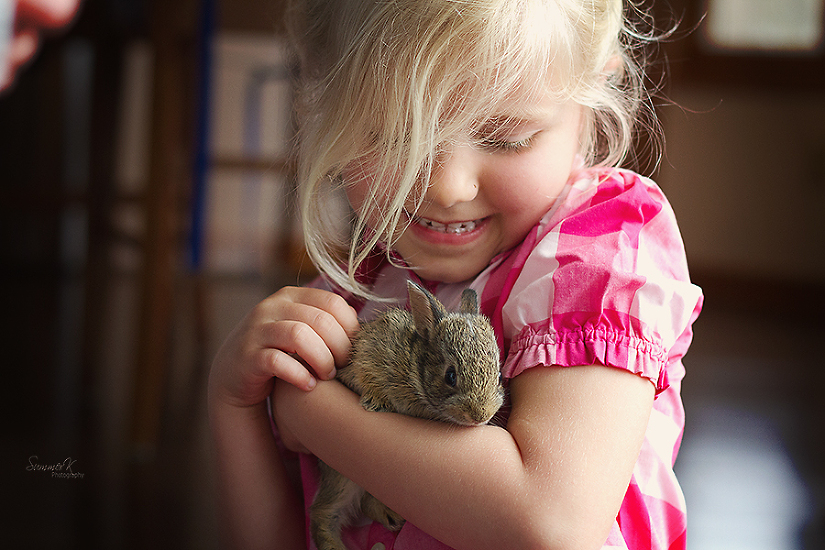 This happens at least once a year. Chad finds these cute, cuddly bunnies snuggled in a hole and he brings them home for the kids to play with. We spend about an hour with little bunnies hopping through our living room and into bedrooms, and venturing into every nook and cranny in the house. The kids name them, cuddle them, kiss and hug them and fall in love with them.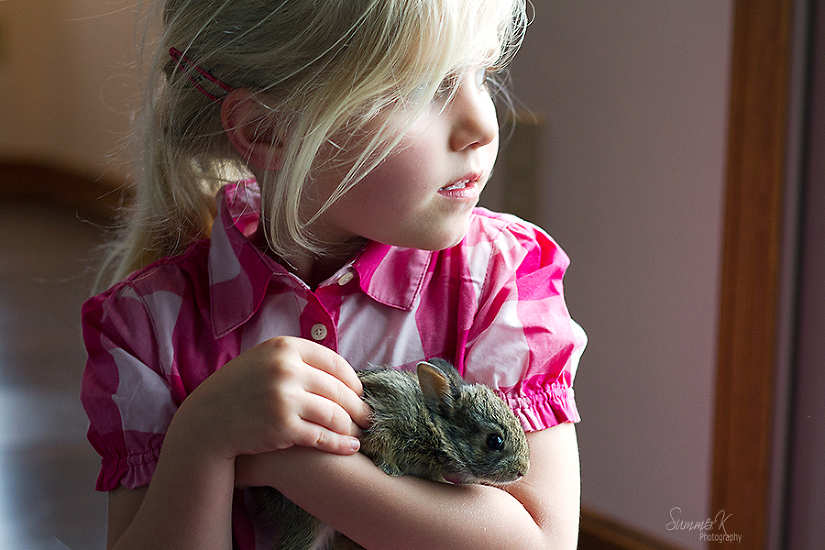 And then we break the news–we have to let them go.


The news is typically met with upside downs smiles and a few tears. We figure it's all a part of life, though, right?
The next few days are spent vigilantly watching for the bunnies. Currently, they are living under our barn out back. From the back window we can look down and see them resting peacefully right next to the barn. If they see us coming, they dart back under the barn–apparently avoiding the little hands and loud laughter of our children. This doesn't stop our kids from doing everything they can to woo their furry friends out. . .

Can you spot the partially eaten carrot? Yep, bunny nibbles.

Believe it or not, the bunnies who have been named Chole' and Pluto, have gone to town on our carrots.
In between meals the kids have been staked out like undercover cops at a potential crime scene. They wait. . .

Super-duper cute matching outfits provided by my in-laws.
. . . and wait. . .

. . . and wait. . .

These are no dumb bunnies. . . they wait until the kids are safely inside and then they emerge. I'm wondering how many weeks this charade may carry on.
Like I said. . . not a dull moment. Need more proof?
The girls and I went on a walk one morning. While walking we came across a garage sale up the road. Just as we walked up to the garage sale house the home owner walked out her front door with a large purple hippo and stated loudly, okay, I'm going to part with my Hippo. I suspect she saw us coming and made her own (ingenious) plan.
What's a Mama to do?

Meet our newest family member, "Hippocampus".

Because we needed just one more stuffed animal in our house. Currently, the kids are sharing custody of him.
And if that wasn't enough activity–why not add a broken washer into the mix?
I wish I had a photo of this one. However, when I approached Chad and our friend Joel as they were looking demoralized and frustrated over our washer that was broken down to pieces–I was given the evil eye. (I know when to toe the line.)
Anyway, this little bump in the road took us to the laundry mat. This is a place we don't frequent often and I had no idea how entertaining it could be.


The light was fantastic and I'm thinking it would be a perfect spot for a photo shoot.


I'm thinking I might stop in on a monthly basis just for the fabulous light and fun atmosphere.


Like I said, our dull, relaxing moments are few and far between. However, our laughter and entertaining stories are endless. . .


It's never boring.
Happy Monday!