I built it up. I did. Really, I should have known better. I should have known that most things I get excited about don't typically turn out how I plan. But still, I talked it up. I showed
pictures
, I made my own solution, I even got the help of my oh-so-kind FIL who trekked all the way to Walmart in the sub-zero temperatures to get us bubble wands. (He brought coffee and donuts, too.)
We were going to make those cool frozen bubbles that I've seen all over the place. Certainly, you've seen them, too?
Anyway, it was about 8:30 this morning. After I mixed Dawn dish soap, salt, and water in a small bowl (thank you, Kim, for the recipe), we bundled up and with our bubble wands in hand, we headed outside into the freezing cold air.
I just knew we were going to see beautiful crystal balls of bubbles scattered across our frozen lawn. I was so excited! Oh, and the photographer in me was thrilled to see the golden light of the morning sun that would certainly make for even more wonderful bubble crystal balls, right?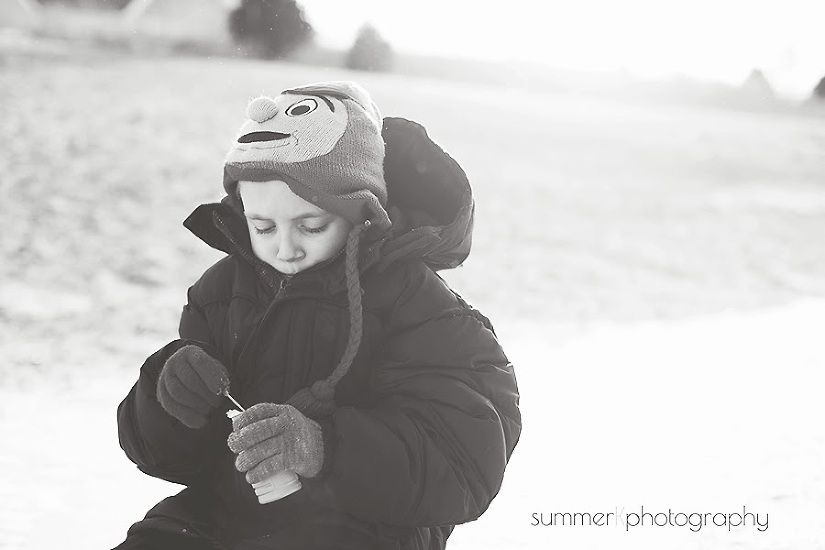 Well, not so much. Remember, it's me. And, well, the visions I cast of beauty, fun, excitement and entertainment usually find their fair share of hiccups.
You know? Like. . . we live on the top of a hill.
In the country.
And when the "wind chill" is -20. . . that typically means there is wind.
Bubbles and wind? Well, they aren't really friends.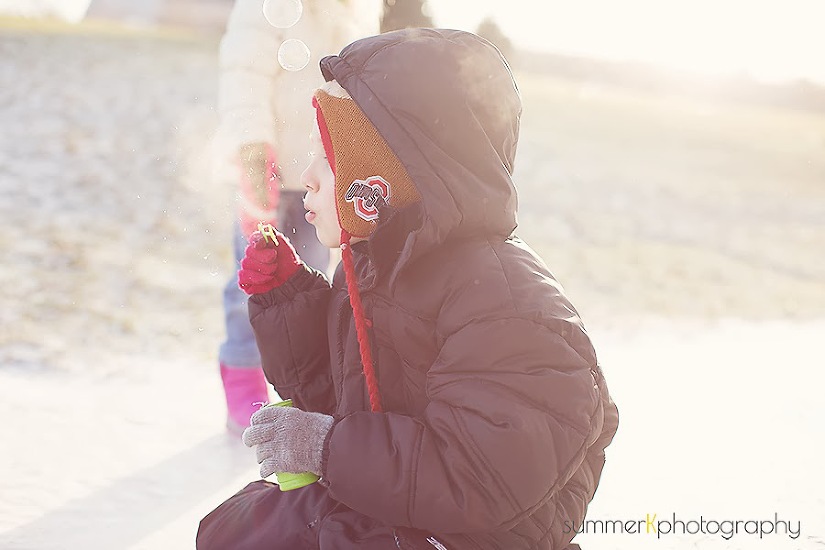 Before we could lift a bubble wand to our lips the wind erased any evidence of bubble solution and stole our fun away. I stood helpless (mostly because I was frozen) and watched Charlie and Chanelle attempt to create frozen bubbles (and Meadow eat snow in the corner). I swallowed down the lump that was forming in my throat, seeing I had created yet another failed experience for my kiddos.
After about 3 minutes (remember, it was sub zero degrees) I corralled the kids back into the house ready to comfort their disappointment. However, I quickly learned we've got the kind of kids who turn lemons into lemonade.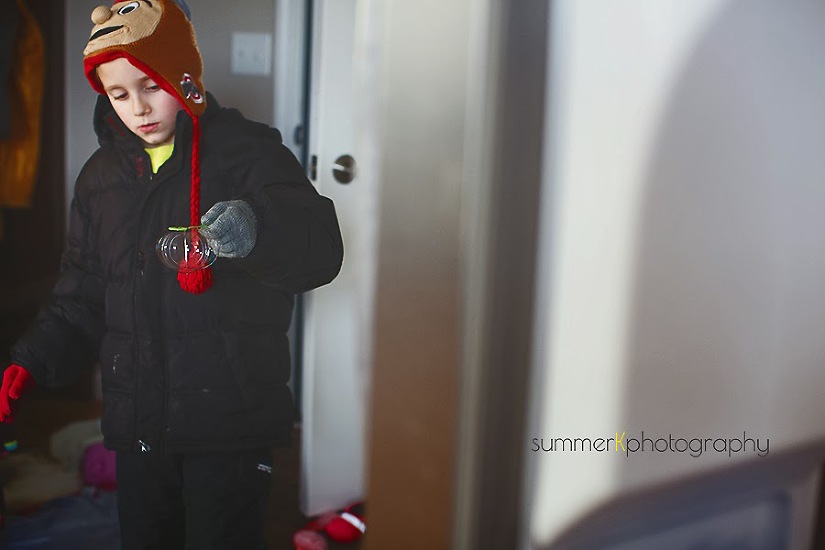 I turned around to see Charlie gently walking into the house, holding his bubble wand, on which a bubble grasped for dear life. Step by slow step he walked while he explained, we're just going to put them into the freezer.


I stepped back and watched as Charlie and Chanelle carefully ushered bubble after bubble into our over-crowded freezer while declaring, this is SO awesome!

It was a moment of pride for me–watching my little ones who didn't bat an eye at our failed experience. Instead they did what comes so naturally–they turned lemons into lemonade.

You know what's funny? None of the bubbles really worked. Most deflated in the process. But that didn't matter. It didn't matter at all. Back and forth they marched, with bubbles steady on their bubble wands, and they made memories.
Lemons into lemonade. So much I can learn from them.
Moving on. . . remember my "little" mistake last week? The one where I didn't know school was supposed to start? Well, it turns out I wasn't far off the mark. On Charlie's first day back they had an early release due to snow. Since that day, school has been canceled and our Christmas break extended longer than we ever expected.
When it's too cold to go outside, we sometimes have to get creative in the ways we entertain ourselves. . .
Charlie and Chanelle created a life size game board, complete with dice and pieces. . .


(They were the pieces.)
We've had more than one fashion show. . .


Seriously, Meadow's boots kill me.


Meadow declared she no longer needs naps. Instead, she passes out sometime during the day. . .

Wherever she wants. . .

Whenever she wants. . .

This never would have happened with Charlie or Chanelle.
Third child.
(Speaking of third child. . .

. . . what can I say?)
We've turned boiling water into snow. . .




We've asked and answered questions. . .

Meadow rediscovered her bee outfit. . .

. . . and danced in it. . .


. . . and played in it. . .



We created. . .



We rocked. . .


And one night when Chad came home I said this,
There are days when it is so exhausting to be home with the three of them. Days when I am so tired I can barely stand. Days when I just feel like I need a break. But really? There is nothing I'd rather be doing with my life. I am so thankful that I get to spend my days with them and see who they are in all of their beautiful and ugly moments. To see how they react when the garage door opens and they know you are home. To know them. . . to really know them. . .




. . . there is nothing else I'd rather be doing.
Lemons in to lemonade. They teach me so much.
Happy Wednesday, Friends.