We have guests visiting from out of state this weekend. Two of the most laid-back, chill, go-with-the-flow people and their three little ones. I met Rachael in grad school and despite the miles that separate us, we always meet up during this time of year and pick up as if no time has passed. Rachael and her husband are what I refer to as 'them is good people'.
Rachael and Adam's laid back and chill personalities have done nothing to stop my neurotic inclination to create the illusion that I keep a spotless, organized home that is worthy of recognition by Martha Stewart. It began today as I scoured the inside of our refrigerator, taking out drawers and cleaning deep into the corners where, for months, I've ignored the spilled juice and the crumbs from one meal or another. I then examined and tossed food that has sat on shelves for. . . well, let's just say well past their "due" date. Phase two was to move to our pantry to repeat the process I completed in the fridge. (For the record, I did do a months worth of recycling today.)
Next, with my trusty Mr. Clean Magic Eraser, I went on a hunt for all the tiny hand prints and dirt marks left by tiny dirt marked little hands before moving to the banister to assure that it appeared that we don't have children living in our home.
I have a whole list of things to do including, hide the Lucky Charms and replace with Kashi cereal, clean windows, buy mints to place on pillows at night, and oh yeah, perhaps I should find some matching pillow cases.
(It's usually around this time that I like to point out that I'm a trained mental health therapist.)
My to-do list is quickly dwindling, though. As I got Meadow's lunch and placed it in front of her, she quickly spilled a bowl of peaches all over the table. Then, while joyfully serenading me with Head, Shoulders, Knees & Toes and Jesus Loves Me, she dropped a several strawberries on the floor. And really? How hard is it to keep a hard-boiled egg on the table? From the looks of it, hard boiled eggs succumb to gravity at lightening speed and with the force of those huge weights I remember seeing dropped on Wile E. Coyote. Oh, and I won't even talk about the shredded cheese she 'played' with while helping me with dinner.
Truth is, I'll never be 'that woman'. The woman who has it all together–spotless house, spotless children, spotless anything really. Don't get me wrong, I want to be. I want to be organized and on top of things and ahead of the game. Let's face it, though, I'm just not her. (Shall we revisit Chanelle's missed preschool graduation?)
On most days, I'm lucky if I get out of my head and even show up. Today, as I scrubbed, scoured, and tossed, my mind wandered-to life, and time, and raising little people and being a family. My mind visited passions and dreams and what it means to be an introvert. I thought about being young and being old and all the seasons in between. So many thoughts. Thoughts that I envision pushing out while wrapped in a blanket in front of a fire on a cold evening. Thoughts that stay thoughts because life is life and time slips away more quickly than I can type.
So, while I may not show up to finish my to-do list, or win an award for having the most pulled together, organized home, I show up here simply to say we are here. We are living and capturing our moments and I'm holding these memories because these are what really matter.
(Side note: Charlie just came in and read the line about the 'tiny hand prints' and was certain I was speaking of only Meadow.)Anyway, things we've been up to. . .
1. Solitude
Sometimes a boy just needs a little space. . .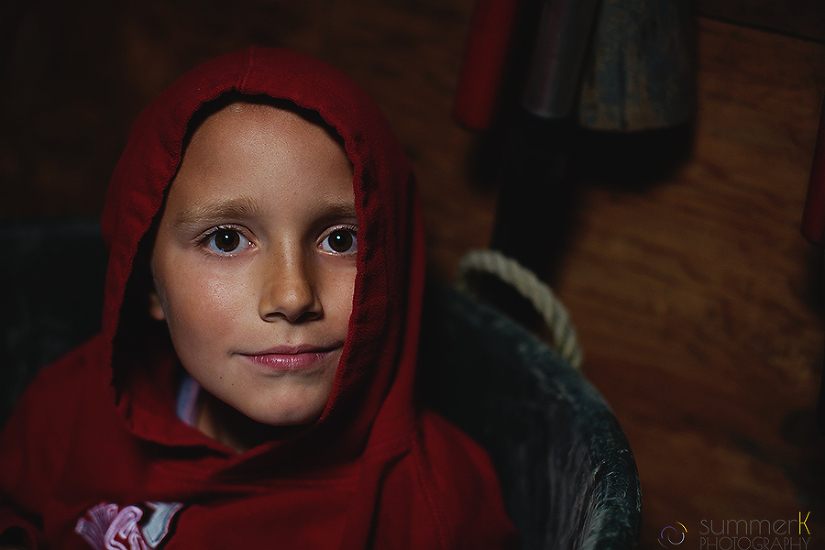 Even if he can only find it in a bucket. . .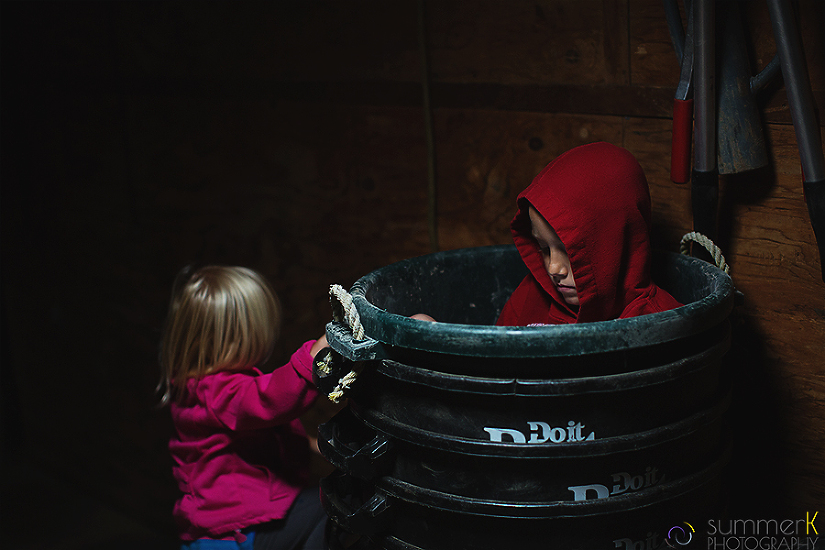 2. The Basketball Pillow
I mentioned this on my photography Facebook page, but it's worth bringing up here. When Charlie was just days old we bought this large pillow that we have come to call his "Basketball Pillow". At first, the pillow was so large, that Charlie was enveloped by it's soft orange 'fur' and it was his absolute favorite place to nap.
As he grew, the pillow stayed with him. He slept on it every night, used it as a weapon when he battled Chad before bed, it was a travel companion in the car and replaced any stuffed animal a typical kid might have. Well, after nearly nine years of use, the pillow had seen better days and, to be honest, I couldn't take the smell of it any longer.
We told him it was time to say good-bye. It was a sad, sad evening in the Running Chatter household. . .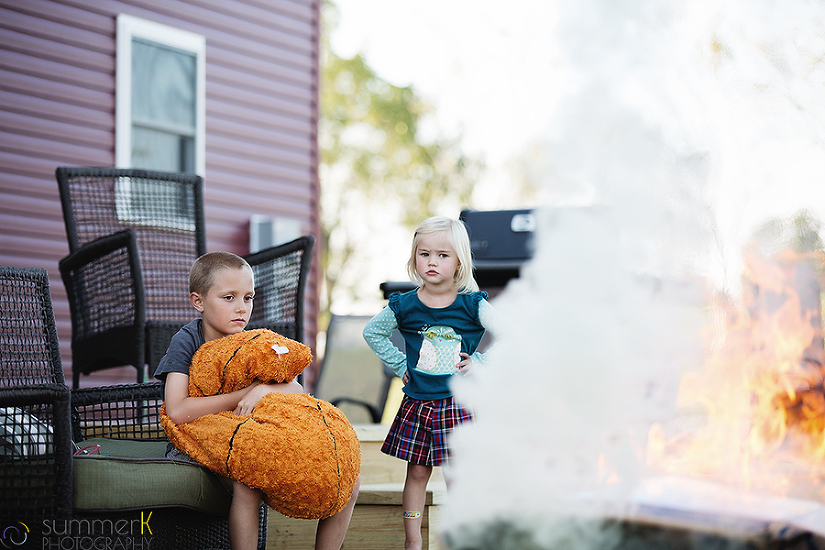 ********************************
3. Ohio Clouds

I say it every fall and I'll say it again. . .



Ohio clouds are the best.
*********************************************
4. One Year
We have officially lived in our house for one full year. You wouldn't know it by the many, many unpacked boxes still stacked in our basement, but it's true. Chad and a co-worker had been working on our deck. . .

We were thrilled to have it completed on the one year mark. Meadow refers to it as "MY STAGE". . .

*****************************************
5. Soccer
It's in full swing. . .





And thankfully, as the temperatures begin to dip, the season is nearing an end. . .

******************************************
6. Wardrobe
Meadow likes clothes. She knows nothing about fashion and everything about what she wants. I pick my battles, her clothing is not one of them. . .
If she would like to wear stripes and polka-dots and fringe and every shade of pink, that's just fine. . .

And 20 minutes later when she chooses to wear leg warmers and boots and plaid and an mismatched shirt, who am I to say no?


Or, if in a few hours she would like to wear big sisters dress and a cowboy hat, does it really matter?

Or her most recent streak? Christmas dresses?




Girlfriend's got to express herself.
********************************
7. Speaking of Expressing Herself. . .





No issues there. . .
**************************************
8. The Two Of Us. . .
I was nervous about how life would look with big brother and sister at school. In my mind, exploring and discovering just felt weird with two.


I have quickly learned the errors in my thinking. . .






This little two year old is teaching me every day that the time we take to get away is always, always worth it. . .



***********************************************
I've gone on far too long and my to-do list sits untouched and more likely than not, it will remain that way. Martha Stewart will not ever notice me. I am a Mom with marked up walls and marked on kids. This is who I am, who we are, and I think I'm pretty okay with that.
Happy Wednesday, Friends.