I remember a summer morning, probably about eight years ago, when I was taught a lesson by birds.
(Sounds strange, I know, but go with it.)
This was during the years when Chad and I lived in a small apartment and had yet to welcome children into our family. We had a teeny, tiny patio out the back door where I spent a lot of my time. On this particular day I had been sitting outside for several hours reading a book. I remember closing my eyes for just a few moments and being surprised at the sudden sound of singing birds all around me. I recall wondering where all the birds had come from and why I hadn't heard them all morning. Of course it quickly hit me that I had been so lost in my book and in my thoughts that I didn't even hear their beautiful music.
These are my journals.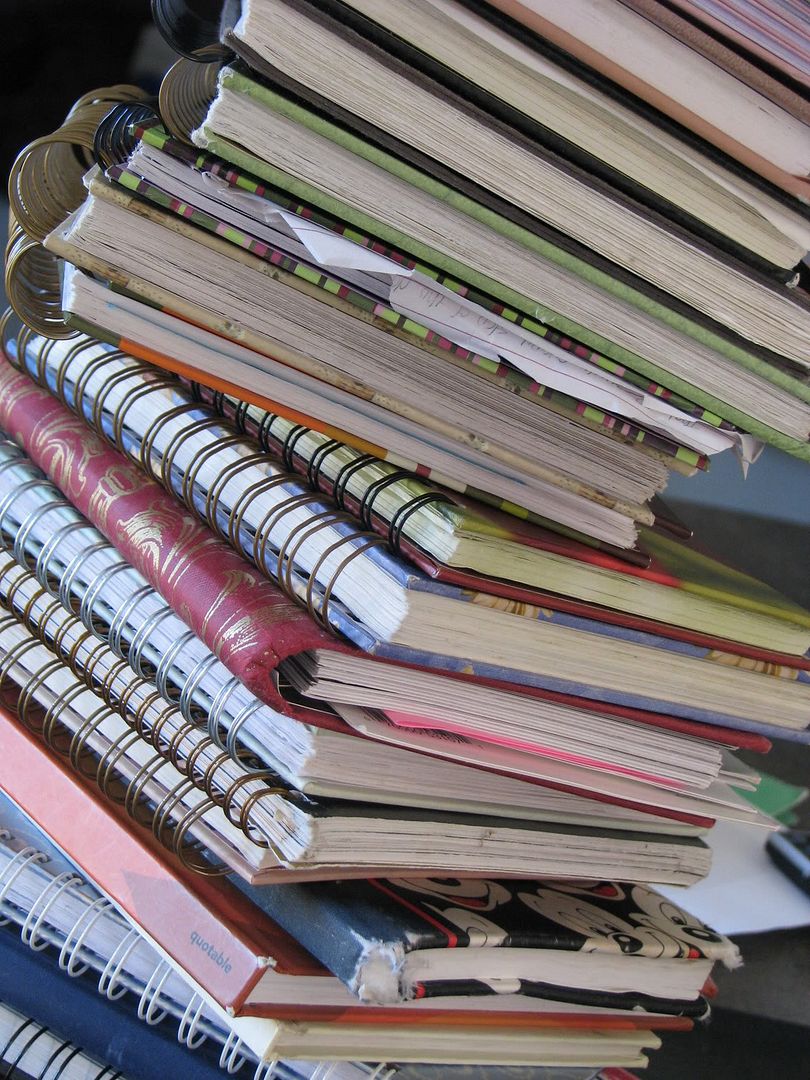 Chad brought them down from the attic this weekend and I've spent the last few days pouring over them. I've kept a journal for as long as I remember. I can still picture my first journal–pink with a lock and key to keep my little sister out. Since that time, I've added more than a few to my collection. It is amazing how only a quick glimpse at the journals cover can transport me back to this time or that time.
As soon as I see the multi-colored cloth covered journal, for example, I am transported back to my senior year in high school. The one with the Mickey Mouse cover? That one traveled with me through one of the most difficult years of my adolescence. . . possibly my life. There is the green one filled with inspirational quotes, that's the one that carries the initial stages of my love story with Chad. Oh, the small one with the small willow tree angel? That one holds Charlie's birth story. And the one that is missing it's back cover. . . that one holds the story of Chanelle's birth.
I've talked to many people who tear up, burn, and throw away their journals. I've talked to many more who have never kept a journal. Personally, I have found that putting pen to paper helps to give meaning to all that is happening right now. And even if I don't see the meaning at this moment, someday, upon reflection, I will.
And as I pour through these pages, I wonder if I hadn't written it down would I remember? If I had left it alone would these stories from my journey be buried somewhere in the inner chambers of my heart and lost in the chaos of the everyday? I wonder if I would have missed the beauty. I may never know. One thing I do know, though, is that I'm not willing to to take that chance. I want to remember. Just as closing my eyes allowed me to hear the beautiful sound of the birds, writing it down helps me to see the beauty of the right now. It's always there. . . I just need to take the time to see it. And so I continue to write. . .
See, I told you. A lesson from the birds.
Life is a book and you are its author. Believing in your own intuition and instincts is key. Asking yourself new and empowering questions and writing your thoughts and observations will allow you the freedom to take both small steps and great strides.
(a quote inside one of my journals)