The day began perfectly fine.
There we were minding our own business. . .
Charlie was at school and Chanelle and I were making cookies. . .
Playing ball. . .
Beautifying our driveway. . .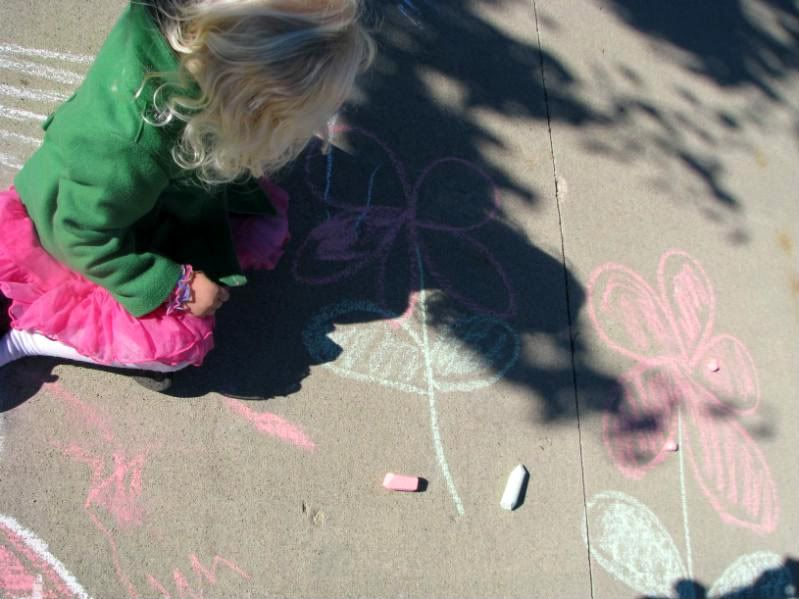 And then enjoying a lunch out with Gramps and Charlie. . .

When all of a sudden I felt it. . .
I was sick.
Not the sniffles kind of sick or the I'm feeling a bit tired kind of sick. But the I-need-to-be-within-five-steps- of-the-bathroom-at-all-times kind of sick. Ugh.
Thankfully, Chad was within an hour of returning home from work because I don't know what I would have done, otherwise. I'll admit it, I put Charlie in front of the t.v. for that hour. . . I just had nothing to give.
My heart did a happy dance when I heard the garage door open. Chad flew in with his cape (okay, maybe not really) and rescued me. He fed the kids and did all other duties while I shut myself in our bedroom for the night.
(I will never understand how single parents do it and if I were wearing a hat I would take it off to them in recognition of the extremely challenging job they have.)
I suppose that is what happens when you take care of two kids who have been sick over the last week. . . but seriously. . . doesn't my body know I have little people depending on me? Apparently, my body didn't get the memo. I laid in bed last night feeling as though I had been run over by one of those big roller machines that smooth out pavement when it's being poured. You know the ones I'm talking about?

Okay, maybe I'm over-dramatizing. . . Just a bit.
But its true. . . sometimes Mommies get sick and yesterday was my sick day. And as the fog has lifted from my over-dramatized emotions of last night I see clearly that today is a brand new day. . .
And, I think I'm going to be okay.