If you have young children it is a common occurrence to hear the words uttered, "Enjoy every moment
because before you know it they are gone." Seriously, I hear it all the time. At the grocery store, walking down the street, at a department store, in a park. . . everywhere.
When the kids were infants and we were exhausted by babies that preferred night hours to day hours I thought these people were crazy. I wanted invite them over to do the midnight feedings and then ask them how much they enjoyed it. Five years later, though. . . I feel very different.
Just this week I was sitting in the library watching my kids amongst several other children and realized that Charlie and Chanelle were the older kids in the group. I looked around at the other women with newborns and infants and felt that urge to tell them to enjoy every bit of it because it. goes. fast.
Tonight we went to Charlie's pre-school open house and I was hit hard with the reality. . . he's growing up. Wow, how did we get here? I remember how shy and timid he was last year when we went to the same open house. This year, however, he was confident walking from here to there and showing me all the things he loves to do.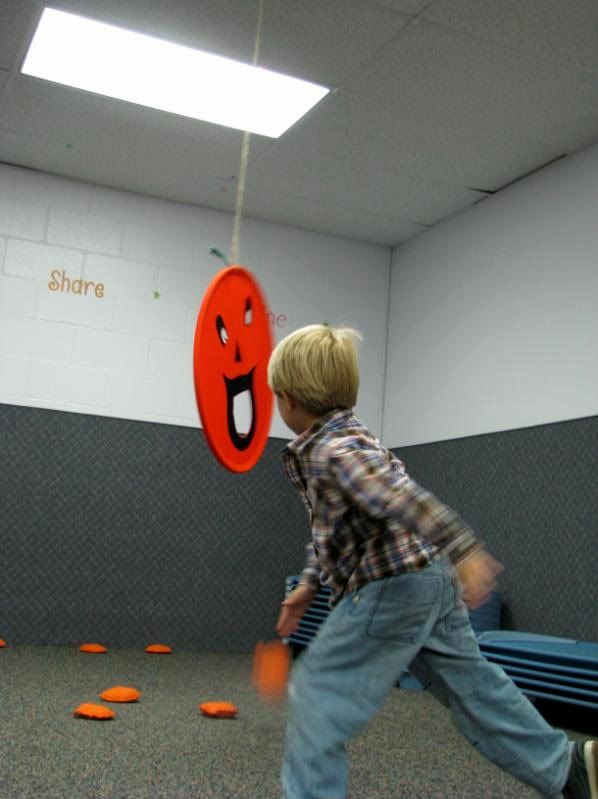 Charlie seemed to want to nothing to do with his sister. See how his back is slightly turned away. He refused to acknowledge her. Ahhh, big brothers.
I stood with my MIL tonight and marveled at these two little people who really are
little
people
. Truly, it seems to have happened in the blink of an eye. I often find myself wondering how some days can seem to go so very slow while the weeks, months, and years fly by at lightening speed. I think it's some kind of magic trick that I haven't yet figured out.
One thing I have figured out, though, is that it does go fast. . . it is going fast. When those mothers who have walked the journey before me tell me to enjoy it, I no longer respond with just a polite smile and a silent sarcastic response. Now, their wise words are met with an enthusiastic, "Oh, believe me. . . I do!"
And, as I think about it. . .Such wisdom holds true in every area of life. It's not just parenthood that goes fast. . . but time goes fast. . . life goes fast. And if that's true I want to live it as fully and joyfully as possible. And it is this reality that draws my attention toward the things in life that matter. . .
What really does matter? I suspect that with each season of life the answer to this might change. Perhaps there would be 100 different answers from 100 different people. But for me, on this cool November evening, people matter. Love matters. Telling the people I love that I love them. . . that matters. And I truly believe if my time were to come to an end this would be the only thing that matters.
Time is free, but it's priceless. You can't own it, but you can use it. You can't
keep it, but you can spend it. Once you've lost it you can never get it back.
-Harvey MacKay