I used my voice today. Well, my hands really. Like so many others, I cast my vote. In the chill of the morning I loaded the kids in the car and drove the 2 miles to our voting location. I had prepped the kids the night before by telling them we would be voting and on our drive I explained that voting is how we can use our voice to help our world be the way we want it to be. I told them what a privilege it is and how exciting it is to vote. Charlie seemed to be listening and Chanelle just wanted to know if they would have water.
Here they are. . . my little voters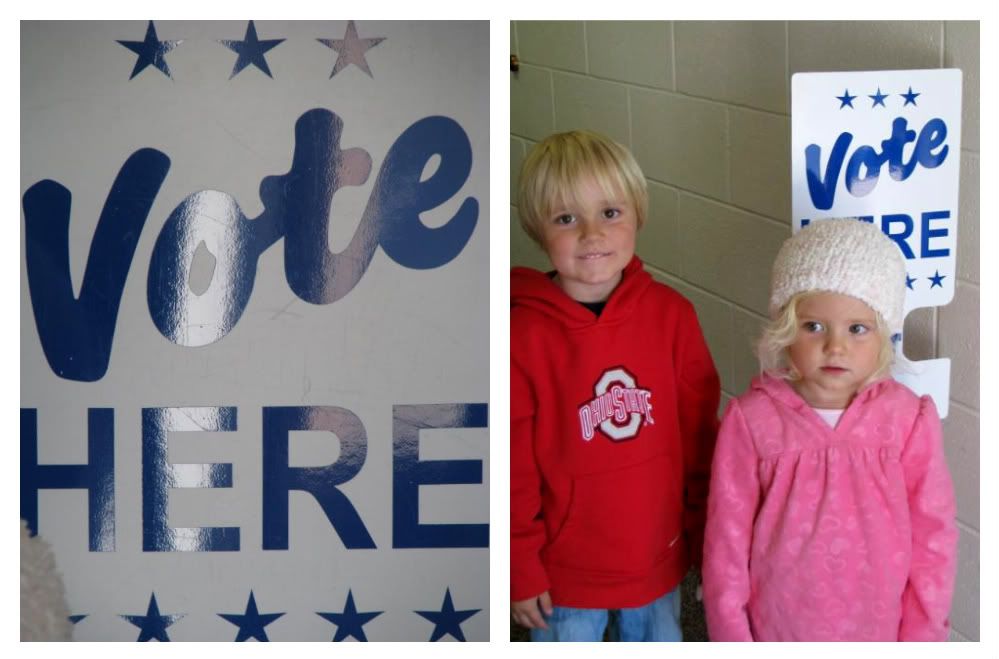 If you notice Chanelle's face. . . she looks a bit perplexed. I opened the door for her to head back to our car and she again insisted, "Mommy, do they have water here?" I informed her she could have water as soon as we got home. I was surprised by the tears that welled up in her eyes. When I asked what was wrong she looked up at me with her big green eyes and said, "But Mommy, I thought we were boating."
You cant make this stuff up.
*********
Speaking of voices. . . Love this quote. . .
The human voice is the organ of the soul.
-Henry Wadsworth Longfellow
I have absolutely loved learning the voices of those of you I have met through this crazy blogosphere. I have delighted in learning more about those whom I have called friends for years by reading the words they write each day. I have been inspired by new friends as I've listened to the day to day changes in their voices. I have become more confident using my own voice by the encouragement of this blogging community. I've learned to embrace my ever changing voice. . .
-may it be kind
-may it be an encouragement
-may it be authentic
-may it point to truth.
-may it utter words of honesty.
-may it sing songs to my sweet ones as they prepare for sleep.
-may it be real
-may it be used wisely
-may it speak up against injustice
-may I know when not to use it
-may it speaks words of hope
-may it be tender
-may it be strong
-may it be joyful
-may it be hopeful
-may it speak out dreams
-may it have courage
But if my voice is used for nothing else. . .
. . . may it be to express the depths of my love to those I hold so close in my heart.