I don't mean a babysitter, but a someone who sits. You know. . . in a chair, on a couch, at a desk, on the floor, heck, even in a car. Sitting has never been easy for me. Don't get me wrong. I can sit and play a game with the kids or work on a craft project for a time, but lets just say I'm thankful that my preschooler and toddler have short attention spans. It suits my style. To sit and just watch a movie? Oh, that rarely happens. (Sorry, Chad). I will typically have the computer on my lap, book in hand, or I will make it 20 minutes before I get restless and roam away.
Me and sitting. . . we don't much get along.
For the past four days I have been ordered to sit. Just sit. Sit until the doc says to stop sitting and start walking. Seriously, the doctor might as well have told me to flap my arms really fast and migrate south to Florida. . . the difficulty of the tasks are equivalent. Chad has stayed home from work for the past few days to help me out. (Personally, I don't think he trusts my ability to remain seated and stayed home to be sure I don't further damage my foot.) I think I've done okay staying seated. Yes, there may have been a time or twelve where I've hobbled my way to the kitchen or the living room or the bedroom, unnecessarily, but overall I'd say it's been all right. (Chad doesn't get a vote).
Moving on. . . this sitting thing has forced me to accept that there are times when I just can't. I just can't make dinner. I just can't do the laundry. I just can't care for the kids like I'd like to. I just can't get from the living room to the bathroom in under 3 minutes to help you, Chanelle. . .
What has been awesome, though, is that this can't thing has brought forth the love, support, and assistance of friends and family who have so willingly given without our asking or expecting. From my in-laws caring for the kids and sending food to friends arriving at our doorstep with dinner. . . I continue to be humbled.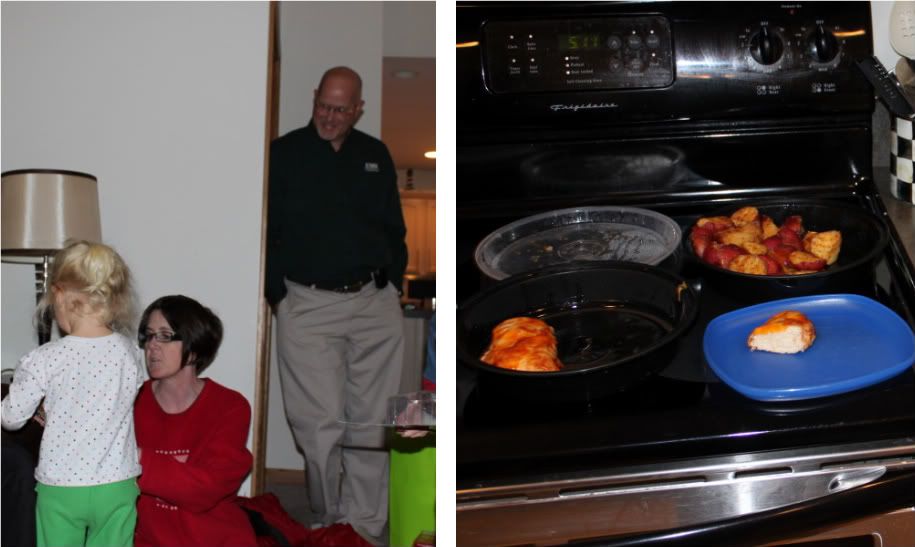 And a FIL who drops by to visit with flowers in his hand makes sitting a little more bearable.
Charlie and Chanelle are also being gracious and seem to understand that Mommy can't do quite as much these days. We did, however, sneak in a little craft time when Daddy left to run some errands.



We had a good time sprawled out on the kitchen floor. It did not go unrecognized, though, that there was something about this craft time that was different. I noticed it immediately:
I was present. Really present.
My mind didn't wander to prepping dinner, laundry, cleaning, my job, or the next task and the next task. My mind didn't wander because I couldn't do those things. Nope. . . I was right there with them tracing shoes and hands to create these fun little reindeer. Oh, I know, the reindeer are nothing special, but the time was. This time when I heard them and they heard me. And we were just. . . together.
And you know what else I learned today?
(and when I say "today" I really mean "yesterday" because I write these the night before I post them.)

When Mommy is slowed down by a foot that appears twice its normal size and stuck in a boot, the kids really step up and pick up after themselves. . . without complaint. And this leads to a far less frustrated Mommy and peace and happiness all around.
Also, I learned that my husband can put together a nice meal that makes the family really happy. . .

Now that I think about it. . . I should have tried this sitting thing a long time ago.