The surgery is over and lo' and behold. . . I survived. I'll admit it. . . I was quite nervous before it began. I may have shed more than a few tears in the two hours we sat waiting for my doctor to arrive. I'm not sure, however, if the tears were a result of nervousness at the thought of a knife cutting into my foot or because of the terrible tent they made me wear for the occasion. . .
I am far from a fashionista, but really?
Seriously, though, there is something about anesthesia that makes me nervous. I know that there is very little that can go wrong, but the thought of something actually going wrong is almost unbearable.
But, alas, I made it through. Chad sat with me for the two hours of waiting and eased my fears, made me laugh, talked and just listened. When my eyes filled with tears, he looked at me with his sad eyes. When I laughed, he laughed. When I fretted, he listened. It is in these times, intense times that are filled with uncertainty, that I realize what a great team we are.
It was mere seconds after being wheeled away from Chad that I drifted to la-la land only to be reunited with him in what seemed like 2 minutes, but was actually 2 hours.
My doctor instructed that I should be seated with foot elevated unless going to the bathroom or to bed until further notice. So, with bandaged and booted foot I was wheeled out to our car and we headed home.
I have been home for a day and a half now and in that time the only word for how I am feeling is humbled. If you are a wife and a mom. . . or a woman, really, you know what it's like. Your mind moves at 100 mph with the things that you need to do, things you want to do, things that need to be done. From dinner to be made to laundry to be done. From caring for family needs to caring for your own needs. . . it's an endless to-do list that I, honestly, don't mind. In fact, I kind of define myself by it. . .
Today, though, I can not do those things and it feels strange. My view has been limited to a position from the living room chair or a position from the bed in the bedroom. . .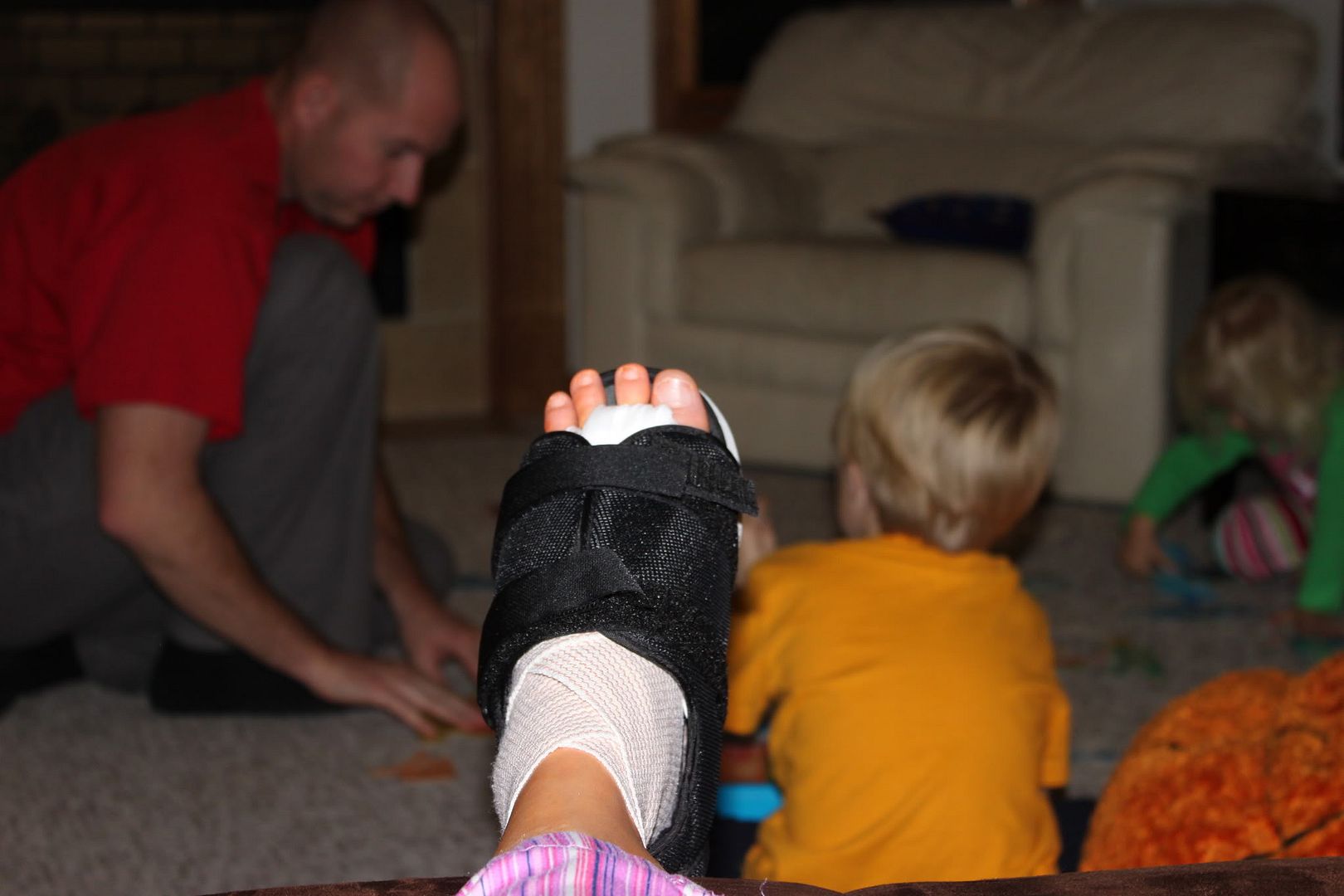 Don't get me wrong. . . I have mastered the crutches. I can get around quite fine and I have attempted to do some of those wife and mom things. It only takes a moment before I am scolded by my husband and reminded that I am not to get up or recovery will take longer.
So, I take my seat and receive the love that is being offered freely in the form of service. From standing by my side as I get sick to issuing endless "what do you need's?" and "what can I get you's?" and from caring for every need of Charlie and Chanelle to running any errand that needs to be run. . . and in typical Chad fashion, not a complaint has been issued. I am humbled.
That "in sickness and in health thing"? I see how seriously Chad has taken it. And I wonder what our little ones are thinking as they see this slight adjustment in our roles.

What I hope they are seeing is the is that this marriage thing is good. I hope that somehow, they are taking notes about what it means to partner with another person and do life together. I hope they are seeing that love goes far beyond words and into acts of service for one another. I hope they are seeing that their mom and dad not only care for them . . . but care for each other.