I've sat for a while trying to think of a creative way to start this post. To piece together words that flow in such a way that you think to yourself. . . must read on. In truth, I've got nothing. Nothing creative, nothing magical, nothing exceptional. Just one phrase that has been repeated in my mind all evening. . .
My heart is full. Yep, that's it. . . My heart is full.
I'm currently sitting in my darkened living room and Switchfoot is playing on Pandora. The kids have drifted off to dreamland and I can hear the rhythm of Chad's footsteps as he runs on the treadmill downstairs. Sidenote: Six months ago, following my injury, I could not handle Chad running. Seriously, he kind of had to hide it from me. I remember a day when he said he was going to go out for a run and I broke down in tears. There may have been some kicking of my feet and pounding of my fists as I yelled that "its not fair that you get to run and I don't. . . boo hoo hoo". . . or something like that. Yeah, not one of my proudest moments. Today, though, I can honestly say that I am happy for him and I can even cheer him on. The lessons of this injury went much further than the healing of the foot. . . perhaps some healing of the mind has taken place. . . Perhaps. (If I'm not running in another six months, I might be singing a different tune.) But, I digress. . .
My heart is full. . .
I don't know about your location, but we have begun to see a thaw. Saturday afternoon the bright sunshine seemed to be working its magic on the thick layer of snow that covered seemingly everything. It was almost magical the way the water flowed at the edge of our driveway as the snow began to melt away.
I even caught this little guy digging his way out of the snow. . .
. . . you can't see it in the picture, but he was carrying a shovel. Really, he was.
Don't get me wrong. It was still cold. It wasn't so cold, though, that we couldn't enjoy the outdoors. The kids ran, played, and sat in the snow while Chad was finally able to chip away at the sheet of ice that had become our sidewalk.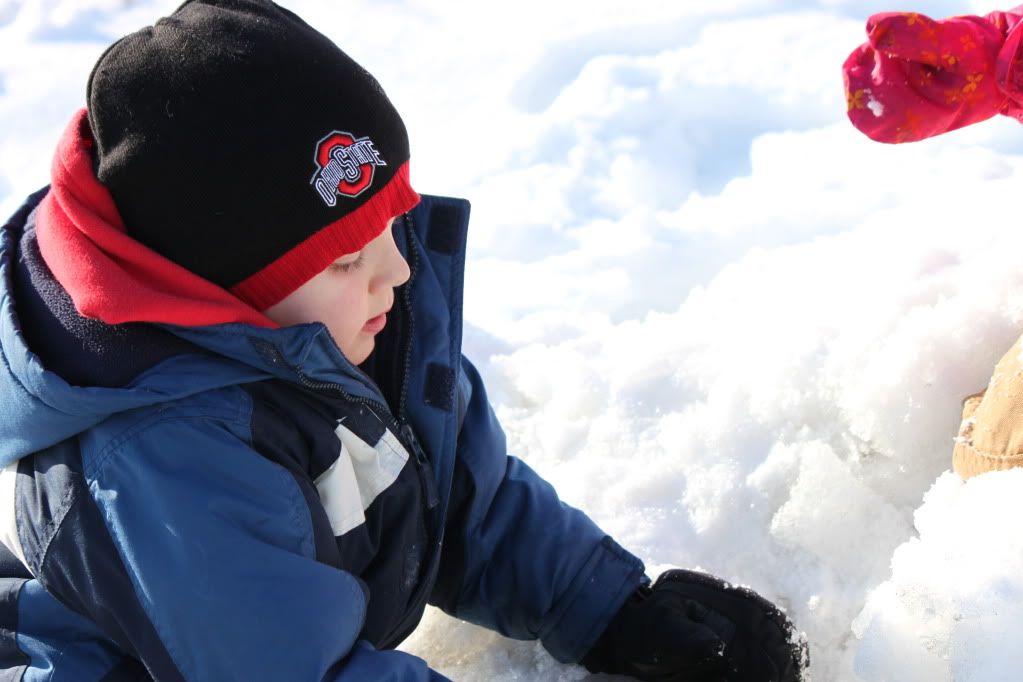 As I stood outside watching my family I began to believe that Spring is really going to happen. I began to have hope that sometime, not far off, we might actually see the green grass again. I began to feel a stirring in my heart that reminded me that we will once again wear flip-flops and tank tops and spend our days playing on swing sets, drawing with sidewalk chalk, and deciding which park we will visit on that day.
For the first time in quite some time, the bright sunshine was not deceiving us. It welcomed us and shouted out its reminder that spring is near. In fact, Chad took it as an invitation to do what was much needed. . .



Charlie splashed in the water and with each drip, drip, drip of the water, the remnants of the harsh winter were washed away. That is where my heart began to fill. Ahh, the hope of spring. . .
I realize that it's only February and we may very well have another storm or two come our way. I needed this little reminder, though. I needed to be reminded that as the days move forward we are getting closer to a different kind of season. And while I love them all, spring screams out LIFE and I'm excited to enter into it. I'm pumped to experience all it has to give. I'm ready jump into whatever is next. . .
In the meantime we will enjoy where we are today. Today is good, too. I'm reminded, once again, not to rush forward too quickly and miss the beauty that's in the season right in front of me. There is still lots to celebrate in these final winter months. Plenty to celebrate. What's the saying? Grow where you're planted?


Oh yes, my heart is full.
"To be interested in the changing seasons is a happier state of mind than to be hopelessly in love with spring."
George Santayana