Sometimes I require myself to think about things that I don't want to think about because I think if I think about them it might make me feel better. . . even if I feel worse at first. My house is silent and three sleepy heads rest on three pillows behind three bedroom doors. I sit in the coziness of my dimly lit living room covered by what has become my comforting quilt. I had music playing, but it was too distracting. In this moment, I'm requiring myself to remember.
I remember an afternoon back in July when I was sitting with my Dad on his boat. I can't remember if it was daytime or evening. I can't remember if it was inside the boat or outside. I have no recollection if we were just sitting and talking or if it was over a meal. The only thing I can remember are the words. We were talking about my Mom's death and I was trying to grapple with how we were going to survive without her. What life would look like. How we would survive. His words to me went something like, Summer, we can only move forward one step at a time and before we know it we will look back and be surprised at how far we've come.

Them are some wise words.
Tuesday we ushered in March. . . the month that holds that one year mark. Our first year without her.
Anniversaries are a funny thing. It's just a date, I know, but for me the date touches a very tender spot. . . a spot that still hurts. A date that means something. Just yesterday I had lunch with my FIL on the 1 year anniversary of his cancer diagnosis. We sat together and talked about his journey and mine and we both looked back and felt it. . . I can't believe how far we've come.
The date of his diagnosis also marks a date in my story. It was the heartbreak of his diagnosis that opened the door of communication with my mom. A door that had been closed for about 6 weeks in an attempt to spur my Mom to get the help she needed. (If you're curious about our story, click here.)
As soon as I realized that it was his anniversary, my stomach got that sick feeling as I remembered everything about that day. The sadness of this wonderful man's diagnosis was intermixed with the hope I felt to have the door opened to my Mom again. I remember the concern she had in her voice at hearing the news and I remember her tentative invitation for us to come home for a visit. I remember the promises of, I've been doing really well and the desperation in her voice to have us all be okay again.
I can tell you practically everything that happened last March. From the 23 phone calls we exchanged on Chad's birthday as I prepared one of her recipes to the silly conversations we had about Dancing with the Stars. I remember the most wonderful visit we had the weekend following Chad's birthday and sending her a picture of the first pigtails in Chanelle's hair. I recall diving into each morsel of this reconnection like someone who hasn't eaten in a month dives into a seven course meal. I remember hoping, hoping, hoping that this time it was real. . . this time maybe she really is better.
I had no idea that in 27 days she would be gone.
March seems to carry a flashing red sign that blinks boldly "REMEMBER THIS!" and no matter how dark my glasses or how quickly I speed by. . . I can't not remember. I can't not wish it didn't happen. I can't not miss the sound of her voice on the phone saying "whatcha doin?'
And I come to this space because writing somehow makes it better. I have not walked this journey alone and the support and cheers of my fellow sojourners have carried me at times. I find myself wondering if every March will be like this. I wonder if I will always remember the events of this month in 2010 with a pang of sadness. I guess that is yet to be seen. All I can do now is brace myself for the waves of grief that crash against me and recognize that those crashes are far less than they were a several months ago.
It still hurts, but my dad was right. . . I can't believe we've made it this far.
*************************
And so as not to give the impression that March is filled with gloom and doom, I must report that I was invited to the fanciest of tea parties on Wednesday. . . Miss Chanelle entered the kitchen and informed me that our Wednesday morning tea party will be a Princess Tea Party.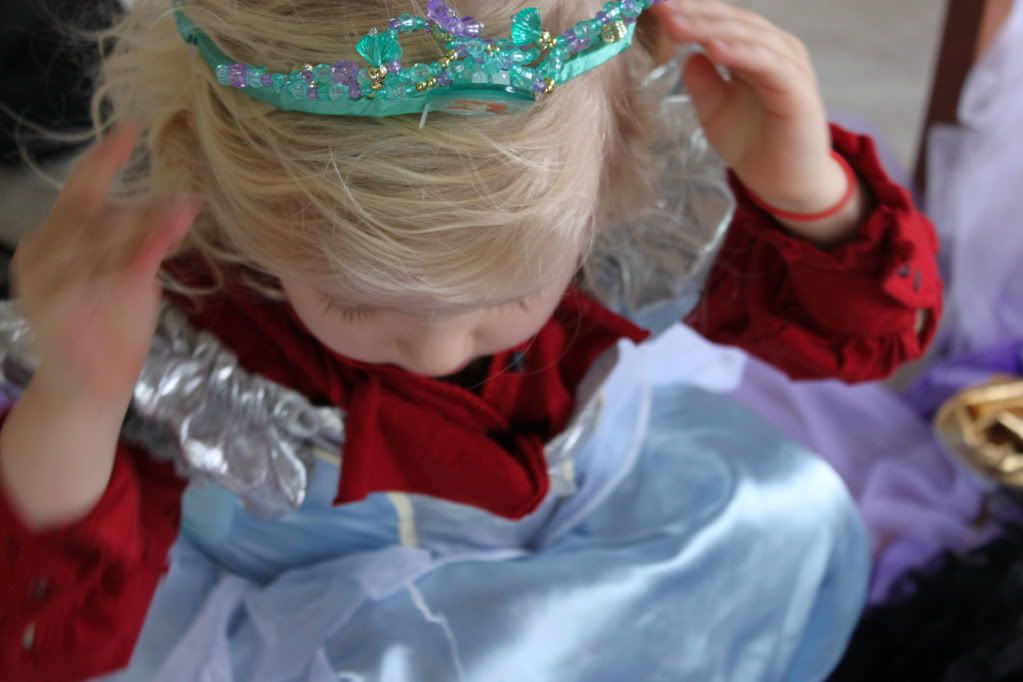 And she searched and she searched through all her dresses and insisted that "Mommy, you must dress like a princess, too."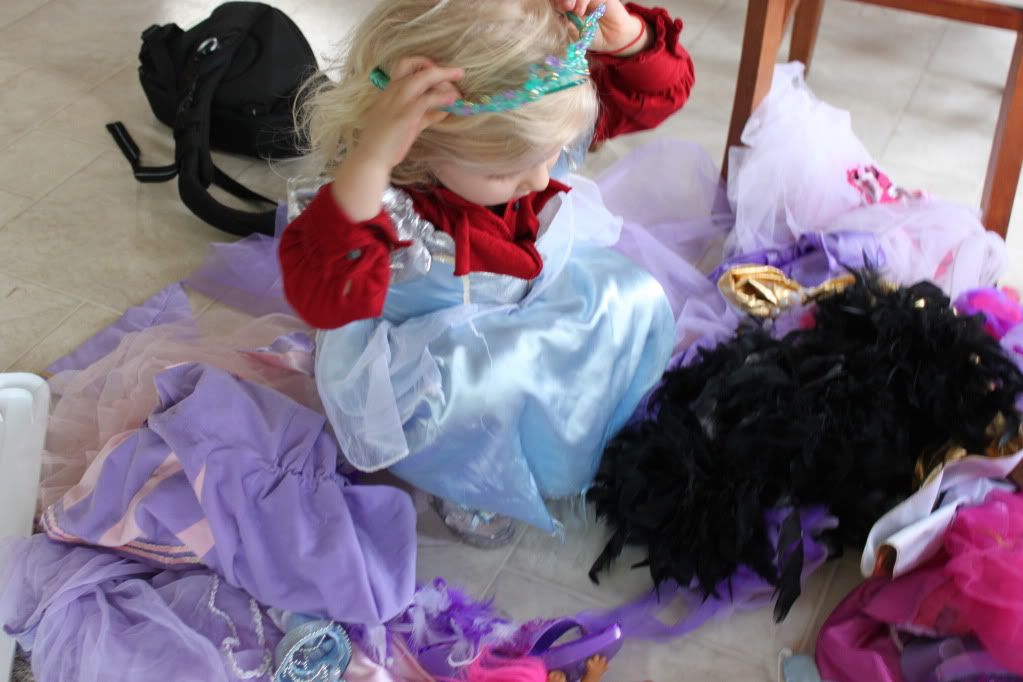 I explained to her that I was so sorry, but the princess dresses were a bit too small for me. I explained that she can be a princess and I'll be a pretend princess in my jeans. Her shoulders sagged and her big eyes stared at me with disappointment and I suddenly had an idea. Enter: bridesmaid dress.

I know, don't you love my crown?

When I emerged with my "princess dress" Chanelle's exclamation of "Oh, Mommy. . . what a pretty dress." was worth the time and effort. There we were, just the two of us, enjoying our tea and discussing which princess we wanted to be while I said a silent prayer that no one would come to the door. While we talked the music played and Chanelle declared tea party off and dance party on. . .

And of course, Wednesday's game of Membory. . .

My first instinct that morning was the brush aside her requests for a princess tea party. I figured I could distract her or explain that I had a million things to do and no time to do them. But that small voice inside of me whispered. . . slow down. . . enjoy. . . don't miss what is right in front of you. And let me tell you. . . I'm so glad that I did. Chanelle talked about this tea party all. day. long. Such a small effort on my part made a special memory for both of us.

And I document this because. . . 1.) Can you really over document these precious days? (I don't think so) and 2.) March may be a hard month, but the hard parts are absolutely balanced with the simple beauty that is evident in the crazy joy of our everyday life.
"To spare oneself from grief at all cost can be achieved only at the price of total detachment, which excludes the ability to experience happiness."
–Erich Fromm