I just love them.
Each Monday evening I close the door to my office and I walk down a long hallway before exiting the building where I work. As I make the trek from my office to my car, my mind is caught up in the events of the day. I reflect on moments with my clients and wonder if all was said that needed to be said. I anticipate the paperwork that has been left undone and I am already thinking about my work day later in the week. I open my car door and throw my briefcase in the backseat before climbing in and starting the car. Even as I pull out of the parking lot my mind is still in the office. . . until, that is, I hit the first stop light.
I don't know what it is about that stop light. . . it's shines the same red, yellow, and green that every other stoplight displays. But each Monday evening when my car makes its way under this lights green hue, it hits me. . . tomorrow is Tuesday!

I love Tuesday's.
Tuesday is the only day during the week when it is just Charlie, Chanelle, and I for the entire day. Charlie doesn't have school, there are no schedules to keep or engagements to make. Some days we linger in PJ's far too long and on other days we make plans and get ourselves out the door bright and early. On most days we try to strike a balance between doing responsible Mommy things and doing the only thing they really want to do. . . PLAY. There are some Tuesday's when the balance tips in their direction and others when it tips in mine.
Today we found balance.
I had some errands to run out of town and the kids were troopers as we waded our way through the bank and a couple of stores. Mornings like these are, at times, very surreal to me. As if I've stepped outside myself, I capture a view from afar. I watch this person, who looks a lot like me, push a cart with this little person in it. I watch as she loads things like Dora the Explorer Yogurt and Star Trek fruit snacks with one hand and guides another little person with the other. For a moment I am the little blond girl being pushed in the cart. . . I remember so clearly what it was like to be her. But then, in an instant I snap back to reality and recognize that I am not the one in the cart, I am the Mom and I wonder. . . how did I get here?
I finished my Mom duties for the morning and the kids bargained their way into an artery clogging lunch. In all reality it wasn't the lunch they wanted. . . it was the Play land they were pining for. It's Tuesday and we had time. . . so why not?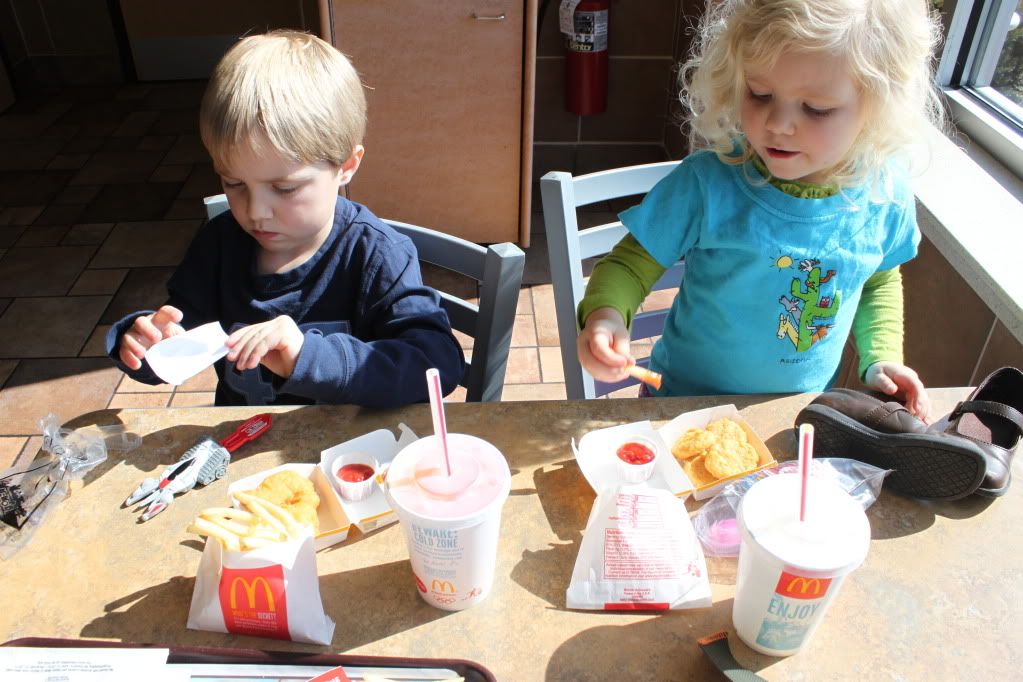 We had a nice lunch. It was nice because we lingered with no place we needed to be. They talk and stare without blinking at the slides and bouncy contraptions that they insisted are calling their names. After eating their required three nuggets, they were off and playing hard. I sat and watched them and looked at the Moms around me. Some were sitting alone staring into space and some were reading books. There were many sitting and chatting away with girlfriends and and others who were acting as safety nets to their playing kids. Again, I found myself wondering. . . how did I get here?
Almost two hours later we were heading back home and Charlie commented about what a beautiful day it is. He suggested we play outside when we get home. In my attempt to strike a balance, I explained that dinner needed to be prepared, laundry started, and the mess of the morning needed to be cleaned up. My little negotiator made several attempts to tip the balance in his direction as he insisted that such a beautiful day should be spent outdoors.
I'll admit it. . . I'm weak. It really was a nice day. Out we went. . .
The laundry sat untouched in the house and breakfast dishes remained unwashed in the sink. The melting snow and the 2+ inches of rain we received provided all the entertainment these two little people needed.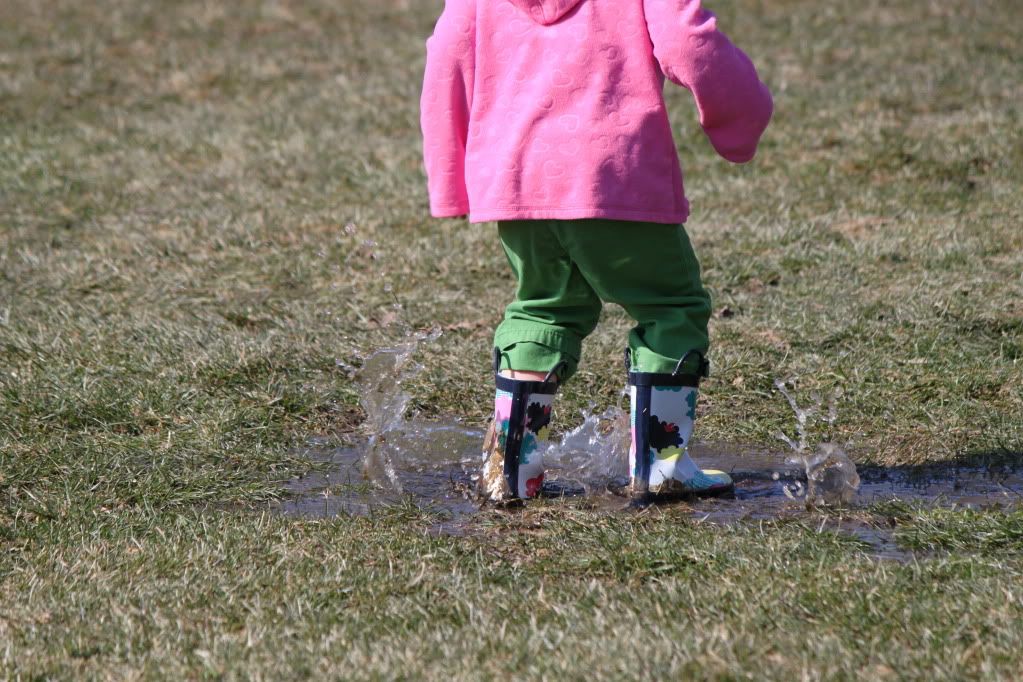 Believe me. . . I understand that balance is important. Prior to this year, the scales usually tipped in my direction. Priority one was always dishes done, laundry folded, house picked up, dinner prepped and then I was free to enjoy the rest. As the sand speeds through the hour glass of our days, I am realizing how precious these moments are. How important it is to stop, experience, and live in the moments that are right in front of me. As much as I want to slow it down, I understand that I can't. I can, however, do everything I can not to look back on these days with regret. Sometimes that means laundry remains dirty in baskets and dishes sit a little while longer.


And that is okay, because it's Tuesday and there is no agenda. They played, and splashed, and enjoyed the swamp that has become our backyard while I simply watched. That's all they wanted. . . they wanted to be watched. It didn't take long before they were cold and tired and ready to go in. As we slopped our way through the backyard Chanelle commented that "this is the best day ever!" and I smile at the confirmation. . . putting off Mommy duties was worth it.
In the hours before Chad got home, I tended to my work while simultaneously playing games of Simon Says, secret spy's, and reading books.

"Touch your knees. . . I didn't say Simon. . . Chanelle is out."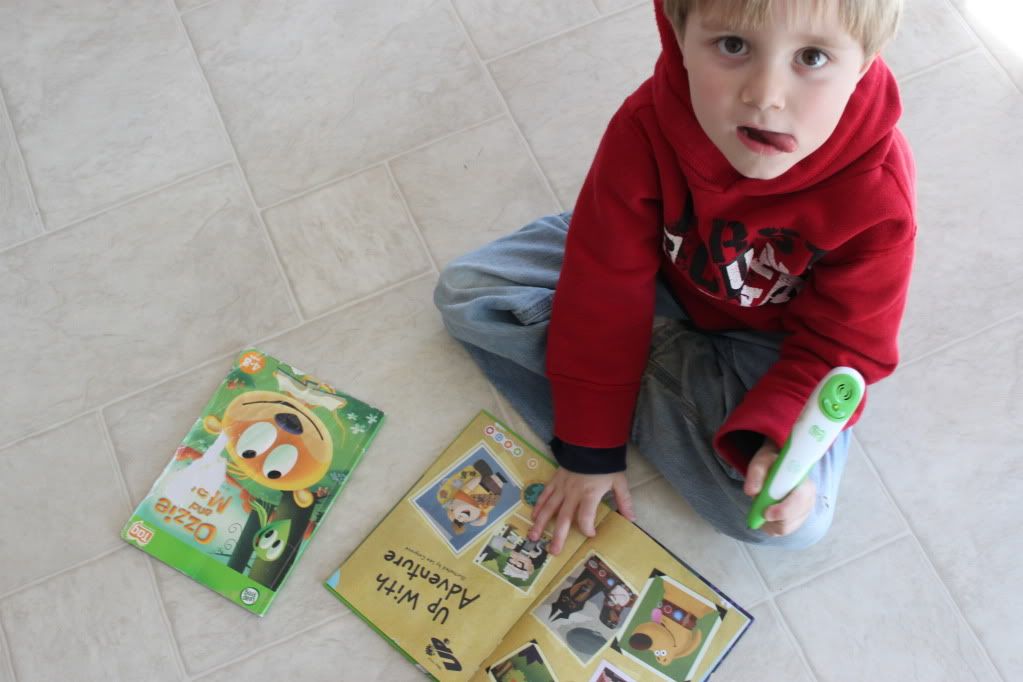 Before I knew it, most of the day was gone. As dinner was being prepared I realized that somehow, without even trying, balance had found it's way into our day. When all was said and done, the things that mattered got done and the things that didn't. . . well, they didn't really matter did they?
That's what Tuesday does for me. It helps to put first things first. . . and that's why I love them so much.
Happy Wednesday!