"Mommy, will you play sidewalk chalk with me?"
That's usually how it starts. Now that the weather is turning, most of our time is spent meandering in our yard, prancing up and down the neighborhood racing big wheels down the hill, jaunts to parks, and creating art all over our driveway.
Chanelle is usually the one that drags out the bucket of sidewalk chalk and beckons for me to join her. Honestly? It's one of my favorite things to do.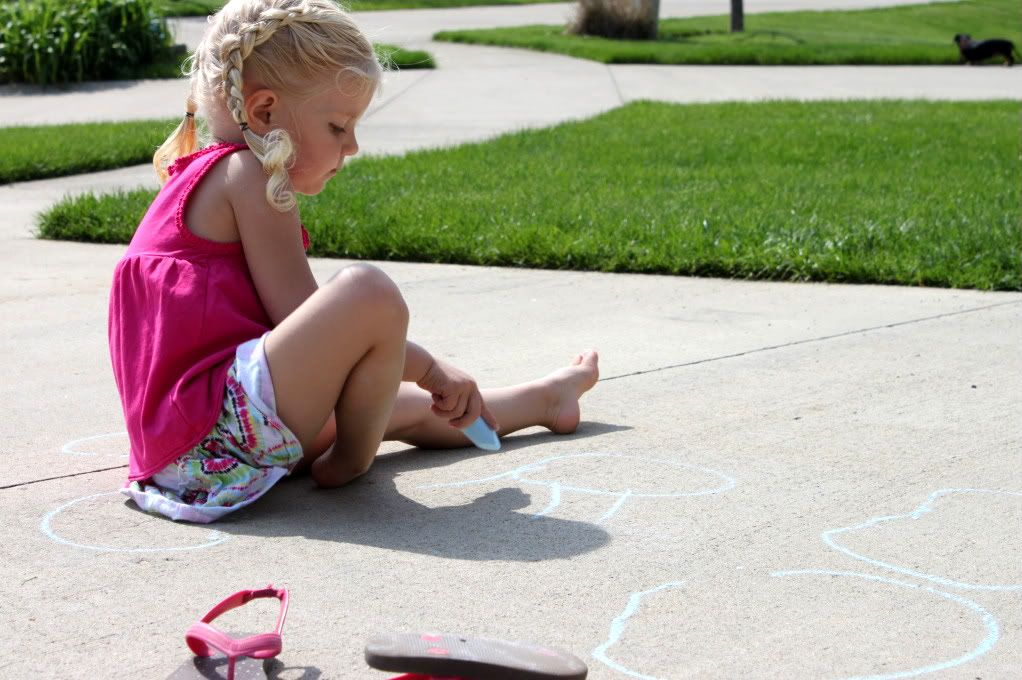 Her scribbles from last year are turning into definite shapes and clear pictures this year. Each day she instructs me what I am to draw. "A bee, Mommy!" "A ladybug family." "A monkey".
An artist, I am not. I give it a shot for her, though. I take those colorful pieces of chalk and create all the animal families I can so she might understand that you don't have to do it perfectly. . . you just have to try. When left to my own accord, though, I can be found drawing sunshine's, flowers, hearts and one simple word over and over again. . .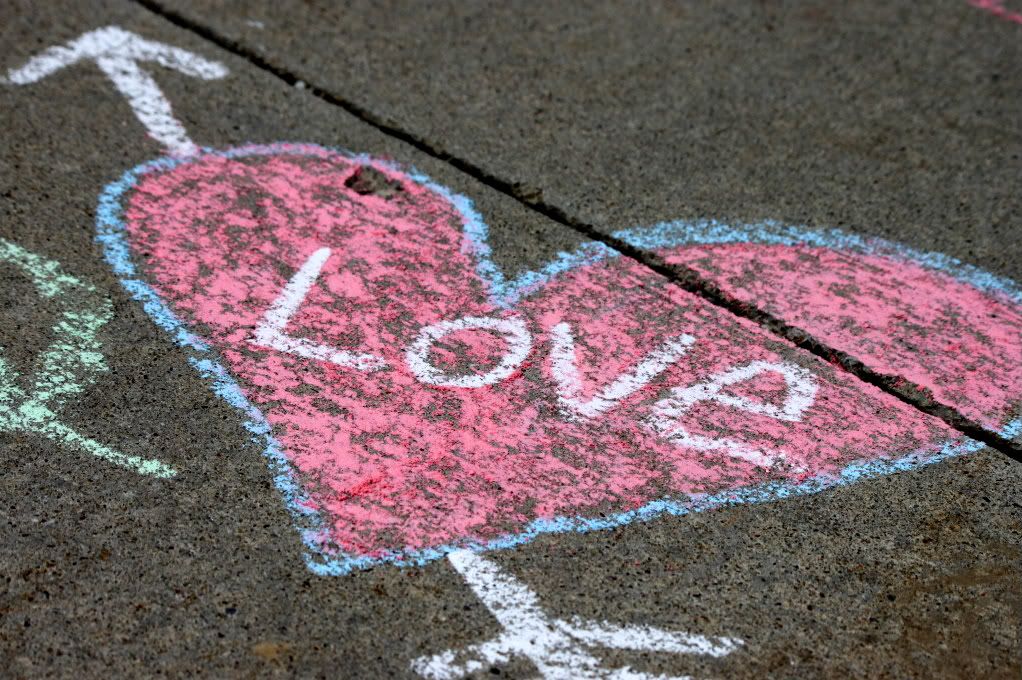 I would love to have my "art" psycho-analyzed, someday. I wonder what the people who walk along our sidewalk think when they see our creations. What does our doodling say about us? Mine, I think, says that I am happy. I am thankful. I feel blessed. And my heart is full.
(I just Googled what the drawing of hearts, flowers, and sunshine's mean. . . apparently I have a "sunny, childlike disposition and I am in love.")

And it's such a simple thing, really. Nothing profound, but something that I feel so strongly, that I feel I can touch it.
Really, though, it is touching me.
Maybe it's just that spring is in the air and the flowers are blooming and the fresh air is clearing my mind, but watching them together and recognizing that they are a part of me is blowing my mind away. Just when I think my heart can't expand anymore. . . it does.

Hopscotch is a serious sport



I have found that these two little people ground me. When I watch them and truly allow myself to be present with them, it is so easy to separate important from unimportant. In those moments worries fade away and it is so clear that right now is the only thing that matters. Right now is all they know.


They continue to teach me every day to enjoy the moment. To worry less about the mess and more about the experience. They teach me that sometimes, it's okay to go by your feelings and paint the world the color of your choice simply because it's fun.



And even now as I allow my mind to go to the day when they will be out from under my wings, I know that I will owe them a huge thank you. In that day, and throughout their lives, I want them to know that they have taught me so much more than I could have ever learned on my own. Without even trying, these two gentle souls have helped me to understand that life truly is about one simple thing. . .

. . . may you feel the depths of all love has to offer today.
"Love is that condition in which the happiness of another person is essential to your own."
—Robert A. Heinlein