It's a post about eggs. I'm not even talking about the sperm fertilized kind of egg that eventually became Meadow. I'm actually referring to the real come-from-the-chicken kind of eggs. The hard boiled kind, to be exact.
I am anxious to write about Meadow and the glorious experience it has been to bring her into our family. In my head the words are floating around just waiting to take shape. My plan was to take time to do that tonight. Most of the last four days since her birth have been occupied by simply holding, staring, and marveling at her. At this point, to tear myself away from her is almost painful.
This afternoon I tested the waters of putting her down just long enough to boil some eggs for Chad's lunch. Seems easy enough, huh? I rushed into to kitchen, gently placed a few eggs into a pan, and put the pan on the stove. . . A task I've done no less than 3500 times, I'm certain. After turning on the stove top, I went about doing a few other things while I waited the 7 minutes it takes to boil the eggs.
Suddenly, a loud POP echoed throughout the house. What the heck was that? I said to Chad as I rushed toward the sound of the POP. The sound had come from the stove top. This is what I found. . .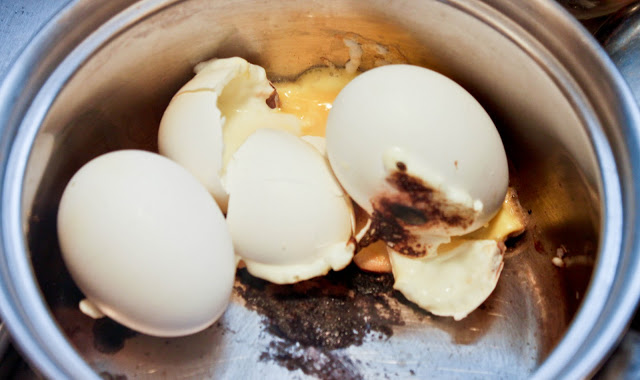 Note to self: When boiling eggs. . . always use water.
Turns out I neglected to put water in the pan before boiling the eggs.
DO NOT TRY THIS AT HOME.
After this incident, I realize I need a bit more time to organize my thoughts and to fully invest in my first "Meadow" post. Please, bear with me. . . it will come soon.