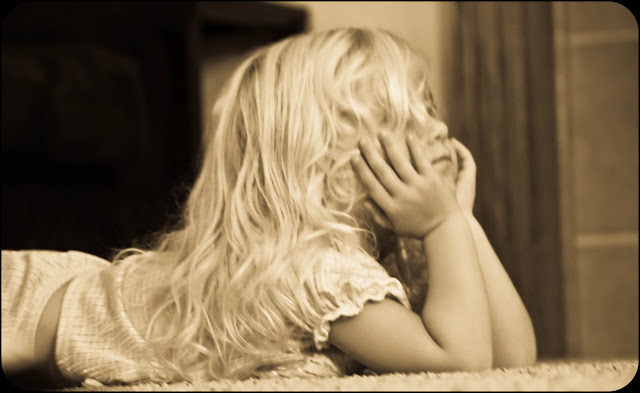 Sitting there in your pajamas & all the time in the world & if I could keep any moment it would be this: watching you & holding my breath with the wonder of it all. -Story People
Sunday night. . . this is where I found her. Lying on the floor, head propped in hands, adorned in her "slippery p.j.'s". Big brother was sprawled across the couch with his footie p.j.'d feet dangling over the edge and resting on little sis's legs.
The three of us sat in the living room together watching The Karate Kid (the new one, not the old one.) and closed out a tiring weekend. The scene was nothing spectacular. Every now and then one or the other would jump up and do a karate move in the air or one would "karate chop" the other. Intermittently, complete silence was exchanged for banter about the movie. This time I only had to correct them about seven times that the main character is a "he" not a "she". They can't seem to get past Jayden Smith's braids (a.k.a. dreads).
Somewhere, between the silence and the karate chops, my heart felt that familiar feeling. . . the feeling of ambivalence. Wishing time would stand still and speed up at the same time. Wanting to memorize their innocence and our family as as it is on this night and yet believing, with everything I have, that the upcoming change will be more wonderful than I could ever imagine.
I don't really know what to do with those feelings so I do what has become natural. . . I grab my camera. I slip silently to the side and I capture the moment. I take in the profile of my baby, who will only be my baby for a few more days. I swallow back tears. . . bitter-sweet tears. . . because that is what I do. I grieve and I anticipate with the same intensity. It makes no sense, I know, but it's real.
It is in these very un-spectacutalor moments when I take a deep breath and will myself to see it. . . to see the wonder of a moment.