As much as I love creating special moments and lasting memories with our kids, I equally enjoy the special moments created, sans kids. Thanks to the generosity of my very awesome in-laws, we got to do that just this weekend. Friday night my in-laws drove away with two excited kiddos, leaving Chad and I to enjoy some time together before Baby arrives.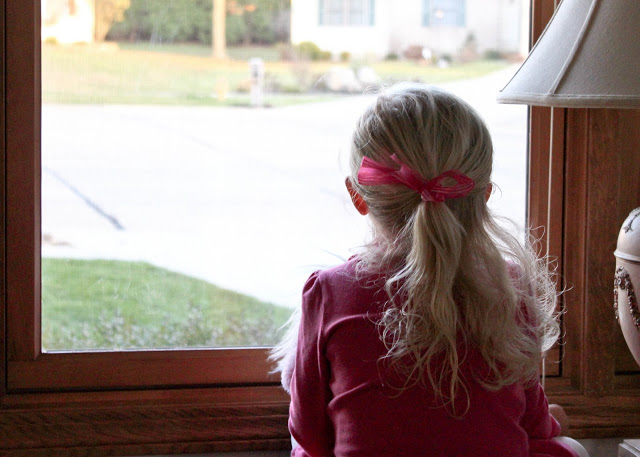 Waiting for her ride with anticipation.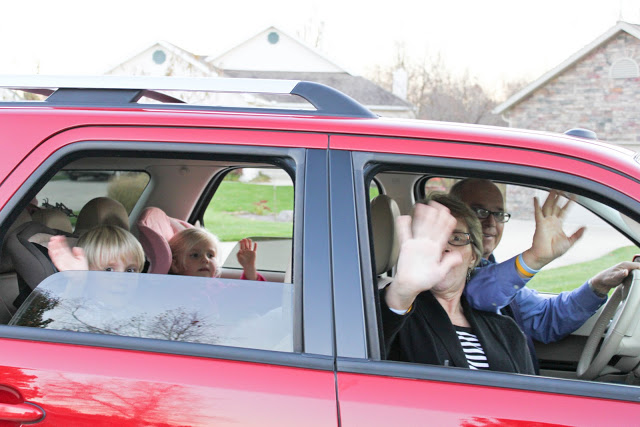 A free weekend?! What did we do? Well, we did what most ultra-cool couples do when they are given the gift of time, I'm sure. You know what I'm talking about? Dressing up in that little black dress for me and tie for him, travel to the big city and have a great meal in the corner table of a darkened restaurant lit only by soft intimate candlelight. Isn't that the chic thing to do?
Well, let me tell you. . . we are far from chic. Yes, I admit it. . .Chad and I are quite the opposite. Given this weekend to spend however we want, we chose simply, to chill. Our to-do list was quite extensive:
1. Sleep/Relax
2. Catch up on our very neglected DVR
I know, you can hardly stand the excitement, can you?
In between working our way through the to-do list, we did escape for a few adventures. Saturday morning, we decided to explore the downtown of our own town–something we have never done in the eight years we have lived here. After enjoying breakfast in a spectacular little restaurant, we made our way into the cool temperatures of the beautiful fall morning and walked in and out of the quaint little shops that lined the streets.

We learned that we live in a pretty cool town. Tiny shops with people milling all around where little treasures could be found if you looked hard enough. My favorite was the used bookstore. We spent quite a bit of time in this small space that was stuffed floor to ceiling with books of all different genres. While I meandered my way through the serious, deep, and intellectual part of the store. . .

I looked up to find my husband laughing hysterically as he flipped through this "Blockbuster Hit". . .

Ummm, should I be concerned?
I think it's easy to get stuck in Mom and Dad mode. I mean, there is nothing wrong with that, but it's special weekends like this that remind me that we were Chad and Summer first. It was nice to be Chad and Summer. We caught up on about 300 episodes of the X Factor and 234 episodes of The Sing Off and about 22 episodes of Criminal Minds. . . or something like that.
I know, you wish you were this cool, don't you? I would tell you that if I wasn't 37 weeks pregnant we would have been gallivanting through the exciting night life. . . but I'd be lying. We are simple people. . . happy to just "be" together.
Unfortunately, Saturday night was far from a good night of sleep for the pregnant lady. Baby was causing some problems and allowed me only a few hours of sleep. I woke in the morning feeling quite miserable. Instead of heading to church, we headed to a different kind of sanctuary. . .

Nature. Ah, sweet nature.
Truth be told, I would have done anything to promote labor and a hike seemed like a good idea. Choices, choices. . .

I voted for the longest trail and Chad obliged.
This was only my second visit to this park and Chad's first. We had never been on this trail. A map would have been a good idea.
We walked. . .

We walked and talked.

We walked and laughed.


Unfortunately, the suggestion was made without any food options available
I dragged my pregnant belly around the rough terrain, while Chad supported, pushed, pulled, and cleared the path through the sometime very scary ledges and even laid rocks to help me cross creeks.


After some time we realized that we seemed to be walking for a really long time. No map, no directions, no understanding of where we were or where we were going. Now this was an adventure. We turned this way and that way and tried to get our barrings, to no avail. We walked, and walked, and walked, hoping that we would find our car.

Three hours and six miles later. . . we found it. No labor but plenty of special memories were made.
It's all so simple, I know. We are far from "cool" and "chic", I admit. But you know what? I love what we are. I love that I married a man that I can also call my nearest and dearest friend. I love that we are both content to just "be" without the need for any bells and whistles. I'm thankful that we are equally excited to spend time as "just as" as we are to spend time as "all of us".
The kids came home Sunday afternoon and no questions are asked. They know.

They know that their Mommy and Daddy are more than Mommy and Daddy. They are friends and friends like to spend time together. They know that Mommy and Daddy love each other and I truly believe that is the greatest gift we can give them.
My heart is so thankful.
(And a HUGE Thank You to my in-laws who gave us the gift of this time You are both so loved and appreciated!)