It's January and we washed the car.
Okay, we didn't wash the car, Chad did.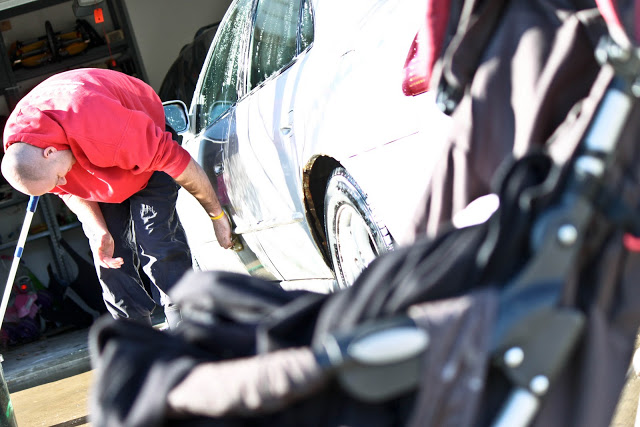 And Charlie. . .
What did I do? Well, I took pictures of course. I mean, I'd hate to get the camera wet.


Oh, and I was also burning cookies inside. I'll spare you the photos of the charred chocolate chip cookies that I neglected while enjoying the outdoors.
It's crazy to say it. We were enjoying the outdoors on a January afternoon. In Ohio. Our usual cloud-covered, windy, snowy, and frigid temperatures were traded for sunshine, near 50-degree weather that was absolutely wonderful. Meadow even got to enjoy the car wash.

She was sung as a bug basking in the sunshine while the rest of us played.

I think we all needed an afternoon like this. The fresh air was was amazing and we were all given a little reminder that there will be sunny days again. Since it felt like Spring, Charlie and Chanelle brushed up on their baseball skills.
And of course the classic shot with the tongue.

I'd say this was about as close to a perfect January afternoon as we could get. Don't get me wrong. I enjoy the change of pace that winter brings. Burrowing ourselves inside, sipping on hot cocoa while playing board games and finding fun crafts to do. Those are fun days, too, and we've done a lot of that.
Just last week we enjoyed time with friends who visited out of town.