My eyes popped open to the xylophone sound of the alarm clock of my cell phone. I stared at the numbers on the clock and attempted to clear the fog from my head. . .6:00. I stared at the snooze button on the alarm as I participated in a morning debate with myself. . .
It's okay to skip a day. No, just get it done, you know you will feel better. What's the rush, chill out, you ran yesterday and you know you will run tomorrow. Oh, just get up and do it, you know you will have more energy today if you do. You were up with Meadow for an hour last night. . . go back to bed. You just put her down at 4 a.m.. . . you know you will have time to do it.

As is typical, the obsessive-compulsive side won and I jumped out of bed to get my run in. I really was ready to get up. It was Tuesday and we had no plans to go anywhere and no to-do list that really needed tackled. I had a fun activity planned for the kids, a meal to throw in the crock pot and a low-key but fulfilling day was anticipated.
Do you ever have days don't go exactly how you planned? Days when the reality doesn't quite match the anticipated?
Today was one of those days.
It wasn't really that Meadow started squawking her appeals to get up at 6:20 a.m. And it wasn't necessarily that the activity that I'd been talking up to the kids for days was ultimately a bust. And really it didn't have too much to do with the fact that Meadow peed on me, then threw up on me, followed by my spilling a bottle of Diet Mountain Dew all over myself, resulting in three changes of clothing in a matter of 15 minutes. And ultimately, it wasn't really listening to the disappointed "awwww!!" that escaped Charlie and Chanelle's lips each time I said no or asked them to do something.
I think, maybe, it was just a culmination of it all that makes me tired tonight and realizing that sometimes I just got to go with the flow. . . even if the day didn't measure up quite the way I wanted it to. Either way, it is what it is and the hodgepodge of Running Chatter it is. . .

1. He Did It. . . And So Did I!
Velcro shoes are a beautiful thing. They really are. If you have young kids the goal is usually how can we get where we are going as quickly and painlessly as possible? The more you can cut out extraneous activity, the better. Thus enters, velcro, slip on, or buckle shoes. Anything but shoes with laces. That's the way we've rolled for six years, until Charlie said it. . . will you teach me to tie my shoes?
Here is my Mom confession of the day: I have zero patience. Teachers out there. . . I don't know how you do it. I struggle to find the words to adequately explain and easily demonstrate tasks that we adults take for granted. My typical MO is this: pawn it off on Chad.
The lack of sleep must be getting to me, though, because on Monday I sat down with Charlie and decided we were both going to tackle this shoe tying thing. Twenty minutes later. . . voila!. . . he had it down.
My boy was proud and was thrilled to show off his new skill the second Chad walked in the door.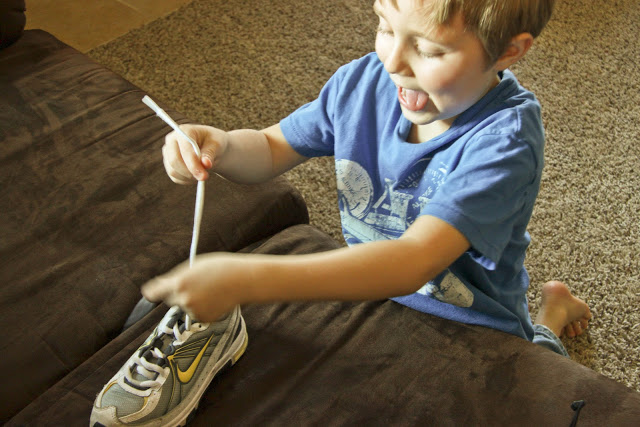 Notice that tongue. . . always a sign of deep concentration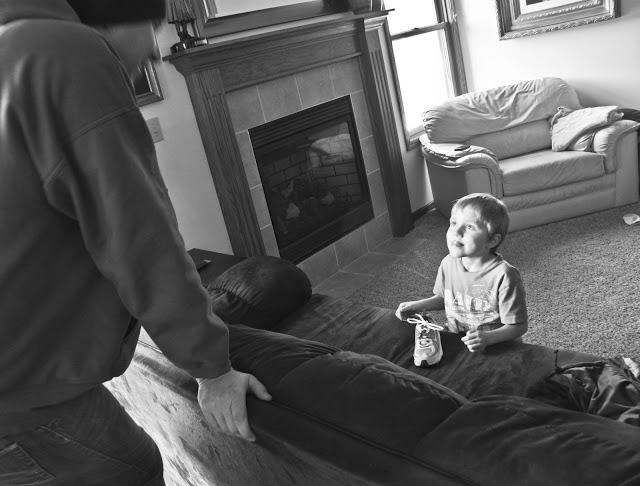 Oh yeah. . . he's a shoe-tying pro now.
**********************************
2. They're Back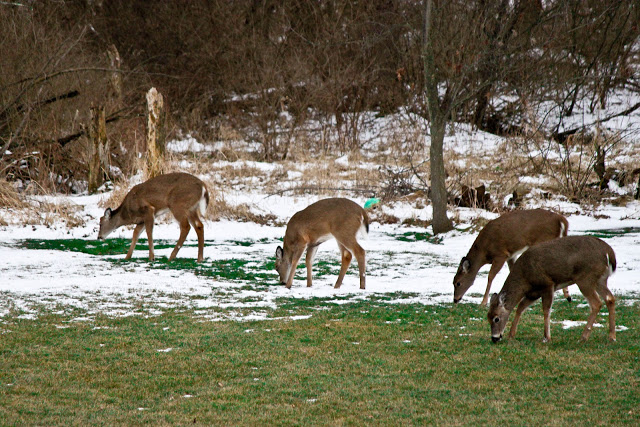 They show up every winter. This time of year, we see them daily. They meander out from the woods behind our house a few times a day and shop for their days meal. The kids and I love to watch them, count them, and take pictures of them. You might think I'm the first one to rush for my camera, right? Well, you'd be wrong. As soon as we get a sighting Charlie rushes for his Leappad, which doubles as a camera.

I love that he likes to capture them as much as I do. Unfortunately, his enthusiasm presents a problem. Little boy in yellow shirt running toward deer, results in the Running Of The Deer.

******************************************

3. Speaking of Tongues. . .
I've talked about it here before. The way that my family members stick their tongues out when they are really concentrating on something. Chad does it. Charlie does it. My Father in Law does it. Chanelle does it. Guess what?

Meadow does it, too.
I'm now convinced. It's got to be in Chad's gene's.
*********************************************
4. How Old Am I?
Today I looked down at myself and flashed back to 5th grade. . .

Striped purple shirt. . . striped purple socks.
No wonder Meadow did her business all over me.
**************************************
5. Cure for boredom
While we've had a somewhat mild winter. . . we are still stuck inside much of the time. This is the time of year when we are reaching far and wide to come up with good ideas that will entertain for longer than three minutes. Our latest idea has been going strong for two full days.

Drag mattress into the living room, rearrange furniture and let them go at it. Charlie and Chanelle have created bridges, slides, tents, trampolines, and on and on and on. Interestingly, all of their old toys have become even more fun when they get to play them on a mattress in the living room.
As always, it's the little things.
***********************************
6. End Rolls
The other day a friend from another state called me and asked if I'd ever heard of "End Rolls". She explained that local papers often give away or sell (at minimal cost) the end rolls of their production paper, paper they would otherwise discard. She explained that the paper is huge and great for arts and crafts. I was a little cynical at first, but I thought I would give it a try anyway.
I called our local paper and as soon as I used the term "end roll" they directed me to their production facility. Just minutes later we picked up a HUGE roll of paper that has already provided hours of entertainment for Charlie and Chanelle.


Go ahead, give it a try. Call your newspaper and ask about end rolls. Who can pass up free stuff?
************************************
7. 49
I'm up to 49 followers! (If you could see me, you would see me making a happy face.) You want to know what would make me do a happy dance?
50 followers!
I invite you to follow me. . . let me know you are reading and tell your friends.
Who knows, maybe there will be a prize it in for my 50th follower. . . like, for example, the secret recipe to wonderfully tasting, divinely aromatic Poppy Seed bread.
Come on now. . . who wouldn't push a "Join This Site" button for that?
***********************************
8. Poppy Seed Bread
Who am I kidding? I'm not into bribes. Seriously, I'd love to have a 50th and 51st and even more followers. . . but I'll refrain from the bribery. Here's the recipe for a bread that will always get you showered with compliments. . .

POPPY SEED BREAD
Batter:
3 cups all purpose flour
2 cups sugar
3 eggs
1 1/2 tsp. baking powder
1 1/2 tsp. salt
1 1/2 poppy seeds
1 1/2 cups milk
3/4 cups vegetable oil
1 1/2 tsp. vanilla
1 1/2 tsp. almond extract
1 1/2 tsp. butter flavoring
Glaze
1/4 cup orange juice
1/2-3/4 cup sugar
1/2 tsp. almond extract
1/2 tsp. butter flavoring
1/2 tsp. vanilla
In a large bowl, combine all batter ingredients in order given. Do not include glaze ingredients as this point.
Beat with electric mixer for 2 minutes until well blended. Pour into 2 well greased and floured 8x4x3 loaf pans.
Bake at 350 degrees for 1 hour.
Mix ingredients for glaze in order given.
While bread is still warm, pierce tops with a fork and pour glaze over all.
Cool and Enjoy!
This is quick, easy and delicious. I promise you will get compliments.
*************************************
9. Another recipe
Since we're talking recipes, I thought I would re-post another favorite of mine, in case you are new here. I am asked to bring these cookies most places I go. This one is from Crisco.

ULTIMATE CHOCOLATE CHIP COOKIES ( original recipe By Crisco)
(My changes in ( ) )
3/4 cup (3/4 stick) Butter Flavor Crisco Shortening
1 1/4 cups firmly packed light brown sugar
2 Tablespoon milk
1 Tablespoon vanilla
1 egg
1 3.4 cups Pillsbury All-Purpose Flour
1 teaspoon salk
3/4 teaspoon baking soda
1 cup semi-sweet chocolate chips (I use 2 cups)
1 cup coarsely chopped pecans (I leave out)
1. Heat oven to 375 degree F. Place sheets of foil on counter top for cooling cookies.
2. Combine Butter Flavor Crisco, brown sugar, milk, and vanilla in large bowl. Beat at medium speed of electric mixer until well blended. Beat egg into creamed mixture.
3. Combine Pillsbury all-purpose Flour, salt and baking soda. Mix into creamed mixture just until blended. Stir in chocolate chips and pecan pieces.
4. Drop rounded tablespoonfuls of dough 3 inches apart onto ungreased baking sheet. (I make mine much bigger than 1 T.) Bake one baking sheet at a time at 375 for 8-1- minutes for chewy cookies, or 11 to 13 minutes for crisp cookies. DO NOT OVERBAKE.
Cool 2 minutes on baking sheet. Remove cookies to foil to cool completely.
MAKES ABOUT 3 DOZEN. (Makes about 2 dozen)
***********************************
10. Blog Updates
For some reason my blog has started to delay updating on blog rolls and Dashboard and Google reader. Sometimes it is a couple of hours and others up to a date later that my blog shows it has been updated.
I have yet to figure out the problem. If anyone knows why this might be happening. . . I'd love to know how to fix it.
But as I said earlier. . . somethings don't go as we plan. Blogs don't update on time, fun days turn into days filled with hiccups, and sometimes dinner gets burned.
Whatever the case. . . life still goes on, right?
*************************************
Happy Wednesday, Friends. . .
Chatter Out.