That was the name of the poem that was read at my little guy's graduation. On Children, by Kihlil Gibran is a poignant and beautiful reminder of what our children are and what they aren't.
When we got to the graduation and they called the children up front, Charlie's eyes immediately filled with tears and he told us he didn't want to do it. These are the moments when I want to grab him and run and protect him from any uncomfortable situation. He took his seat in the front and looked back at us every three seconds with his big, brown, pathetic, puppy dog eyes.
The program was adorable and filled with songs from little ones, book readings, and poetry readings. . . all presented by little five year old souls. Charlie had been practicing his poem for two weeks. He said it while he was playing outside, while he was eating his meals, while he was taking a bath. Any time I thought I could prompt him to do it. . . I tried. When it came time for Charlie to take his place at the microphone, I think the entire room could hear the drum beat pounding of my heart and the sweat pouring from my palms to the floor.
Turns out. . . my nerves were for nothing. With just a slight nervous stutter in the beginning, he did fabulous.
The terrified little guy that was initially called to the front of the room, became a bright-eyed, nervous-smiled, excited little guy who seemed to get that this was a special day. I watched from afar as he joined his 5-year old classmates celebrate this first little educational milestone and I got goosebumps.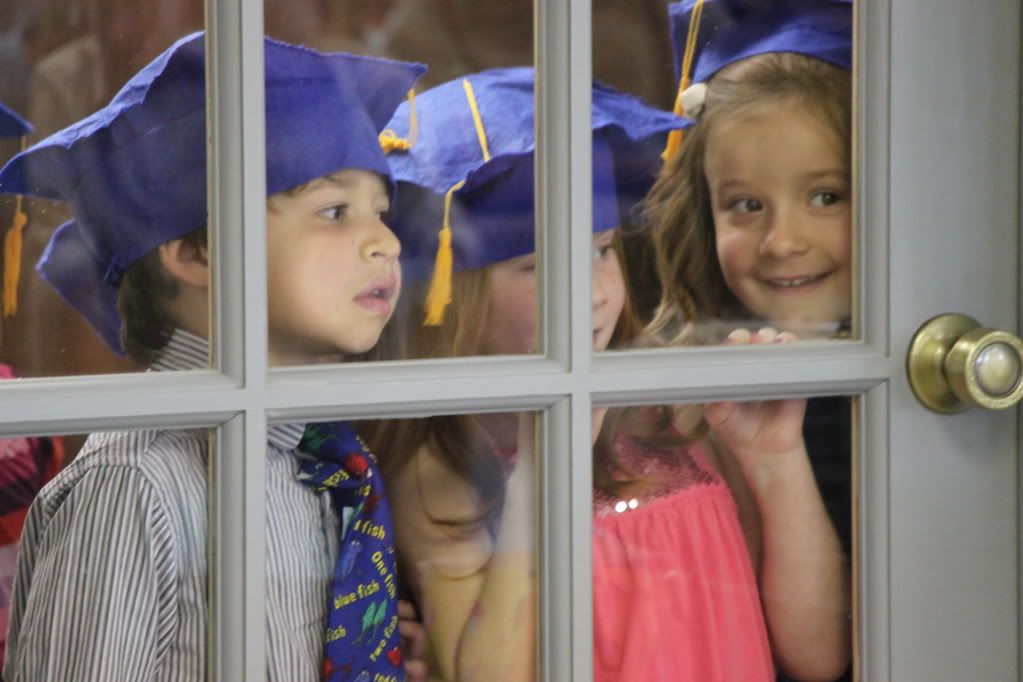 It probably seems silly to get so caught up in such a small milestone. . . but I want to make a big deal at these things. I want him to know that every step he takes is one we stand behind and are proud of him. I want him to know that he is always supported, loved, and cheered on no matter the what journey he is taking.


As part of the ceremony, they had a woman sing the most appropriate of songs. . . "I Hope You Dance."

It was perfect and a message that I need always to remind myself of again and again. This is just a beginning and with each new step his wings will get stronger and stronger and that's what it is all about. He will grow and change and develop his own ideas and his own dreams and my only job will be to stand behind him with confidence.
One thing that I know beyond a shadow of a doubt is that the skies the limits. . .

. . . and if I teach him nothing else in this life it's that if he can dream it–he can do it. As simple as it sounds, it is a truth I want him to hold onto and believe in every day of his life.
And so on a day that might seem small to many, we stopped and celebrated. Celebrated because life is worth celebrating. We celebrated, simply because we could. And I know he felt it–he saw our smiles, our pride, and our appreciation for his accomplishment. . .


Can't you just see the Grandparent pride? And if you think Grandparent pride is big. . . you should see Sister-pride. . .

No matter what, though, these pale in comparison to the Mommy pride I felt as I watched my first born greet this special day. He's growing. . . and by his growing, I am growing, too. Just like Gibran writes in On Children about our children. . . "They come through you but not from you, And though they are with you yet they belong not to you."
Yep, little by little I'm getting it. . . my biggest job is not to hold them close, but to let them fly. . .

ON CHILDREN
by Kahlil Gibran

Your children are not your children.
They are the sons and daughters of Life's longing for itself.
They come through you but not from you,
And though they are with you yet they belong not to you.
You may give them your love but not your thoughts,
For they have their own thoughts.
You may house their bodies but not their souls,
For their souls dwell in the house of tomorrow,
which you cannot visit, not even in your dreams.
You may strive to be like them,
but seek not to make them like you.
For life goes not backward nor tarries with yesterday.
You are the bows from which your children
as living arrows are sent forth.
The archer sees the mark upon the path of the infinite,
and He bends you with His might
that His arrows may go swift and far.
Let your bending in the archer's hand be for gladness;
For even as He loves the arrow that flies,
so He loves also the bow that is stable.