When I was 19 years old I ran my very first marathon. I remember that day so well. . . The frigid temperatures on the cloudy November day, my Mom and my sister standing on the sidelines, and being flanked on either side by two of my uncles and my Dad. I still remember the t-shirt and shorts that I was wearing and the confusion I felt by the trash bags my uncles were wearing over their clothes. I remember the thump-thump-thump of my heart as I anticipated the gun that would set thousands of people running into the city streets and the hidden fear that I wouldn't be able to finish.
I don't really remember much about the training I did beforehand. I just know I ran a lot. I didn't do a ton of reading or follow a specific plan about the "right" way to run 26.2 miles. I just ran and ran and ran and hoped that was enough. The one piece of information I carried with me and held onto that day was that the second half of the race began at mile twenty. Such information seems strange at first. Simple math would tell us that the half-way point is at mile 13.1, right? Once you hit that mark, one might assume it's all "downhill".
Not so much.
You learn that it is important to remain calm and ease your way through the miles between 13 and 20. They can be long and tedious. If you do it right, the real race begins at 20. I was thankful for that advice so many years ago. It has helped me along my distance running experience. Because I heeded those words on that November day I remember hitting mile 20 and feeling like I could fly. I ran those last six miles like I owned them. I remember reaching the finish line with such a sense of accomplishment and joy that I was hooked from that moment on.
Pregnancy is much like the marathon. Today I am (finally) at 20 weeks. I've been waiting for this day for awhile like I was hitting some sort of milestone from which the other side would be sunny and beautiful and. . . fast? I have forced myself to come back to reality, though. Yes, I'm at 20 weeks–but there is a long way to go.
Don't get me wrong–I'm so thankful that I am feeling good and to be blessed to carry this little life until he/she will enter the world. Truth be told, though, as much as I try to embrace the moment and enjoy the process–I am constantly aware of the months/weeks/days until we meet our little one–and my body will be mine again.
Chanelle took a pic of me yesterday. . .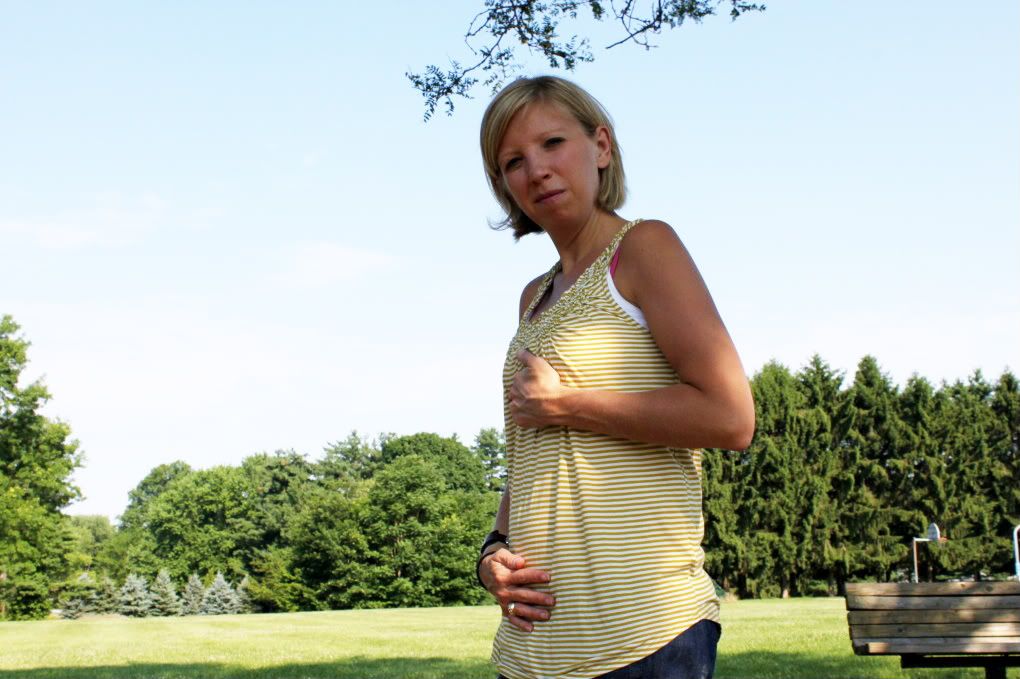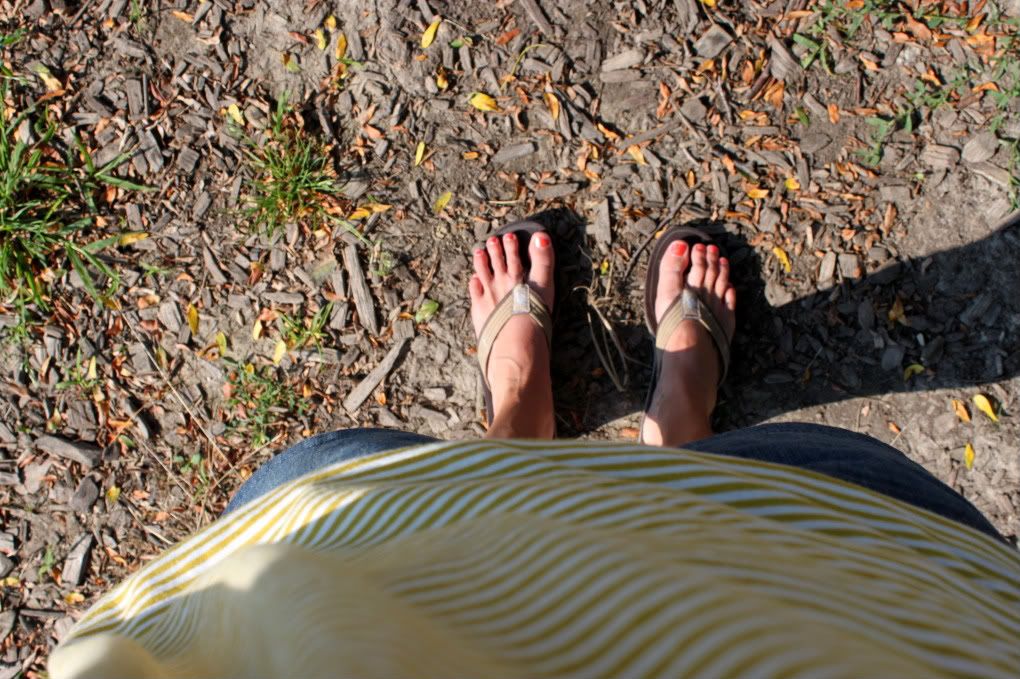 I'm happy that I can still see my feet. The nausea is only a distant memory. I'm still able to run. I get to feel little arms and legs beat against my abdomen, and overall. . . I feel just fine. It's just, well, I don't feel completely like me.
I'm doing my best to be active with the kids and trying to think of creative ways to spend long, hot, summer days.




Loading up for picnics in the park, making the rounds to all of our cities playgrounds, dusting ourselves and the driveway with the rainbow of colors of our sidewalk chalk, and the dragging out and dragging in of the sprinkler each and every day. Heck, today we even played dodge ball. . .



Honestly, though, I'm just tired. At about 1 p.m. I hit a wall and much of the afternoon is spent more like this. . .

Super mom. . . I am not. I sit. They play. I feel guilty. They probably could care less.
In an effort at authenticity and honesty I can say it. . . I am half-way there. . . but just half-way. Just like in the marathon I'm easing my way through the weeks until (hopefully) that burst of energy from sheer adrenaline shoots through in those final weeks. (Nesting?) So, I celebrate week twenty, but do so tentatively knowing that the road ahead is long.
BUT. . . just like the marathon, I am well aware of the joy that we will be met with when we finally cross that finish line is like no other feeling in the world.